IHFA National Herds Competition 2021
Award presentation and results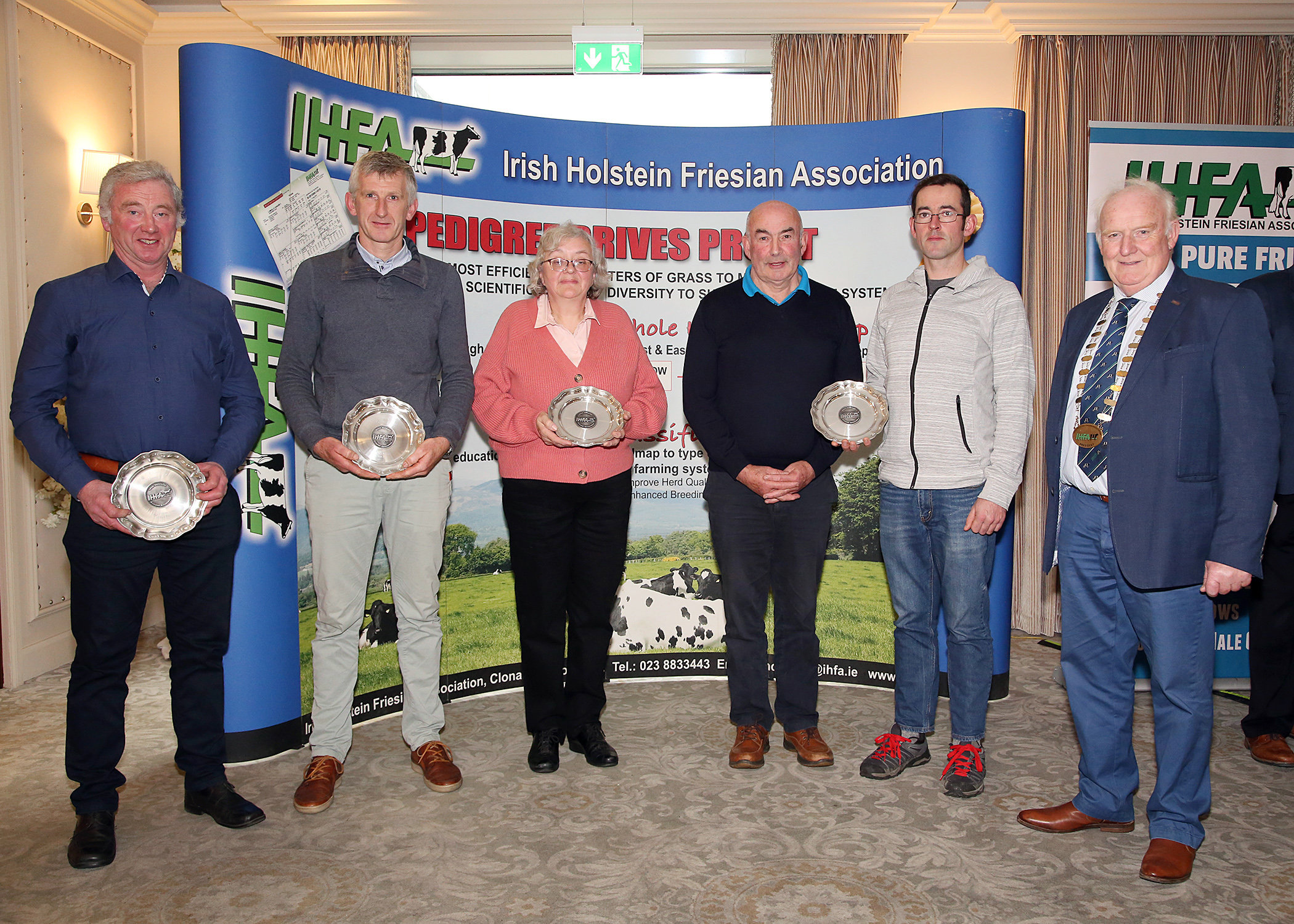 A total of 42 herds were nominated by their respective local clubs to go forward to participate in the IHFA National Herds Competition 2021. Having qualified on merit at local club level, the participating herds nominated represent the top echelons of Holstein Friesian breeding nationwide. The competition comprises four separate categories;
Herds of 80 cows and less
Herds greater than 80 cows
Spring Calving herds
Pure Friesian Herds
A balanced IHFA Herds Competition formula is applied with regard to herd production performance, herd conformation standard on IHFA classification and inspection points awarded by the guest judge.
Dessie Dunleavy, former herd manager of the Moneymore herd, Drogheda, Co. Louth, was this year's judge. In carrying out his prestigious judging task, Dessie visited all 42 participating herds to assess herd quality.
Over the course of six and a half consecutive days last July, from dawn to dusk each day, all 42 herds were visited. A total road distance of 3,051kms was travelled and over 4,500 cows in total were assessed.
Dessie says that "Being invited to judge the National Herds Competition is a fabulous honour for me and for my family. Truly it is the highlight of my judging career. I'd like to thank every breeder that I had the pleasure of meeting. The welcome and hospitality that I received from breeders and their families was so warm and generous. In the times that we are in, the nice social interaction of meeting breeders one-to-one while out in the fields and admiring top calibre stock, was all the more enjoyable."
Judge's Special Awards
The Judge's Choice Award (1st, 2nd and 3rd) is a unique merit award at the judge's discretion to present to the three herds of his selection who made a distinct impression.
| | Herd | Breeder | IHFA Club |
| --- | --- | --- | --- |
| 1st | Monamore | Tom & James Kelly | North Eastern |
| 2nd | Hallow | Philip & Linda Jones | Slaney |
| 3rd | Firoda | Peadar Healy | Pure Friesian |
The Judge's Recognition Award is a special prize awarded to a Herds Competition participant who has made a significant recent investment or specialisation in a specific area or aspect of farming. The winner of the IHFA National Herds Competition Judges Recognition Award 2021 is Teresa Roche of Kylemore Farmhouse Cheese and Farm Shop, located near Abbey, Loughrea, Co. Galway.
In a bid to diversify and add value to the family's Kilmora pedigree registered herd, Teresa established Kylemore Farmhouse Cheese as an on-farm cheese manufacturing and retail business. The help and support of Teresa's parents Bertie and Julie has been a major factor in the terrific success so far.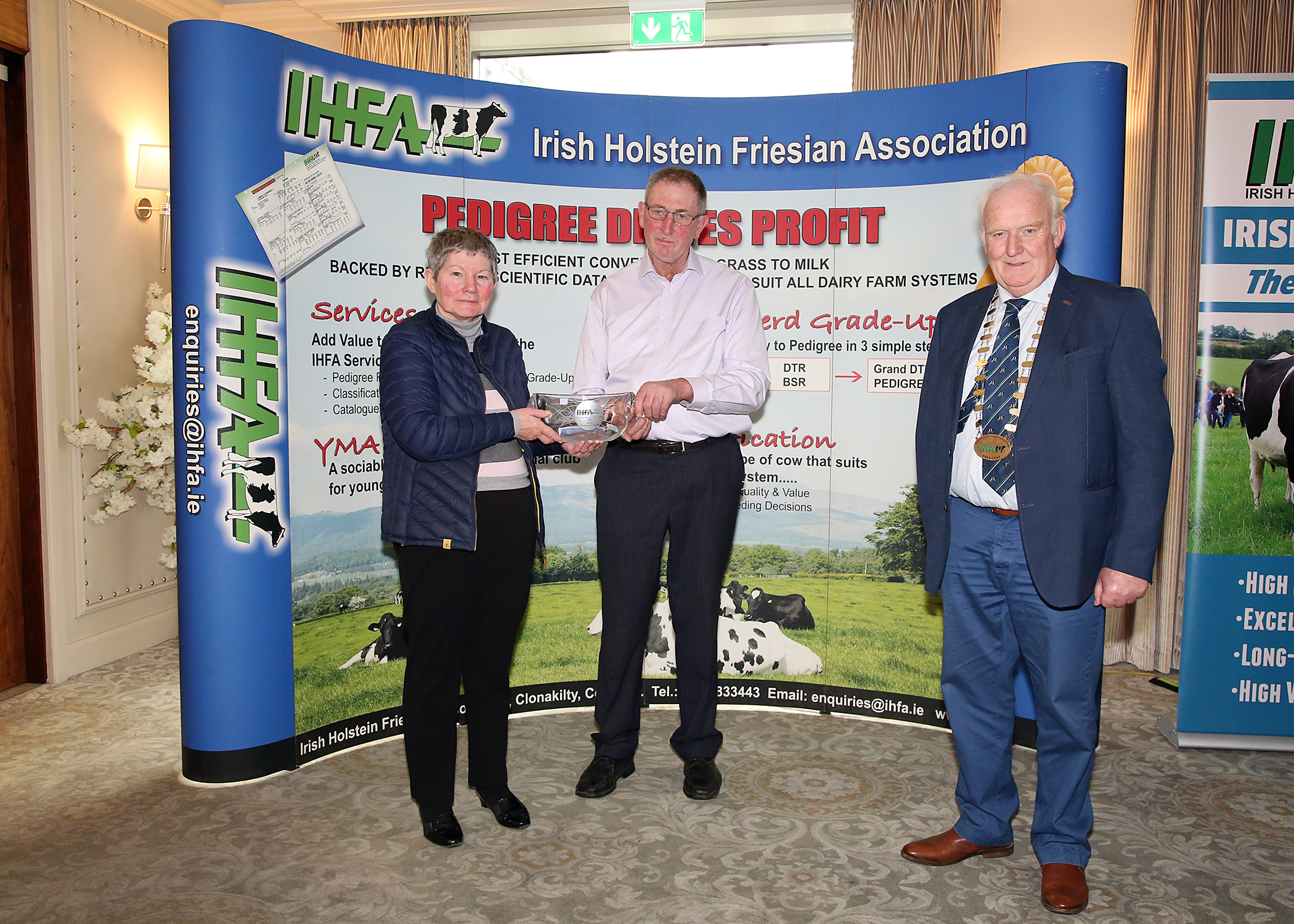 Last year, Teresa added to the farmhouse cheese enterprise by setting up an on-farm shop on the premises. It has been a terrific success from the outset, attracting an ever-burgeoning footfall of repeat customers and food enthusiasts. The calibre and range of food items available and the quality of customer service continues to garner rave reviews and endorsements from various esteemed food writers.
In conjunction with the IHFA National Herds Competition results there will also be two awards presented to the breeders of;
Highest EBI Pedigree Registered Cow – Raheenarran BCG Dairine 2 VG85, Bryan Daniels, Raheenarran herd, Kilmoganny, Co. Kilkenny

EBI €371 (October '21 evaluation)
Currently in her 12th lactation Raheenarran BCG Dairine VG85 has a lifetime yield to date of 75,305 kgs milk, 6,017 kgs milk solids, 4.47 % Fat, 3.52 % Protein.
She has a lifetime Calving Interval performance rating of 366 days based on twelve lactations to date.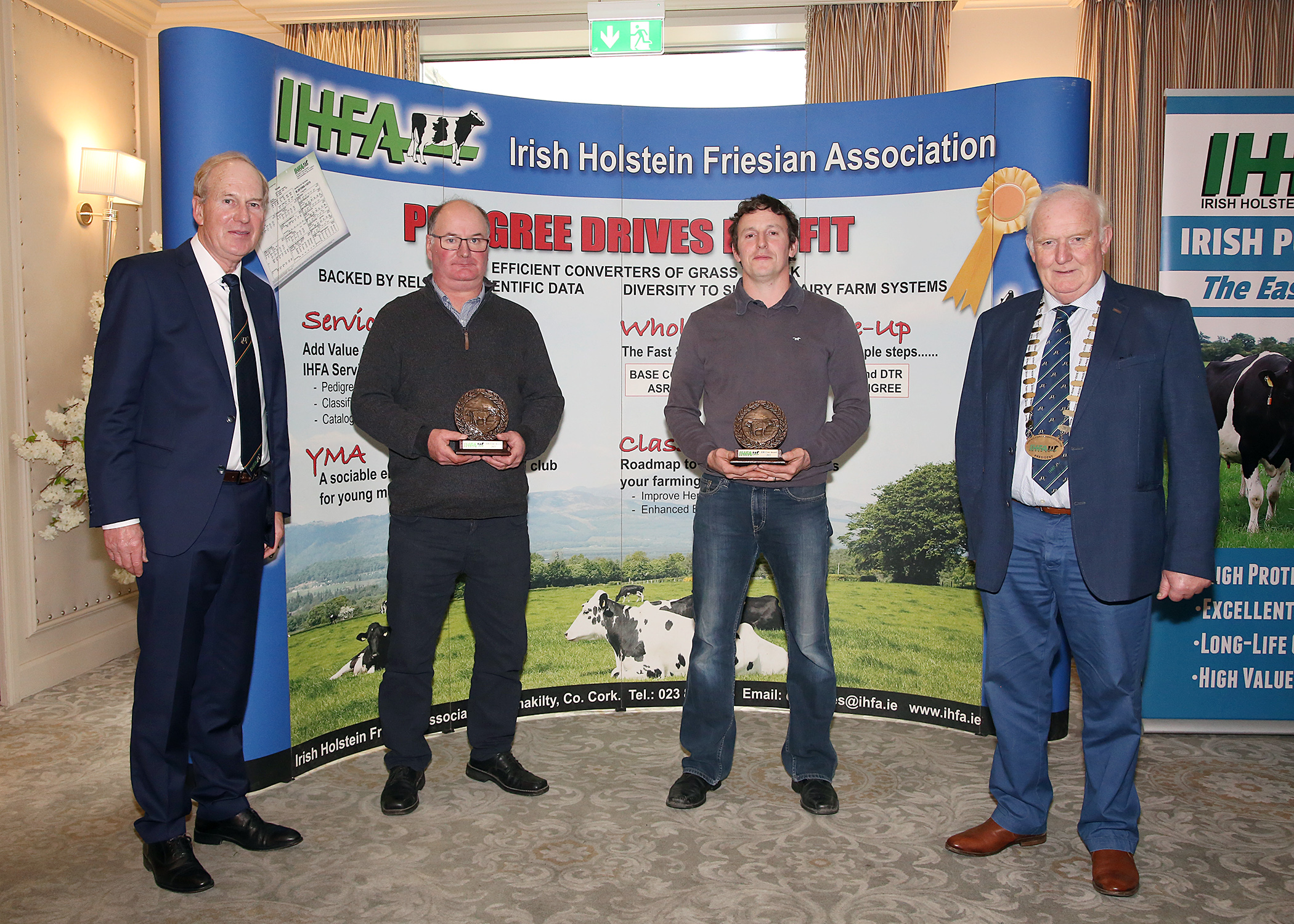 Highest EBI Pedigree Registered Cow on IHFA Classification score – Glenaboy HDJ Daisy EX90, Kieran O'Donoghue, Glenaboy herd, Tallow, Co. Waterford.

EBI €350 (October '21 evaluation)
Currently in her 5th lactation Glenaboy HDJ Daisy EX90 has a lifetime yield to date of 40,543 kgs milk, 3,828 kgs milk solids, 5.20 % Fat, 4.24 % Protein.
She has a lifetime Calving Interval performance rating of 367 days based on five lactations to date.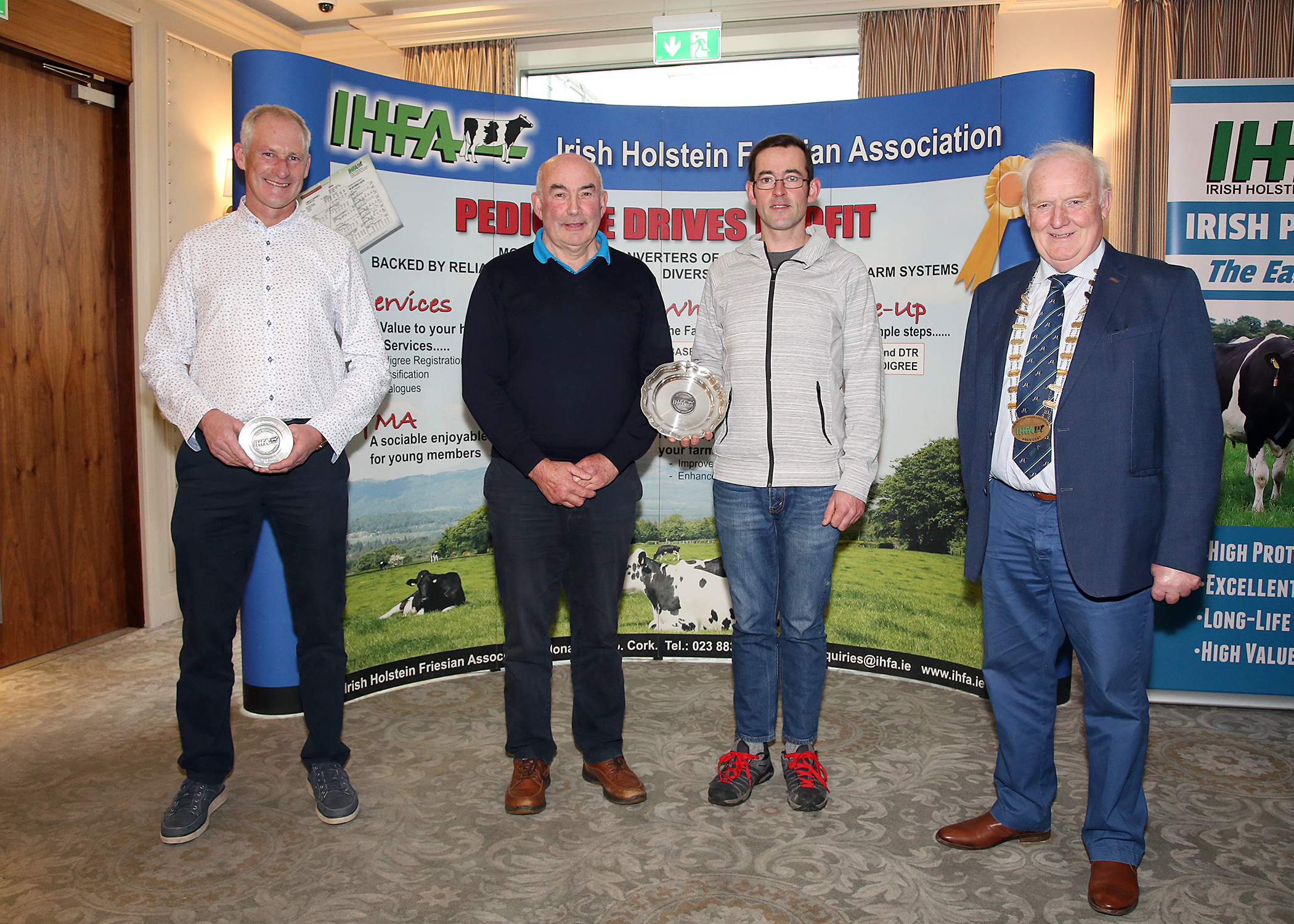 Over 80 Cows Herds
| | Breeder Name | Herd Prefix | IHFA Club Area |
| --- | --- | --- | --- |
| 1st | Tom & James Kelly | Monamore | North Eastern |
| 2nd | Rickey Barrett | Laurelelm | Cork |
| 3rd | 3rd Aidan Frawley | Ballytigue | Limerick/Clare |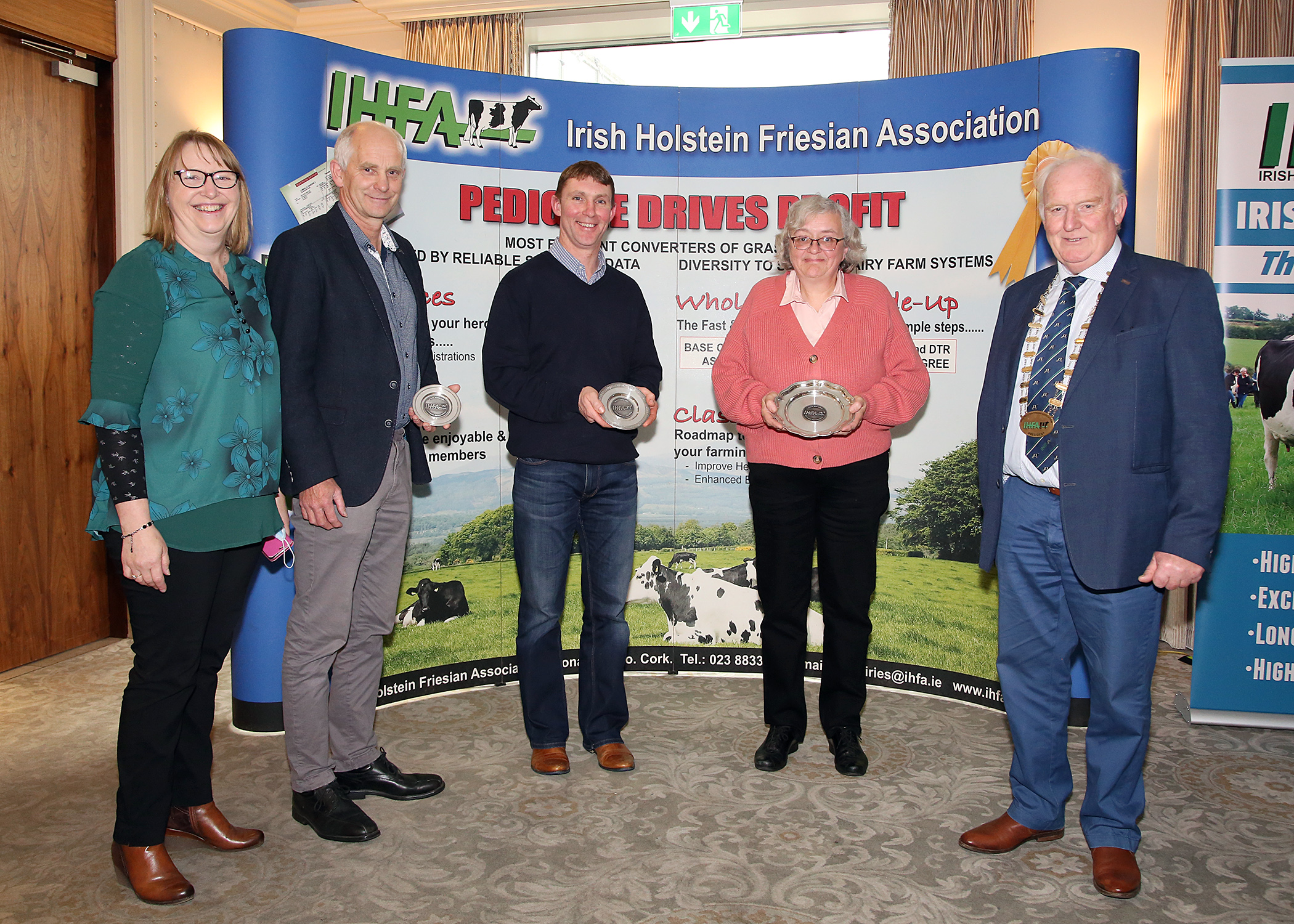 80 Cows and Less

| | Breeder Name | Herd Prefix | IHFA Club Area |
| --- | --- | --- | --- |
| 1st | Dermot Jackson | Borkilbeg | Kildare |
| 2nd | Philip & Linda Jones | Hallow | Slaney |
| 3rd | Robert Helen | Eedy | Cork |
Spring Herds
| | Breeder Name | Herd Prefix | IHFA Club Area |
| --- | --- | --- | --- |
| 1st | Brian Kenneally | Bessborough | Carlow/Kilkenny |
| 2nd | William Horgan | Aghaleemore | Kerry |
| 3rd | James Egan | Tobermartin | Kerry |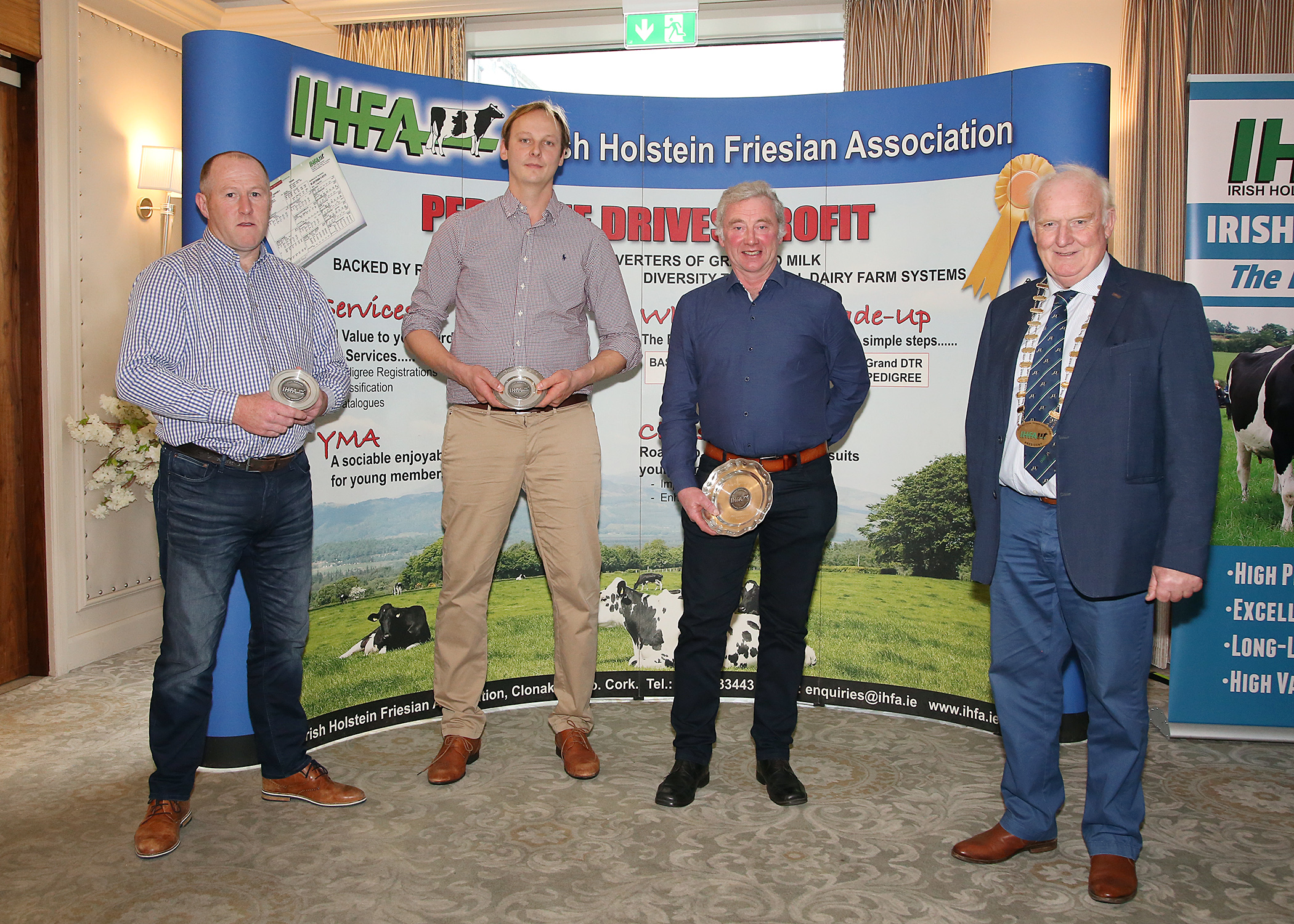 Pure Friesian Herds
| | Breeder Name | Herd Prefix | |
| --- | --- | --- | --- |
| 1st | Peadar Healy | Firoda | |
| 2nd | Pat Cleary | Carrickshock | |
| 3rd | Míchéal Spillane | Mountain | |