History of IHFA
The IHFA was established in 1965. Back then it was known as the Irish Friesian Breeders Association (IFBA). But that is not where the story begins.Back in 1909, the British Friesian Cattle Society (BFCS) was formed. As Ireland was governed by Britain at the time, it was under this organisation that the first Irish herd was registered. In 1918, the Ardtarmon herd of Carl Jones Henry in Co. Sligo was registered.
The Friesian breed soon surpassed the native Shorthorn in popularity. Recognising the increased production offered by the Friesian to those farming limited acreage, the number of Friesian herds increased. This also prompted the demand for a club that recognised the Irish identity of its members. So, in 1940 the Irish Friesian Cattle Club (IFCC), which included the island as a whole, was formed as part of the BFCS club structure.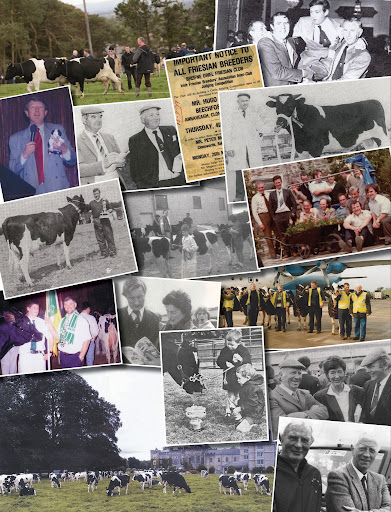 Roll on to 1965, where the IFCC evolved to the Irish Friesian Breeders Association (IFBA). This national association is now recognised by all Friesian breeders in the Republic of Ireland. With the gradual increase in demand for Holstein genetics throughout the 70s and 80s, Ireland saw lines from across Europe, Canada and the USA being introduced to the national population. In 1994, this shift in emphasis led to the rebranding of the association to its current name – Irish Holstein Friesian Association, or IHFA. At that time the IHFA was still linked to its parent organisation – Holstein UK & I (HUK). With the establishment of the Irish Cattle Breeding Federation (ICBF) database in 2002 the IHFA transferred all its data including decades of ancestry and performance details to the ICBF database and commenced registering all pedigree Holstein Friesians through the Irish database and operating an independent Irish herdbook.
To facilitate the new structure IHFA acquired new offices which were officially opened by Mr. Joe Walsh, Minister for Agriculture, DAFM, in the summer of 2002.
Read this for a full and complete history of the association.