IHFA Student Bursary 2021
Gurteen College graduates awarded IHFA Student Bursary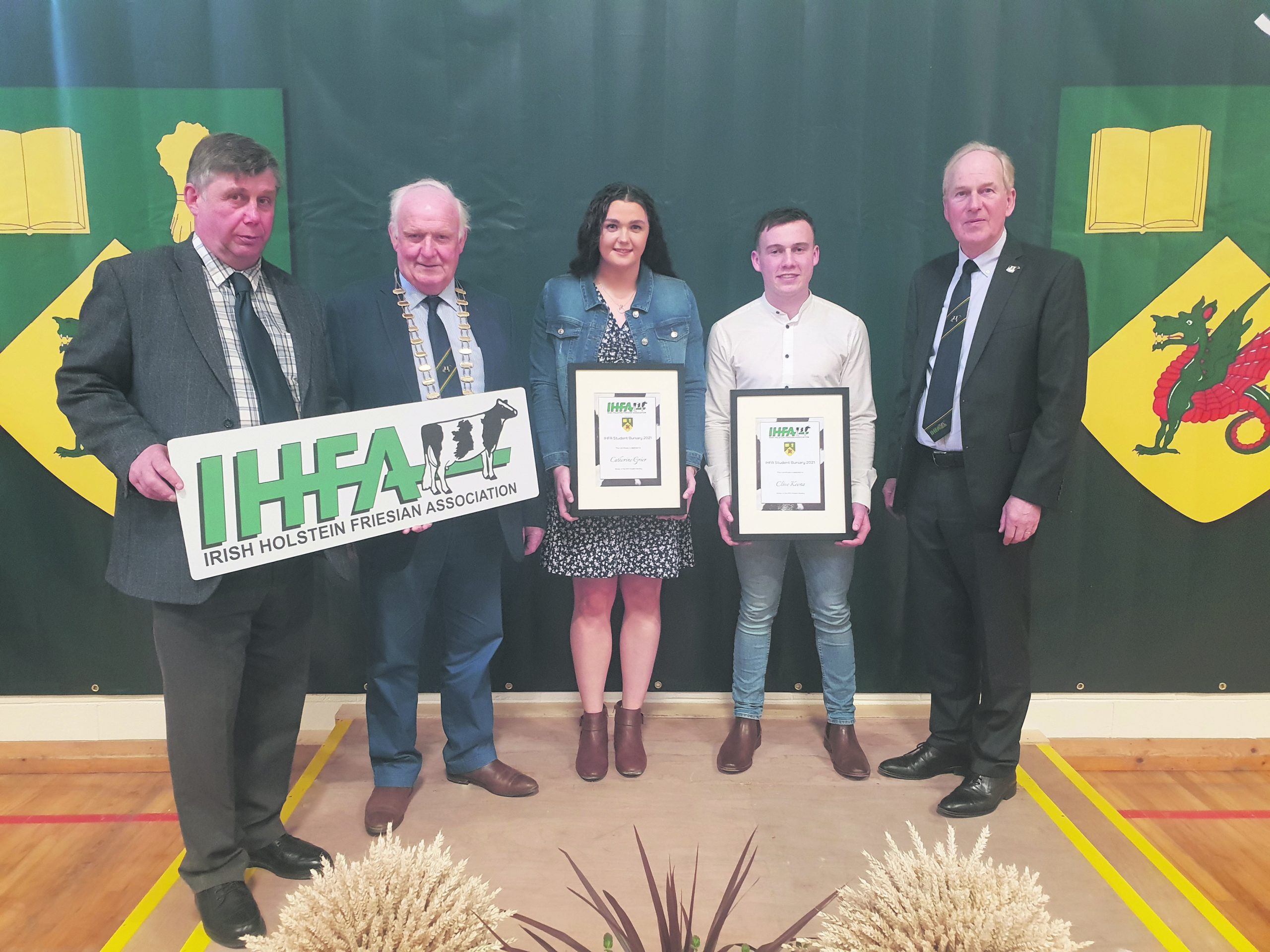 The IHFA Student Bursary 2021 was awarded to Gurteen College students Catherine Grier and Clive Keena. Catherine and Clive have both graduated from the college with a Level 6 Advanced Certificate in Dairy Herd Management.
The Gurteen College conferring ceremony 2022 took place on Friday 25 March and IHFA were kindly invited to attend to present both students with their bursary awards.
Charles Gallagher, CE, President PJ Kelly and his wife Ann were among the VIP guests of the College on the day.
In his graduation ceremony address, Jon Parry, Principal, spoke of the high importance to the college of maintaining a pedigree registered Holstein Friesian herd.
Among the audience were members of the College Trustees and Governing body, the Teagasc Head of Education, parents and family members of the graduating students.
Gurteen College maintains a pedigree registered Holstein Friesian herd which is unique among the colleges in Ireland. It is therefore fitting for IHFA to lend support to Gurteen in its educational ethos. This is the fourth successive year of the bursary initiative, lending enthusiastic encouragement to the new graduates.
Five students in the Level 6 Advanced Certificate in Dairy Herd Management were identified by the teaching staff on the basis of their respective written farm project.
The project, based on a theoretical conversion scenario, required a high degree of knowledge and understanding across a number of disciplines including financial planning, taxation, buildings and infrastructure development, stock purchasing, breeding policy, grassland management, nutrient management planning and herd health protocols. These students were interviewed by a panel including CE Charles Gallagher, Chairman Peter Ging and college teaching staff.
Bursary Winner – Catherine Grier, Aughnish, Ramelton, Co. Donegal
Catherine developed a love and passion for dairy farming from a young age growing up on the family farm at home in Donegal. The Swilly registered Holstein Friesian herd was established and developed by her late grandfather, Ivan Grier. The multitude of rosettes, cups and awards won by Ivan for the quality and performance of his stock imparted Catherine with a love and passion for quality Holstein Friesian breeding.
After completing secondary school there was no ambiguity in terms of the next chapter. Further agricultural and farming education was a certainty. As a graduate of Gurteen College, having completed her Level 6 Advanced Certificate in Dairy Herd Management, Catherine is furthering her third level education. She is now studying for an Honours Degree in Animal & Crop Production in Letterkenny Institute of Technology.
Currently in second year of a four-year course, Catherine is presently attaining professional work experience with Aurivo based in Killygordon.
Diagnosed as being profoundly deaf as a child, Catherine has overcome many challenges in her young life. She is an accomplished soccer player, playing for the Doncaster ladies' team. Catherine has also been selected to play for the Irish Deaf Woman's Futsal Team and later this year she will travel as part of the Ireland squad who have qualified to play in the European Championships.
In her spare time Catherine likes to help out on the farm at home along with her brothers Adam and Andrew and her parents Monica and Alastair.
Following the completion of her third level studies Catherine hopes to farm full time at home. She would like to build on the legacy of her grandfather and parents, pursuing quality breeding and supplying top quality milk from the Swilly herd.
Bursary Runner Up – Clive Keena, Bellair, Ballycumber, Co. Offaly
Having graduated from Gurteen College with a Level 6 Advanced Certificate in Dairy Herd Management, Clive Keena is currently busy farming at home with his father while also helping his brother with his contracting business.
The family's dairy herd consists of 146 Holstein Friesian cows managed on a split autumn/spring calving system. Herd average production is over 7,000kgs, 520kgs milk solids per cow.
All calves born are kept for rearing with surplus calved heifers offered for sale. Bull calves are reared and sold aged between nine and eleven months. The home farm also comprises 130 ewes, managed by his sister Lorraine.
The Keena family are members of the Laois Offaly Friesian Breeders Club. Clive is a talented sportsman, having been selected on various Offaly football inter-county teams as well as playing to a high level with Ballycumber GAA.
He plans on travelling to New Zealand later this year and eventually he plans on returning home to farm full time.