IHFA AGM 2020
September 5, 2020

-

October 6, 2020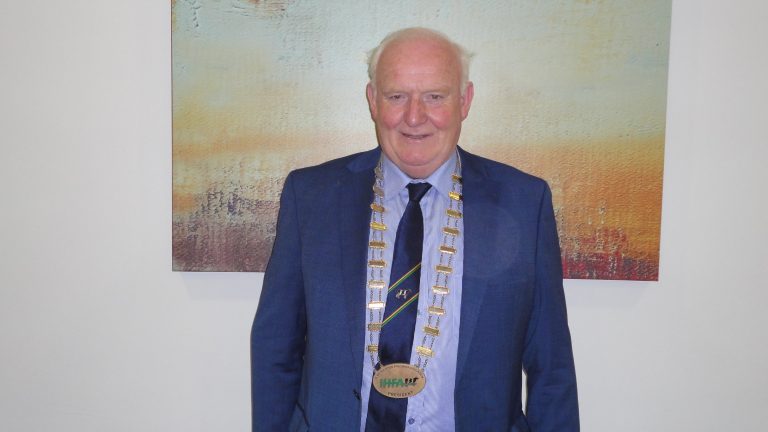 The IHFA AGM 2020 took place on Wednesday September 2nd .
Due to the Covid-19 pandemic and ongoing National restrictions on gatherings and guidelines as to group sizes permitted at events, the AGM was held later in the year and under constricted parameters.
It was an audio-enabled AGM whereby members had the opportunity to dial in remotely via telephone, to hear an audio of proceedings.
PJ Kelly from the West Midlands club was elected as IHFA President.
PJ and wife Ann & family operate the Rahanine herd, located close to Rochfortbridge, Co. Westmeath.
PJ was proposed for the position, the highest office, by his fellow West Midlands club member Graeme Taylor. Graeme hailed PJ's lifelong contribution to the club and also noted the on-going stellar participation and contribution from all the Kelly family.
Deirdre Toal seconded PJ's nomination for President. Deirdre recounted her personal experience of involvement in the West Midlands club from a young age, an experience which she said was enhanced very positively by encouragement from PJ and others. Deirdre also saluted the high regard and esteem in which PJ is held in as a Judge throughout the country. Deirdre said that PJ has been invited by numerous clubs to judge both field evenings and herds competitions over the years and this bodes well for his term as President. Deirdre congratulated PJ, Ann and family.
Addressing the AGM after he was elected, PJ thanked his fellow West Midlands club members, his proposer Graeme and seconder Deirdre. He thanked his wife Ann and family for their invaluable support and encouragement. PJ said that he was both humbled and honoured to accept the position of President. In conclusion he thanked and saluted outgoing President Patrick Gaynor for his unstinting service, commenting on the tireless efforts of both Patrick and wife Mary in attending so many National and club events the length and breadth of the country throughout the year.
Richard Whelan from the North Eastern club was elected to the position of President Elect on the proposal of Leo Nulty and this was seconded by Peter Ging.
Richard thanked his fellow club members for the proposal and he thanked his proposer and seconder for their kind words. In accepting the nomination Richard said that he was humbled to be put forward for the role.
He congratulated PJ Kelly on his election as President. Richard thanked Patrick Gaynor for his stellar term as IHFA President. He also thanked Patrick's wife Mary and all the Gaynor family for their unstinting work and support on many fronts of Pedigree breeding including their work and support for Emerald Expo, Virginia Show and the Baileys Champion cow, their local Breffni Oriel Holstein Friesian breeders club and YMA involvement.
The AGM also recorded the election of new board members; Leo Collins Junior (North Eastern club), Joe Doran (Kildare club) and Tommy Cahill (Galway club).
You can read the CE Report from the AGM here. The venue for the AGM was the Mullingar Park Hotel, Mullingar, Co. Westmeath.