Bayvilla Herd – Dispersal Sale Report
Top price of €4,357 with 12 animals selling for €3,000 or more
157 lots sell for an average price of €2,183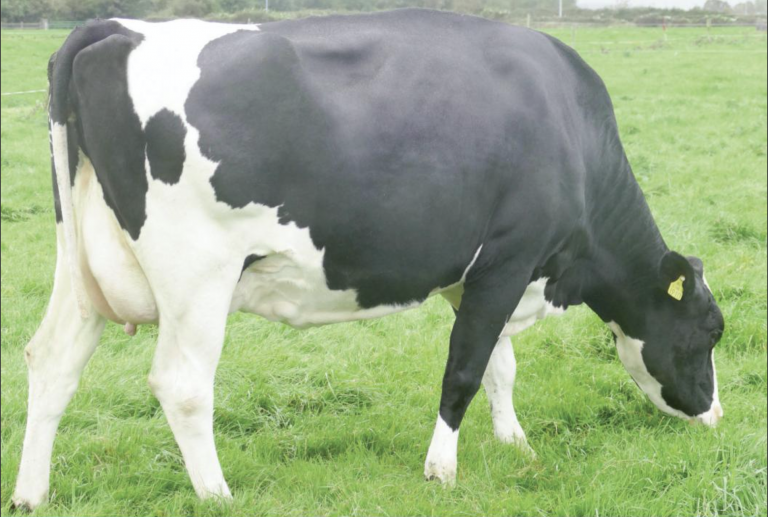 On Saturday, October 17th, a chapter closed on 48 years of registered Holstein Friesian breeding – and a lifetime of "loving every minute of it" – with the dispersal of the Bayvilla herd of Liam and Catherine Curran & family, Dungarvan, Co. Waterford. With 53 lots selling for prices in excess of €2,500, the renown and regard for Liam's herd-breeding policy and emphasis is clearly evident for all to see.
Conducted by Taaffe Auctions, the sale was an online auction. Held on the farm with cameras live-streaming the sale animals via the internet, the buyers had the ability to enter their bids remotely on their mobile phones through the LSL-app platform. Such technology helps insulate against Covid 19 restrictions, enabling sales to proceed using a virtual technology.
Liam's late father, Tommy, bought the herd's first Black and White animal in 1954 with the purchase of Tracton Starlight – a stock bull, from Friesian breeder A.J. Dinan in Castlemartyr, Co. Cork. Liam attended Pallaskenry Agricultural College, where the tutelage of Fr. Dan O'Mahoney bestowed upon him a great love for pedigree Black & White stock.
Liam established the Bayvilla prefix in 1972 as the family farm, located close to Dungarvan town on the Youghal road, entered a new dawn. His lifetime's passion and dedication for quality pedigree breeding, with an ethos to "always be improving", began. Milk recording commenced in 1973 and herdbook type classification inspection service was availed of every year since 1980. A switch in breeding emphasis from Friesian over to Holstein occurred in the mid 80s, as the herd achieved increased yields.
Dispersal Sale
Included in the catalogue offering were; 81 heifers & cows calving September to December, 21 heifer calves, 15 heifers and cows to calve in January, 15 heifers and cows to calve in February, 8 cows calving in March and 3 cows calving in April, and 33 bulling heifers.
A select number of choice cow families with deep pedigrees are the bedrock of the herd. These families, developed progressively over the years by Liam's stockmanship and management, with generations of high production and top conformation grades were a hallmark of the sale, commanding very strong prices overall.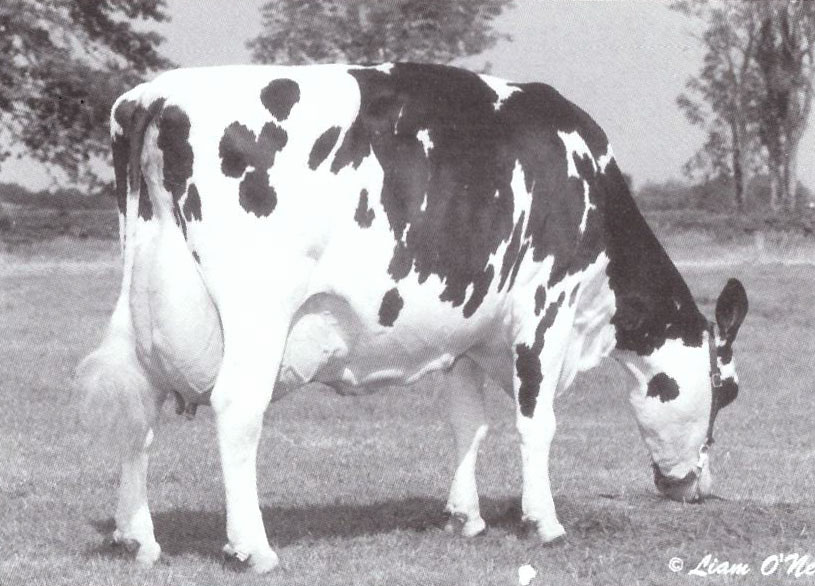 Bayvilla Duchess 7 (Lot 34) was the top price selling for €4,375. She is a potential eighth generation EX (Excellent). Milking 6.5 gallons/day, just two weeks fresh in her second lactation. Her bulling heifer daughter sired by IHG Montana sold for €2,782. Sired by Delaberge Pepper VG86, Duchess 7 is a daughter of Bayvilla Duchess EX, by Comestar Stormatic whose three daughters offered in the sale commanded a flurry of bidding. Her next dam being Croagh Duchess 29 EX90.
Lumville Fame 2 VG85 (Lot 72) attained the second top price selling for €4,147. Bred by Richard Whelan, she was purchased as a young heifer at the Lumville dispersal sale in 2017. She is sired by the AI bull Lumville Duke Planet and is due to calve-in with her third calf at the end of November, having a P.D. to De-Su Davinci EX92. She had a 2nd lactation recorded yield of 10,200kgs milk, 770kgs milk solids at 3.62% protein. Her EX 2E dam recorded over 12,000kgs milk in her 4th lactation with 959kgs milk solids, 4.00% fat, 3.61% protein. Her daughter by King Royal ET a fresh-calved heifer, calved just over a month and is currently milking 27 litres/day sold for €2,730.
Bayvilla Stella 17 (lot 17) was the third top price selling for €3,675. One month fresh in her 3rd lactation she is milking 46 litres/day. She is a potential 7th generation VG/EX dam, sired by Gold-Chip EX95 with the family tracing back to Zone Stella EX.
€4,000 as a combined overall total for mother and daughter was achieved on eight occasions. Bayvilla Papoose (Lot 16), a fresh heifer by IHG Montana calved just five days, sold for €3,202 and her heifer calf (Lot 16 A) by De-Su SS Honeybee sold for €1,207 achieving a combined overall value of €4,409, the top price in this combined category.
Lumville Gen Papoose VG, dam of Lot 16, sold for €3,412. A month into her third lactation she is milking 38 litres/day. In her 2nd lactation she recorded 8,328kgs milk, 749kgs milk solids, 5.18% fat, 3.81% protein.
Summary of the top priced lots per category and the average price per category
A flavour of some other top priced animals includes
Bayvilla Prima 32 (Lot 10) sold for €3,465. A springing heifer due to calve shortly with a P.D. to Delaberge Pepper VG86. She is backed by three generations of VG/EX dams who have recorded over 8,000kgs milk with protein to 3.50% or greater. She is sired by Butz-Hill McLean.
Bayvilla MON Nina (lot 54) an autumn calving springing heifer sold for €3,097. Backed by nine generations of VG/EX dams she is an IHG Montana daughter due in early November with a P.D. to De-Su SS Honeybee (sexed). Her VG86 dam recorded 7,897kgs milk, 682kgs milk solids, 4.76% fat, 3.87% protein in her 3rd lactation and she sold (Lot 43) for €2,835.
Bayvilla Nina 164 (Lot 80) due to calve with her 2nd in mid-December to Real Seal, sold for €2940. She attained the 2nd top price of the batch of autumn calving cows. Scored VG86 as a heifer, she is an 8th generation VG/EX and is a 2nd generation 3.53% protein dam.
From the same family, 3rd lactation Bayvilla Nina 138 VG86 (Lot 110) topped the prices for spring calving cows selling for €2,835. An 8th generation VG/EX dam, she is sired by Bomaz Marion Emerald.
Bayvilla Amathyst Collona 25 VG89 (Lot 53) springing for calving with her fourth due in early November, sold for €2,835. She recorded a 3rd lactation yield of 10,123kgs milk, 772kgs milk solids, 3.98% fat, 3.65% protein. A 6th generation VG/EX dam she has a P.D. to Westcoast Yamaska VG86. Her IHG Montana sired maiden heifer due to calve in January sold for €2,257 with a full sister who was among the batch of bulling heifers, sold for €1,837.
Bayvilla Ella Flo 49 (Lot 94) was the top price of the spring calving heifers, selling for €2,572. She is a potential 6th generation VG/EX sired by Wyman. Her dam, Bayvilla Ella Flo 46 VG, recorded a 2nd lactation yield of 7,453kgs, 629kgs milk solids, 4.82% fat, 3.63% protein.
Aged just ten days old Bayvilla Rose Bud 86, sired by Mogul EX, topped the prices for baby calves selling for €1,942. Her dam, Bayvilla Rose Bud 46 EX, a 3rd generation EX dam, sold for €2,205.
Stock bull, Lisnalty Afterburner 2420, who ran with the herd during the year sold for €3,675. Bred from the Inka Ideal family he is backed by five straight generations of EX dams.
In his remarks at the conclusion of the sale Liam said that he thanked every purchaser and wished everyone good luck and good fortune with their purchases, a sentiment which he said "comes straight from the bottom of my heart".
Aside from a lifetime breeding of a very successful pedigree registered herd, Liam also served in many related breeding facets. He attained the highest IHFA office when elected President in 2009. Liam also served as IHFA Chairman. He was elected by fellow members of the Tipperary Waterford Club as the club representative on the IHFA Board. He has given stellar service to Dungarvan Show as Chairman of the dairy classes and as an industrious member of the organising committee.
The Bayvilla herd was placed 1st for Production and Conformation in the Tipperary Waterford Breeders Club last year.
A particular breeding highlight away from the farm occurred in 2015 when Liam was chosen to Judge the prestigious IHFA National Herds Competition.