Judge Edward Griffiths selects everyone's favourite cow as The Diageo Baileys Irish Champion cow.
The Diageo Baileys Irish Champion all Ireland dairy cow competition in conjunction with Virginia show was held on 19th August. Despite the wet day there was a huge crowd packed around the ringside for this marvelous show of quality cows who in their own right were champions at various shows throughout the summer.
Title sponsor Diageo, who make Baileys Irish Cream has been running the competition in conjunction with its cream supplier Glanbia Ingredients Ireland for the past 32 years with a generous prize fund of €10,000. The successful partnership of competition co-sponsors Diageo and Glanbia Ingredients, Virginia show and IHFA make for a wonderful spectacle of the best in the Holstein Friesian.
29 great cows graced the ring in this special year of the Golden Jubilee of IHFA. The Association was founded in 1965, then known as IFBA. To mark this special occasion Peter Ging President of IHFA made a presentation to Brendan Smyth, Competition Coordinator; Henry Corbally, Chairman of Glanbia; Breffni O' Reilly, Quality Director, Diageo Ireland and Sean Farrelly, President of Virginia Show for their commitment to promoting the Holstein Friesian breed at Virginia Show.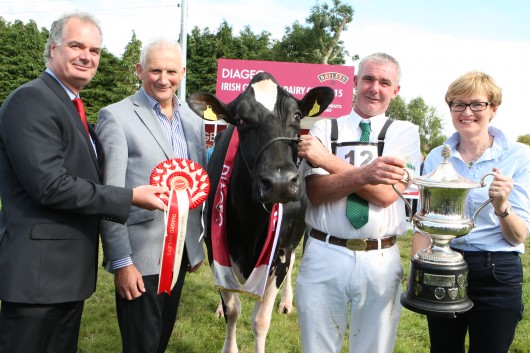 Edward Griffith from South Yorkshire, UK, was the judge for this prestigious competition.
He is already an experienced judge at major shows including The National Holstein Shows in Great Britain, Northern Ireland, Sweden and Slovenia, as well as Agriscot, Dairy Event, Royal Highland, Royal Welsh, Northern Expo, Welsh Dairy Show, Royal Bath and West and twice at the McLarens N.I.S.A Championship. He considers it a great honour to be asked to judge 'the Baileys'.
Edward farms with his wife Jenny and three daughters milking around 180 Pedigree Holsteins plus a small number of Jerseys and Ayrshires, which all share the Coachgate prefix. He recently won the champion herd in the Yorkshire Herd Competition. He is also a member of the Holstein Board with responsibility for the Young Members Association HYB at Holstein UK.
Edward unique style of judging in tapping out his cows in reverse order made for a nail biting finish. He was decisive in his line up with no changes and reasons were superb. The final three cows in the ring were:
Laurelmore Duplex Impala owned by John Barrett & Sons, Baldonnel Goldwyn Sublime owned by Cyril Dowling, Baldonnel and Evergreen Duplex Ebony owned by Liam & Sandra Murphy
Edward commented on the overall quality of the cows presented at this wonderful show which is unique around the world. He thanked his ring stewards and the committee and was honoured to be asked to judge.
Diageo Baileys All Ireland Champion Cow for 2015 was Laurelmore Duplex Impala owned by John Barrett & Sons, Togher, Co. Cork. Edward commented "This was an easy champion, she was so far ahead of the field, she was everyone's type of cow, a 4th calver with tremendous style and ring presence, front end strength and excellent feet & legs".
Congratulations to the Barrett family on their fine win to add to their earlier championship with this cow at Emerald Expo.
Reserve Champion went to Baldonnel Goldwyn Sublime owned by Cyril Dowling, Baldonnel, Dublin 22 and Honourable Mention to Evergreen Duplex Ebony owned by Liam & Sandra Murphy, Bagenalstown, Co. Carlow. This cow was Champion at Tullamore Show earlier in the month.
Eugene Murphy and his son Sean from Waterfall in Co. Cork who won the 2014 Baileys® Irish Champion Competition with Dalevalle OT1 J Lulu was 5th in the line up of this great field of cows.
Champion Heifer was won by Patrick Colton, Emyvale, Co Monaghan with Ardnasalem Fever Sarah. Reserve went to David & Kenneth Boyd ,Glaslough, Co Monaghan with Glaslough Miss Persia. Dry Cow champion was won by Philip and Linda Jones,Gorey, Co Wexford with Hallow Lheros Indianink. Reserve went to Padraic Greenan, Co. Monaghan with Greenlea Shottle Roxy.
Other prizes were awarded in specialist categories:
Mike Magan won Best Protein Award with Weeping-Ash Jasper Appoint and Best EBI went to Tom & James Kelly with Monamore Durham Ellymae.