Emerald Expo 2013 Results
Two in a row for the Croagh Herd!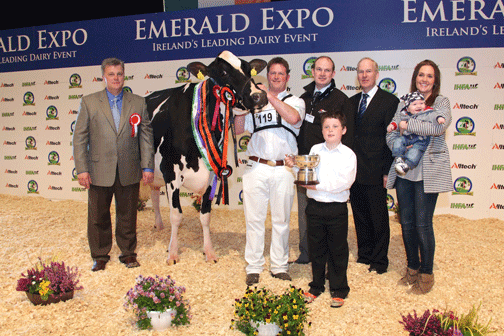 From left: Paul Trapp, Judge, Canada, Derrick Frawley at the halter of Champion Croagh Susie Mist 46 with his nephew Paddy Frawley, Cathal McCormick, Alltech, main sponsors, Charles Gallagher, C.E. IHFA, Katrina & Harry Frawley.
The Emerald Expo 2013 saw a record entry of cows and young stock despite the difficult prevailing weather conditions this Spring. This All Breeds show was well represented in all the classes with Holstein, Irish Pure Friesian, Shorthorn and Jersey competing.
With a record prize fund of 25K, we must be very thankful to all our sponsors in particular our major sponsor Alltech.
The show in its third year was held at the Hub, Cilin Hill, Kilkenny on Saturday 26th April a splendid  modern  facility, and  a real showcase for the Holstein Friesian Breed. The Committee decided to go with a one day event which was very popular with everyone especially the trade stand holders and sponsors who are great supporters year on year.
The show was officially opened by John Bryan, President of IFA to whom we are very thankful
The quality of the stock was the best ever seen in the view of many of the spectators.
The judge officiating at the show was the well known and respected International judge Paul Trapp. Paul hails from Minnesota USA and has judged on the International circuit, judging shows in the USA, Canada, Australia, Brazil, Japan and UK. He is also on the World Dairy Expo show committee and a 4-H judge (young members Handling)
The Frawley family from Croagh, Rathkeale, Co Limerick continued with their success of 2012 and took the Supreme Championship and Reserve, having previously won this accolade at Emerald Expo 2012. Two in a row!
The Supreme Champion and Exhibitor Bred Champion was" Croagh Sussie Mist 46 Ex 90" and the Reserve went to" Ridgefield Dundee Portea Ex 9"3.
The result was a reversal of 2012 when the Portea cow took the Championship and Sussie Mist 46 took the Reserve. Indeed it would be difficult for any cow not alone the Portea to take on the Championship as she was just three weeks calved
Honourable mention was won by the Jones family, Co Wexford with "Desmond Dundee Embrace"
She also won overall best udder.
The judge in his comments on the Champion was wholesome in praise of this young 5 y o cow with three calves. He regarded her as having the best feet and legs he had ever judged.
The Junior Champion was won by the Hurley family from Co Wicklow with "Clonpaddin Windbrook Fame". Reserve went to Pat Coffey, Co Cork with "Lisnacunna Dee Beauty".
The Intermediate Champion was won by Jim & Una Sinnott, Co Wexford with "Ballyboy CarmenVG86". Reserve went to the Jones family with "Hallow Mojo Daisy" with honourable mention win by Cyril Dowling, Baldonnell, Co Dublin with "Baldonnell Goldwyn Sublime"
There was a very good turnout in the Pure Friesian section. Martin Crowe took the Championship with "Dunum Sneacta 86 Ex91" .Reserve went to Phil, Matt and Bill O Keeffe with "Blackisle Laura 68 Ex 91".They also took Honourable Mention with "Churchclara Blackie Circus"
The Highest EBI award was won by the pure Friesian cow" Gortfadda Molly 87" owned by Francis Fitzgerald,Co Limerick.
There was very strong competition in the two young stockmanship and handling classes with 25 young boys and girls competing. It is a great credit to the youngsters to see them all turned out so professionally. The YMA has a great future ahead with the calibre of its young members.
The overall Champion handler was win by Stacey O'Sullivan ,Knockbrown, Bandon Co Cork with Reserve going to Paul Murphy, Banteer, Co Cork. Honourable mention went to Lauren O' Toole, Bagnalstown ,Co Carlow.
The major sponsor for this event was IHFA , Alltech Ireland , Dept. of Agriculture Food and the Marine and FBD Insurance.
Key sponsors include Zoetis (Pfizer animal health) ,Glanbia-Gain Feeds, Norbrook Laboratories,Volac, Novartis, Dairymaster,KW Forage, ABS .
Associate sponsors were  Agri Aware, Macra na Feirme, IFA, ASA, ICMSA, Teagasc ,AIB, Kilkenny Mart, Irish Pure Friesian club,Shorthorn society,Jersey society, Animax,  Dovea Genetics, Eurogene, Semen World, Bova AI, Progressive Genetics/Semex , Volac,  Lakeland Dairies and Bovi Genetics.
I wish to thank all our sponsors for their support.
There were two information Forums on the topics "Renewable Energy" and "Dairy Expansion".
I wish to thank the guest speakers, Ger Bergin,Vice President IFA, Briain Smyth, Biotricity and Matt Merrick who chaired the forum on Renewable Energy.
I wish to thank Padraig French and Tom O'Dwyer –Teagasc and Pat O Meara ,AIB who presented the forum on Dairy expansion.
Charles Gallagher.
SHOW RESULTS 2013:
Class 1 Sponsored by ICMSA Heifer born after 1st July 2012
1st: Pat Smith Cahirmee Fever Paradise
2nd: Gary Hurley Clonpaddin AFT Mona
3rd: L & S Murphy Evergreen Royalty 5
4th: Pat Smith Cahirmee Isper Presence
5th: Pat Smith Cahirmee Atwood Presence
6th: Dermot McCarthy Copsewood Goldun Wish
7th: Richard Whelan Lumville Darren Chrissie
8th: Ml. & Eliz McNamara Laurelelm Stone Daffodil
Best Exhibitor Bred: Pat Smith's Cahirmee Fever Paradise
Highest EBI: Richard Whelan's Lumville Darren Chrissie
CLASS 2 Sponsored by Eurogene AI Services Heifer born between 1st jan and 30th June 2012
1st: Gary Hurley Clonpaddin Windbrook Fame
2nd: Philip Jones Hallow Boss Twain
3rd: Jack Cooney Hallow Bordermist Sid Fran
4th: Kevin Behan Bonaghmore Alexander Mac 2
5th: Donal Neville Emerald Palermo Fran
6th: Ml. & Mgt Laffan Leagh Damion Princess
7th: Paul Murphy Spingview Igniter Catina
8th: Peter Kennelly Mountbeamish Dorwyn Riva
Best Exhibitor Bred: Gary Hurley's Clonpaddin Windbrook Fame
Highest EBI: Philip Jones' Hallow Boss Twain
CLASS 3 Sponsored by Animax Heifer born between 1st March and 31st Dec 2011
1st: Patrick Coffey Lisncunna Dee Beauty
2nd: Patrick Coffey Lisnacunna Aftershock Passion
3rd: Philip Jones Hallow Fever Brenda
4th: Jack Cooney Lumville Jet-Red Marleen
5th: Anthony Kealy Grangecon Jasper Mimi 12
6th: Mervyn Eager Clonpaddin G Fame
7th: Richar Whelan Tubbertoby Million Jenn
Best Exhibitor bred: Patrick Coffey's Lisnacunna Dee Beauty
Highest EBI: Philips Jones' Hallow Fever Brenda
CLASS 4 Junior Shorthorn Heifer not calved
1st: Denis & Patrick Roche Slevoy Norma
2nd: Glen Carter Ballytrain Fanny 9
CLASS 5 Sponsored by BOVI Genetics Junior Jersey Heifer not calved
1st G. Jones / I. Whittaker Claydeboye Pride Genevive
2nd: Patrick Coffey Moorshill Lisnacunna Nikki
Junior Championship sponsored by Spirovac
Junior Champion: Gary Hurley's Clonpaddin Windbrook Fame
Reserve Junior Champion:Patrick Coffey's Lisnacunna Dee Beauty
Class H1 – Hander aged 16 and under on 1st Jan 2013 – sponsored by Volac
1st: Paul Murphy
2nd: Lauren O'Toole
3rd: Kevin Smith
4th: Rachel McNamara
5th: Andrea Rafferty
6th: Kevin Behan
7th: Jack Cooney
8th: Brian Smith
9th: Emma McNamara
10th: James O'Sullivan
Class H2 – Handler aged between 17 and 26 under on 1st Jan 013 – sponsored by Volac
1st: Stacey O'Sullivan
2nd: Padraic Murphy
3rd: Caitriona Neville
4th: Brendan Greenan
5th: Emer Kennelly
6th: Owen Laffan
7th: Katie Kennelly
8th: Ann O'Toole
Hander Championship sponsored by Volac
Champion: Stacey O'Sullivan
Reserve Champion: Paul Murphy
Honourable Mention: Lauren O'Toole
CLASS 6 Sponsored by Glanbia / Gain Feeds Junior 2 year old in milk born after 1st Sept 2010
1st: Dermot O'Driscoll Skeafbridge Goldwyn My Fair La
2nd: Tadhg Bourke Baldonnel Goldie Larissa
3rd: Gary Hurley Clonpaddin Frank Fanta
4th: Robert Forrest Coolroehouse Mystical Lily
5th: A. Dorian / T. Kelly Clonpaddin SFC Jill
6th: Thomas Kelly Monamore Pearl 27
7th: Pat Smith Cahirmee Sance 3 Chelsie
Best Exhibitor bred: Dermot O'Driscoll's Skeafbridge Goldwyn My Fair La
Highest EBI: Dermot O'Driscoll's Skeafbridge Goldwyn My Fair La
CLASS 7 Sponsored by Novartis Senior 2 yearld onld in milk born between 1st Sept '09 – 31st Aug '10
1st: Jim & Una Sinnott Ballyboy Carmen
2nd: Cyril Dowling Baldonnel Goldwyn Sublime
3rd: Dermot O'Driscoll Skeafbridge Roy Myfair Lady
4th: P & D Frawley Croagh Susie Mist 62
5th: Emma Behan Clonpaddin WRM Rose
6th: Thomas Kelly Monamore Iris 80
Best Exhibitor Bred: Jim & Una Sinnott's Ballyboy Carmen
Highest EBI: Thomas Kelly's Monamore Iris 80
Intermediate Heifer in-milk Championship sponsored by ABS Ireland
Champion: Jim & Una Sinnott's Ballyboy Carmen
Reserve Champion: Philip Jones' Hallow Mojo Daisy
Honourable Mention: Cyril Dowling's Baldonnel Golddwyn Sublime
CLASS 8 Sponsored by Dovea Genetics irish Pure Friesian Heifer in Milk
1st: Michael Spillane Mountain Piet Rosie
2nd: Francis Fitzgerald Gortfadda Molly 150
3rd: Martin Crowe Dunum Sneacta 1025
4th: Phil & Matt O'Keeffe Churchclara Beg Emily
5th: Martin Crowe Dunum Havana 1003
Best Exhibitor Bred: Michael Spillane's Mountain Piet Rosie
Highest EBI: Martin Crowe's Dunum Havana 1003
CLASS 9 Shorthorn Heifer in Milk
1st: James Lambe Ballytrain Princess 35
2nd: Denis & Patrick Roche Ransboro Cressida 35
CLASS 11 Sponsored by Bova AI Junior Pure Friesian Cow in Milk
1st: Phil & Matt O'Keeffe Churchclara Blackie Circus
2nd: Martin Crowe Dunum Avacado 956
3rd: Martin Crowe Dunum Olivia 952
4th: Phil & Matt O'Keeffe Churchclara Torello Laura
5th: Francis Fitzgerald Gortfadda Molly 132
Best Exhibitor Bred: Phil & Matt O'Keeffe's Churchclara Blackie Circus
Highest EBI: Martin Crowe's Dunum Havana 1003
CLASS 12 Sponsored by Kilkenny Mart Irish Pure Friesian Senior Cow
1st: Martin Crowe Dunum Sneacta 86
2nd: Phil & Matt O'Keeffe Blackisle Laura 68
3rd: Martin Crowe Dunum Sneacta 84
4th: Francis Fitzgerald Gortfadda Molly 120
5th: Martin Crowe Dunum Olivia ET
6th: Michael Spillane Mountain Glenalbyn Rosie
7th: Francis Fitzgerald Gortfadda Molly 87
Best Exhibitor Bred: Martin Crowe's Dunum Sneacta 86
Highest EBI: Francis Fitzgerald's Gortfadda Molly 87
Irish Pure Friesian Championship sponsored by Dovea Genetics
Champion: Martin Crowe's Dunum Sneacta 86
Reserve Champion: Phil & Matt O'Keeffe's Blackisle Laura 68
Honourable Mention: Phil & Matt O'Keeffe's Churchclara Blackie Circus
CLASS 13 Shorthorn Cow in Milk
1st: James Lambe Ballytrain Julie
2nd: Glenn Carter Ransboro Waterloo Rose 27
3rd: Glenn Carter Ransboro Blossom 12
Irish Shorthorn Championship
Champion: James Lambe's Ballytrain Julia
Reserve: Glenn Carter's Ransboro Waterloo Rose 27
Honourable Mention: James Lambe's Ballytrain Princess 35
CLASS 14 Jersey Cow in Milk
1st: Donal & Tadgh Bourke Woodtown Banter 2
Jersey Championship Sponsored by AIB
Champion: Donal & Tadhg Bourke's Woodtown Banter 2
Reserve: G. Jones / I Whittaker's Cladeboye Pride Genevive
Honourable Mention: Patrick Coffey's Moorshill Lisnacunna Nikki
CLASS 15 Sponsored by KW Forage Systems 4 Year old Holstein Freisian Cow in Milk
1st: Philip Jones Desmond Dundee Embrace
2nd: Pat & Derrick Frawley Croagh Pamela 13
3rd: David & Ken Boyd Glaslough Miss Petra
4th: David & Ken Boyd Glaslough Miss Shelly
5th: Patrick Coffey Lisnacunna Redliner Fiona
6th: Richard Whelan Ardboky Bossman Alice
7th: Thomas Kelly Monamore Torch 242
Best Exhibitor Bred: Pat & Derrick Frawley's Croagh Pamela 13
Highest EBI: David & Ken Boyd's Glaslough Miss Petra
CLASS 16 Sponsored by Progressive Genetics 5 Year old Holstein Friesian Cow in Milk
1st: Pat & Derrick Frawley Croagh Susie Mist 46
2nd: Philip Jones Hallow Advent Twizzle 3 ET
3rd: Liam & Sandra Murphy Evergreen Duplex Ebony
4th: Thomas Murphy Swiftsheath Ruby 969
5th: C Dowling / R Drohan Suirvalley Fair Dawn
Best Exhibitor Bred: Pat & Derrick Frawley's Croagh Susie Mist 46 Highest EBI: C Dowling / R Drohan's Suirvalley Fair Dawn
CLASS 17 Sponsored by FBD Senior Holstein Friesian Cow in Milk
1st: Pat & Derrick Frawley Ridgefield Dundee Portea
2nd: Richard Whelan Lumville Danoise 2
3rd: Philip Jones Hallow Champion Carmen
4th: David & Ken Boyd Glaslough Goldwyn Bret
5th: Hurley Family Clonpaddin GWY Fanta
6th: Thomas Kelly Monamore Talents Allie
7th: Kevin Behan Ballyboy Gibson Carmen 6
Best Exhibitor Bred: Richard Whelan's Lumville Danoise 2
Highest EBI: Pat & Derrick Frawley's Ridgefield Dundee Portea
CLASS 18 Sponsored by Dairymaster Production Class
1st: Richard Whelan Lumville Danoise 2
2nd: Philip Jones Hallow Champion Carmen
3rd: Hurley Family Clonpaddin GWY Fanta
4th: Thomas Kelly Monamore Miss Elly
Best Exhibitor Bred: Richard Whelan's Lumville Danoise 2
CLASS 19 Sponsored by Norbrook Best Group of three
1st: Pat & Derrick Frawley "Croagh" Herd
2nd: Mervyn & Philip Jones "Hallow" Herd
3rd: David & Ken Boyd "Glaslough" Herd
4th: Tom Kelly "Monamore" Herd
Best Udder of the Show sponsored by Lakeland Dairies
Mervyn & Philip Jones' Desmond Dundee Embrace ET
Exhibitor Bred Champion sponsored by IHFA
Patrick & Derrick Frawley's Croagh Susie Mist 46
Overall EBI Award sponsored by Macra Na Feirme
Francis Fitzgerald's Gortfadda Molly 87
Premier Breeder Award sponsored by IFA
Mervyn & Philip Jones "Hallow" Herd
Premier Exhibitor Award sponsored by Semen World
Mervyn & Philip Jones "Hallow" Herd
Senior Cow Championship sponsored by Alltech
Champion: Patrick & Derrick Frawley's Croagh Susie Mist 46
Reserve: Patrick & Derrick Frawley's Ridgefield Dundee Portea
Honourable Mention: Mervyn & Philip Jones Desmond Dundee Embrace