Hallow Attic Christina is crowned Expo Champion
The 7th Emerald Expo saw Hallow Attic Christina owned by Philip & Linda Jones win Supreme Champion, Exhibitor Bred Champion, Best Udder and was presented with the Seamus Kelly Perpetual Trophy.
Reserve Champion Clonpaddin M Cyg Fame ET, owned by James Mulhall with Steve McLoughlin at halter pictured with Doireann and Cathal Mulhall and Charlie Gallagher CE IHFA
Reserve Champion was won by Jim Mulhall & family, Danville herd with Clonpaddin M CYG Fame ET, Intermediate Champion and 1st Senior 3 Year-Old. The Mulhall family have been very involved in YMA locally and nationally over the years. It is great testament to their efforts to have performed so well, especially Doireann and Cathal who took on the responsibility of show preparation.
Patrick and Karl Colton won Honourable Mention with Ardnasalem Jenny ET, 1st 5 Year-Old Cow In-Milk with Andrea Murphy on the halter. Jenny was also winner of the Expo EBI Championship.
It was the biggest Expo show to date, with over 130 entries and big numbers throughout every class. Mark Logan, Clandeboye herd, was Judge and he surmised "This has been a fantastic show with great credit due to all exhibitors who have supported the show so strongly in such big numbers. When I saw the first of the heifer classes enter the ring and to observe the quality breeding on display I was nearly bowled over. This high standard continued right throughout the show".
THE GLANBIA SUPREME CHAMPIONSHIP
Champion Hallow Attic Christina, Philip and Linda Jones
Reserve Champion Clonpaddin M CYG Fame ET, James Mulhall
Honourable Mention: Ardnasalem Jenny ET, Patrick and Karl Colton
THE IHFA EXHIBITOR BRED CHAMPION
SPONSORED BY IHFA
Hallow Attic Christina, Philip and Linda Jones
THE LAKELAND DAIRIES BEST UDDER OF SHOW
SPONSORED BY LAKELAND DAIRIES
Hallow Attic Christina, Philip and Linda Jones
EBI CHAMPIONSHIP – SPONSORED BY IHFA
HIGHEST HOLSTEIN FRIESIAN EBI ANIMAL, JUDGED ON CONFORMATION – HIGHEST EBI ANIMAL PER CLASS
1. Ardnasalem Jenny ET, Patrick and Karl Colton
2. Greenlea Lauthority Pledge, Padraic and Brendan Greenan
3. Monamore PNH Darlene ET 1, James and Tom Kelly
THE LAKELANDS PREMIER BREEDER
SPONSORED BY LAKELANDS
Greenans
THE LAKELANDS PREMIER EXHIBITOR
SPONSORED BY LAKELANDS
Greenans
YMA SHOWMANSHIP LEAGUE Handling Championship – SPONSOR VOLAC
Champion : Hollie Keenan (Breffni Oriel club)
Res Champion: Lauren O'Toole (Carlow Kilkenny club)
Hon Mention: Jamie Keenan (Breffni Oriel club)
The excellent facilities and cosy atmosphere of the Virginia Show Centre was again the venue as breeders from across the country made the trip to Cavan. Key sponsors of the Show were Glanbia, FBD, Alltech, IHFA and the Department of Agriculture, Food and the Marine (DAFM). Henry Corbally, Glanbia Chairman officially opened the Show and welcomed all in attendance and commended the exhibitors for their strong support of the Show.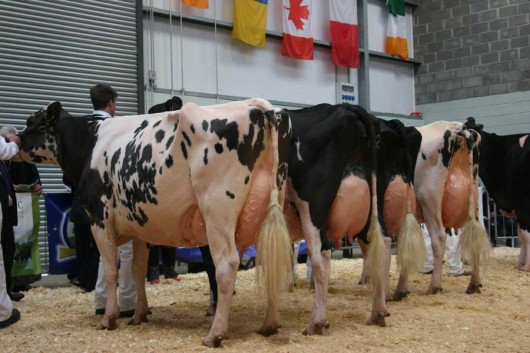 Quality and depth of breeding, tremendous stockmanship skills and high-calibre classes was a constant theme throughout the Show. The quality of stock on parade for the Groups of three class and the Championships is etched in the memory of the on-lookers ringside. Contenders in the Senior Championship included; Greenlea Shottle Pledge, Greenlea Lauthority Pledge for Padraig & Brendan Greenan, Glaslough Talent Harri and Glaslough Baxter Elly for David & Kenneth Boyd, Swiftsheath Olivia 1277 for James & Tom Kelly, Future Dream H Absolute Joy for Paul & Marguerite Flanagan, Trevor Williamson's Drumshanny Gold Dusk Rita and Richard Whelan's Lumville E Danoise.
With both Premier Breeder and Premier Exhibitor title being won by the Greenan's from Monaghan it was a particularly strong showing by members of the local Breffni Oriel Club.
Judge, Mark Logan is a member of the UK Judges Panel and is a familiar figure to many through his many judging tasks completed throughout Ireland in the past. He is manager of the Clandeboye estate near Belfast, consisting of 2,000 acres. The dairy herd consists of 65 Pedigree Registered Holstein Friesians and 25 Jerseys plus followers. The herd has been very successful in a number of shows recently including Supreme Champion Irish National Holstein Show '07, '08 and '12, Royal Ulster Inter Breed Champion '08 and Royal Ulster Winter Fair Champion Jersey '10, '11, '12 and 2015.
Mark's judging duties on the day began with the YMA Showmanship Leagues classes getting proceedings underway. With 37 Young Members competing this was a tremendous spectacle for YMA. This was the first of the qualifying shows for the YMA Showmanship League this year and the calibre of handling on view was very impressive. Hollie Keenan was placed 1st in the Junior class and went on to be crowned Champion Handler. This was a great achievement by Hollie with her brother Jamie taking Honourable Mention. Lauren O' Toole took Reserve Champion and was also 1st in the Senior Showmanship League class.
The calf classes were hotly contended resulting in a very strong Junior Championship. Clonpaddin MPW Fame 2 exhibited by the Hurley family with Mark on the halter took the Championship with Bryan O' Connor's Yardgrove Atwood Jeanette in Reserve. With Doireann Mulhall on the halter this Atwood daughter was 1st in the August-October class. Dalevalley Dore Tracey was Honourable Mention for Roy and Heather Cromie, 1st in the January-March class and the Cromie's also had 1st in the April-July class with Dalevalley Open Barbie.
Entries were very strong for the in-milk Heifers such that the class was split into two. Lumville E Danoise, sired by Lumville S Jordan was winner of the younger class and Future Dream H Absolute Joy sired by Apples Absolute-Red was winner of the older class for Paul & Marguerite Flanagan & family. Joy was later tapped out for Honourable Mention in the Intermediate Championship.
It was a dream day for the Mulhall family with their Clonpaddin M CYG Fame being placed 1st in the Senior 3 Year-Old & best Udder, Intermediate Champion and Reserve Supreme Champion. Having calved-in with her second in early February she was a great production heifer yielding 9,100 kgs milk and 634 kgs of milk solids. She was shown very successfully as a calf by Doireann in the past including representing the Carlow Kilkenny club at National YMA level. She is backed by three straight generations of EX Dams and sired by Gold Chip.
Hallow Attic Christina was queen of the day in winning Supreme Champion, Exhibitor-Bred Champion, Best Udder of show and was also 1st 4-Year-Old. Gary Jones was on the halter for owners Philip and Linda Jones. Classified VG89 on Conformation Christina produced 11,200 kgs milk in her 1st lactation with over 800 kgs of milk solids. Having calved-in with her 2nd last October she is projected to again produce in excess of 11,000 kgs this lactation and over 900 kgs of milk solids.
C.E. Charles Gallagher commended all exhibitors for their strong support of the show and for the exceptional quality stock exhibited in all the classes throughout the day. He said that the Holstein Friesian breed has the proven performance of delivering for all dairy farmers in terms of milk production delivered and also the valuable contribution of progeny performance. He noted that the current dairying scenario requires income from not only milk sales but also stock sales and the Holstein Friesian has the genetics to deliver both for Irish dairy farmers.
Show Chairman Richard Whelan thanked the many people involved without whom the Show could not be held; Virginia Show Committee, Patrick & Mary Gaynor and family, sponsors, IHFA C.E. and staff, the local members of the Breffni Oriel club, ring steward Dessie Dunleavy and the cattle stewards, Matt O' Keeffe as M.C. the various tradestands on the day. He also singled out the many people who help out behind the scenes. He said that Expo was now in its 7th year and with the move to the new venue of the Virginia Showgrounds the show has gone from strength to strength.
Emerald Expo is the premier Spring Show in the Republic, harking back to the famed RDS Spring Show of the past. Richard thanked all exhibitors for their strong support and wished everyone continued success ahead of the Showing season 2017.
Full show results HERE