Monamore Sale 2020
In-calf heifer Monamore Westcoast Barbie, tops the sale with the hammer falling at €7,560
73 lots sold in total, averaging €3,023 with 21 baby heifer calves averaging €1,117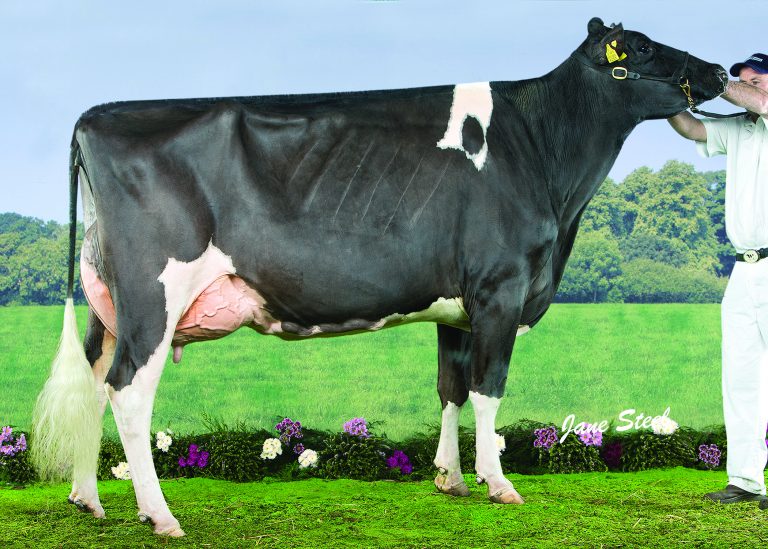 She won 1st & Reserve Champion at Emerald Expo 2016 and recently attained IHFA Diamond Award status having surpassed 3,000kgs protein production and classified Excellent on conformation. She has a lifetime production of 91 tonnes to date. A highly successful family over numerous generations of Monamore and Moneymore breeding, as far back as 1976, the Iris family won the Best Cow Family section of the North Eastern Club's Herds Competition.
The 55th Monamore sale for Tom, James and Rhona Kelly was surely one the best ever auctions to date. Conducted by Taaffe Auctions on Saturday, October 31st, thirty lots sold for prices of €3,000 or more. Choice catalogue entries, specially included for the sale, included a mix of 'hot' families currently topping the country rankings internationally alongside the stellar, renowned bloodlines of Monamore such as Torch, Vera, Darlene, Raven and Ellymae.
Held as an online auction due to national level five Covid-19 protocols, the geographic spread of buyers from all over the country, north and south, is testament to the widespread popularity of Monamore breeding. Once again, proven cow families – with depth of pedigree, high production and components, top classification grades of conformation, bred from modern breed-leading and proven international sires – commanded brisk bidding.
Monamore Westcoast Barbie ET (Lot 75) sold for €7,560 topped the sale. Bred from the Barbie family, developed at Regancrest in the USA, she is backed by eleven generations of VG/EX dams. Her maternal line includes four generations of USA Gold Medal dams. The family has bred numerous internationally renowned AI sires including Regancrest Bradnick ET VG87 and Regancrest Braxton. Her fifth dam is a former runner up in the Global Cow of the Year 2010 competition. Sired by Westcoast Perseus VG87, and aged twenty-two months old, Monamore Westcoast Barbie has a P.D. to Bacon-Hill Hurricane (sexed) with an expected due date of mid-February.
Her full sister Monamore W P Barbie ET (Lot 76) sold for €5,302. Aged just one day younger than her sale topping sister, she has a P.D. to Lambda Haniko (sexed) with an expected due date of mid-January. Dam Leagh Silver Barbie ET VG88 2nd lactation with an EX90 Mammary, recorded 10,960kgs milk, 847kgs milk solids, 4.29% fat, 3.44% protein in her first lactation.
For the first ever, members of the Halo family were to sell at auction in Ireland. There was an opportunity on the double to buy into this family at the Monamore sale. Full sisters born in February this year and sired by Delaberge Pepper, Monamore Halo 7267 ET and Monamore Halo 7261 ET were offered as one single lot, sold on choice. Dam, Monamore Halo ET VG86 2 year old with VG88 Mammary, whose grand dam, Cookiecutter Ssire Have VG86 2 year old, is the dam of AOT Silver Helix, the number one GTPI bull in the USA. As a bull mother of renown, she is nominated for Holstein International Global Cow of the Year 2020. A potential 12th generation VG/EX, the family descends from Snow-N Denises Dellia EX95 2E. Selling on choice with the highest bidder winning the right to select their preference of the full sisters with the other sister returning to Monamore. The auction hammer fell at €4,620.
The next lot into the ring was again a choice sale offering of Bomaz Saige sired full sisters, aged two months younger from the same dam, Monamore Halo ET VG86 2 year old with VG88 Mammary. The choice lot selection sold for €2,782 with the other sister again returning to Monamore.
55th Monamore Draft Sale – Summary of Prices
| | Numbers per category | Top Price € | Average Price € |
| --- | --- | --- | --- |
| Calved Heifers | 23 | 3,832 | 2,835 |
| Calved Cows | 23 | 3,780 | 2,835 |
| Autumn & Spring calving Heifers | 23 | 7,560 | 3,181 |
| Baby Calves | 21 | 1,785 | 1,117 |
Monamore WP Ellymae (Lot 39), who sold for €3,832, topped the calved heifers. The highest yielding heifer in the herd, she currently milks 42 litres/day, six weeks after calving. From the Ellymae family, she is sired by Westcoast Perseus. Her grand dam is maternal sister to the AI bulls Monamore Electron (MXZ) and Monamore E-Force ET (EFM).
Monamore Vic Romulet 5 VG86, a month fresh in her second lactation, sold for €3,780 – the top priced calved cow of the sale. Currently milking 38 litres/day. As a heifer she recorded 8,110kgs, 621kgs milk solids, 3.96% fat, 3.70% protein. She is a 6thgeneration VG/EX from the Vicromulet family, developed in the Elmgrove herd. Both her Monamore bred grand dam and great grand dam recorded over 3.90% protein.
Ballyboy King Doc Carmen (Lot 60) who sold for €3,832, was one of the top priced autumn-calving heifers. Bred by Jim and Una Sinnott, she was purchased aged just two months old at the Ballyboy dispersal sale last year. Due at the end of November she has a PD to Lesperron Unix EX96 (sexed). Sired by Woodcrest King Doc VG88, she is a potential 10th generation VG/EX from the successful Carmen family. Her 5th dam, Ballyboy Juror Carmen, is a former Baileys All Ireland Champion Cow 2004 having also won many other showing titles.
From the same family, Ballyboy Rambo Carmen (Lot 59) sold for €3,097. A springing heifer due in early November she has a PD to Siemers Lambda Haniko (sexed). Her maternal sister, Ballyboy Sid Carmen EX, was Honourable Mention at the Baileys All Ireland Champion Cow 2019.
Monamore K Royal Iris (Lot 58) an April born "special" maiden heifer sold for €3,885. Already halter trained for showing, her dam, Monamore Hagleys Iris VG87 (2nd lactation) was described as "one of the favourite young cows in the herd". Her grand dam, Monamore Seavers Iris EX94 4E (EX 2nd calf), recently attained an IHFA Diamond Award, after achieved 3,000kgs protein production. She is a noted production cow at Monamore with a lifetime milk yield to date of 91 tonnes.
Monamore WP Fame (Lot 33) who sold for €3,465 and her heifer calf by Delaberge Pepper who sold for €1,785, achieved the top combined price for mother and her "A Lot" heifer calf, a total combined value of €5,250. Calved since September 6th and milking 29 litres/day, this Westcoast Perseus daughter is a potential 9th generation Fame, backed by six generations of 3.50% protein dams. Her grand dam Monamore Sevens Fame VG88 sold for €6,300 at the 2016 Monamore sale.
Monamore Fieldmaster (Lot 86), service-age stock bull sold for €2,730. Bred from the Faith family, he is sired by Glamour Boghill Carlito ET. His dam Monamore Dominos Fifi ET EX92 3E is now in her sixth lactation, with three previous consecutive 10,000 kgs lactations. In her 4th lactation she recorded 12,394kgs milk, 861kgs milk solids, 3.62% fat, 3.33% protein. Fieldmaster has two VG maternal sisters including Monamore Mars Allround Fifi VG87 10,487kgs milk, 683kgs milk solids in her 2nd lactation.
Owing to the practical considerations of holding a draft sale under Level 5 national Covid-19 protocol the sale which has traditionally taken place on the Kelly family farm, Drogheda, was moved to the premises of Carnaross Livestock mart, Kells Co. Meath.