Top price of €4,672 and 100% clearance at Swiftsheath Youngstock Sale
Cow families and generations of breeding performance command the top prices for Tom and Maura Murphy & family
by Donal Carey
51 lots comprising all youngstock – served heifers, bulling heifers and heifer calves – was the choice catalogue offering at the Switftsheath Herd Young Stock Sale held online on Saturday May 15th. Conducted by Taaffe Auctions the sale took place from the Murphy family farm, situated mid-way between Ballyragget and Kilkenny city.
It was a major honour for the Murphy family when their Swiftsheath herd hosted the IHFA National Open Day in 2012. The herd has developed further in recent years including expansion from within and a changeover in 2017 to a robotic milking system.
Strong cow family performance over the years in breeding surplus numbers provided a window of opportunity to hold a draft youngstock sale.
Brisk online bidding on the day and a buoyant trade throughout resulted in a 100% clearance, with heifers bought by purchasers from across fourteen counties in Ireland. Seven lots sold for prices over €2,500 while four lots commanded prices in excess of €3,000.
Generations of breeding performance in conformation and milk solids production, including protein % prevailed as a trend of strong market demand.
Lumville G Danoise (Lot 13) sold for €4,672 and topped the sale on the day. She is bred from the successful Danoise cow family developed to acclaim in the Lumville herd of Richard Whelan.
She is a silky quality yearling heifer with show-potential. Her grand dam, Lumville Danoise 2 EX94 4E, won many titles including Champion Baileys All-Ireland Cow 2008 and All-Ireland Junior Cow Champion Charleville Show 2008. She twice won Champion of the RUAS Winter Fair in 2008 and again in 2010.
She is sired by EDG Bob Cyprus and backed by three generations of VG/EX dams who have production yields in excess of 10,000kgs milk with 3.53% protein.
Swiftsheath Susie Mist 1968 (Lot 7) commanded the next highest price, selling for €3,832. She is a potential 10th generation VG/EX. Her dam, Swiftsheath Susie Mist 1649 VG87, recorded 9,694kgs milk, 755kgs milk solids, 4.19% fat, 3.60% protein in her second lactation. Her next two dams are both classified EX (Excellent) on conformation with components over 3.55% protein. Born in February last year she is sired by Seagull-Bay MVP ET.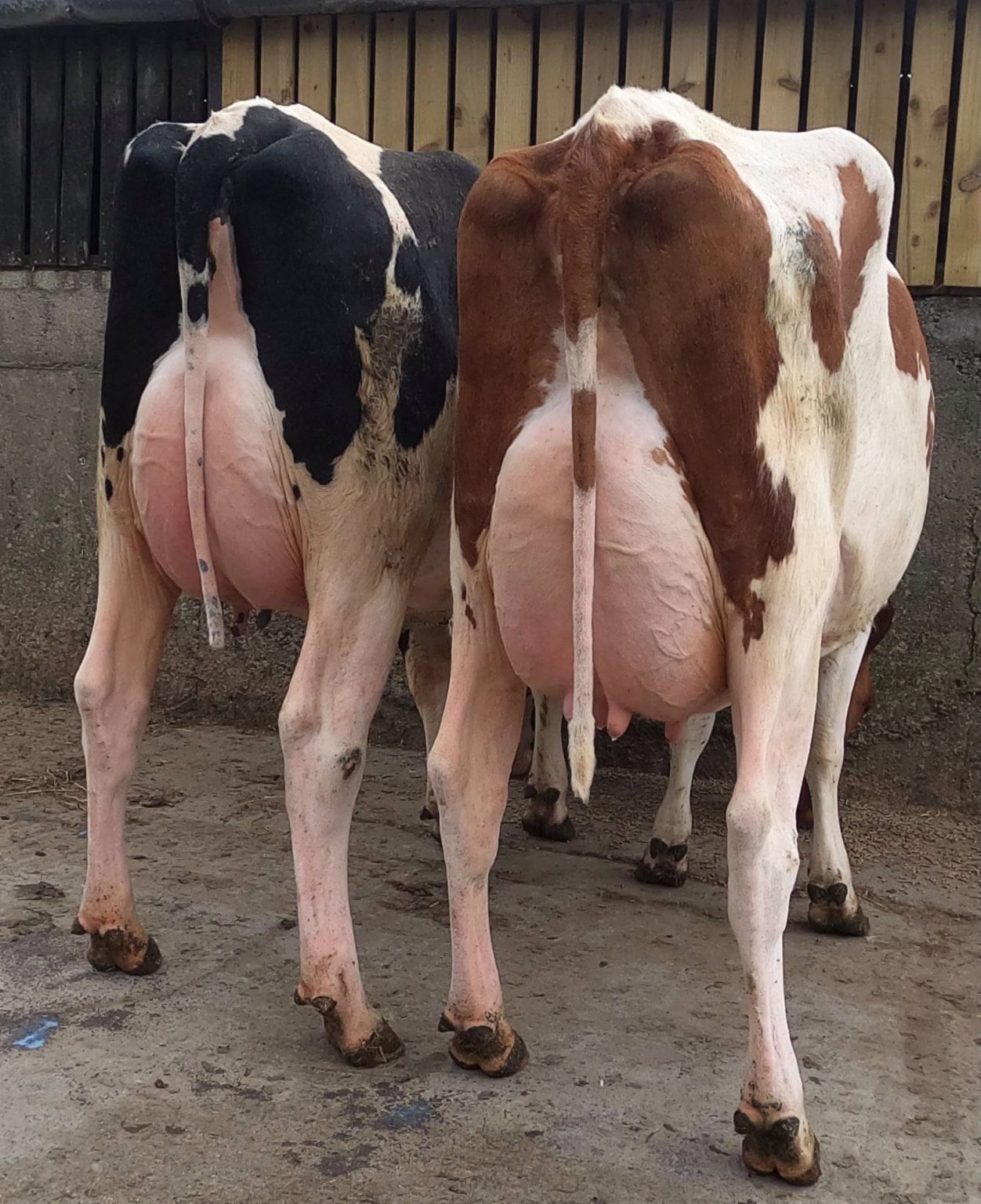 Swiftsheath Supra 1976 (Lot 8A) sold for €3,150. She is a potential 11th generation VG/EX, hailing from the Supra/Sublime family. Her dam, Swiftsheath Supra 1471 EX, has recorded 8,576kgs milk, 674kgs milk solids, 4.32% fat, 3.54% protein in her 4th lactation to date (295 days). Her next two dams both recorded over 10,000kgs milk with 3.60% protein. Aged just over a year old, Swiftsheath Supra 1976 is sired by the internationally high-ranking polled AI sire ABS Jeronimo P ET.
Swiftsheath Fran 2012 (Lot 16) also sold for €3,150. She is bred from four generations of EX (Excellent) dams. Her dam, Swiftsheath Fran 1563, classified EX on conformation two days fresh as a third calver. She has recorded 9,294kgs milk, 829kgs milk solids, 5.15% fat, 3.77% protein in her third lactation to date (307 days) with two maternal sisters in the Swiftsheath herd classified EX92 4E and VG86 on conformation respectively. Born in June last year Swiftsheath Fran 2012 is sired by daughter proven sire VH Praser.
Other top priced lots include;
Swiftsheath Dainty 2004 (Lot 10) sold for €2,814. She is a potential fourth generation VG/EX. Her dam, Swiftsheath Dainty 1353 VG87, recorded 7,854kgs milk, 637kgs milk solids, 4.18% fat, 3.93% protein in her fifth lactation.
Swiftsheath Geisha 1988 (Lot 14) sold for €2,677. She is a potential 13th generation VG/EX bred from the Lou Etta family. She sold with a serve to sexed semen of emerging young Canadian sire Siemers EXC Hanans. Aged fourteen months old on the sale day, she is sired by Lirr-Drew Dempsey EX93. Her twin sister Swiftsheath Geisha 1987 (Lot 15) sold for €2,362.
Swiftsheath Supra 2062 RC (Lot 44) sold for €2,520. From the Supra/Sublime family she is a potential 13th generation VG/EX. Her dam, Swiftsheath Supra 1762 Red (by Darrel Red), classified VG87 with an EX mammary as a 3-year-old.
Swiftsheath Riptide 2035 (Lot 51), the sole bull calf offered in the sale, sold for €2,152. Bred from the Carmen cow family his dam, Ballyboy Armani Carmen VG87, recorded 7,040kgs milk, 593kgs milk solids, 4.79% fat, 3.63% protein in her first lactation. Sired by Monamore Riptide (FR4378), bred from the Raven family, who now has milking daughters in his AI proof, Swiftsheath Riptide has a genomic PTA of +305kgs milk, +26kgs milk solids, +0.04% protein and +1.97 on overall conformation.