Tullamore FBD National Livestock Show 2018
A pleasant summer's day where a soft, damp early morning evolved into a sunny, humid and hot Sunday afternoon was the stage for the 27th Tullamore National Livestock Show. Crowds in excess of 60, 000 people thronged the Butterfield Estate showgrounds, situated a short distance west of the Co. Offaly provincial town.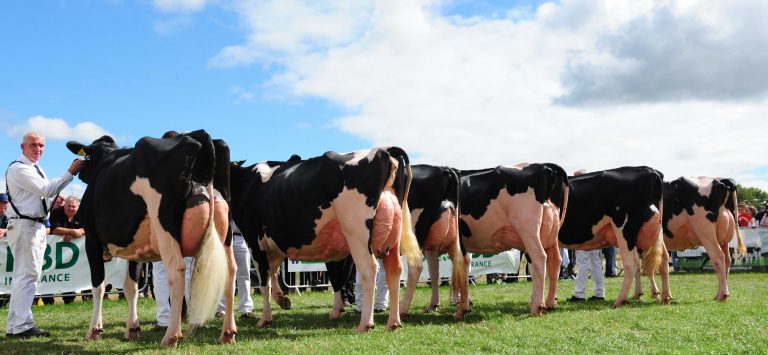 Laurelelm Fever Brilliant was crowned Senior Holstein Friesian Champion, a memorable day for the Barrett family, having also won Champion Jersey. A fantastic double achievement for Rickey with John Senior and Rickey Junior on hand to carry home the silverware! Laurelelm Fever Brilliant also won best udder. Reserve Champion went to Drumlina Atwood Megan owned by the Boyd, Moore, O'Neill, Greenan & Timlin Syndicate with Hallow Atwood Carmen claiming Honourable Mention for Philip & Linda Jones.
Iwan milks 140 pedigree registered cows in South Wales and he is a member of the Holstein UK Board of Trustees. He has previously judged the National Dairy Show, Millstreet; YMA National Calf Show and Baileys Champion Cow. This was Iwan's third attempt to judge the Tullamore National Livestock Show with previous judging invites having fallen foul of show cancellations caused by unprecedented rainfall.
YMA Showmanship League classes were very strong once again, with Tullamore National Livestock show being strong supporters of YMA. Rory Timlin, Co. Mayo was judge of these Handling classes. He is recognised as one of the top young fitters working at shows and has enjoyed success world-wide including North America. Earlier this year, he judged Showmanship classes at the Holland Holstein Show.  Having been involved in YMA in the past, it was fitting that he could share his knowledge and experience with the handlers on the day. He stressed the importance of swift reactions in setting up calves.
The programme of classes included Confined classes for breeders in Laois, Offaly and Westmeath. The 1st and 2nd prize winners were eligible to go forward into the National Livestock Show classes. This is a helpful initiative in encouraging support locally. Kevin Flynn's Reary Bela 34 won the Senior Confined class. She is an example of the many Holstein Friesian cows out there excelling on production and conformation.  Now in her 4th lactation she has a lifetime yield so far of 34,174kgs milk 4.12% fat and 3.48% protein. Scored to EX91 2E on IHFA classification she is backed by three generations of  VG/EX dams. She recently won Senior Champion cow at Ossory Show and was much admired by many on the day for her quality.    
Judging got underway after 10.30am and the crowds began to swell. The near-capacity cattle marquee located next to the show ring was a heady mix of final preparations, anticipation and expectations.
Damian & Luke Storan and John Curtin won Junior Champion with Liskinett Lulu 6, a September born daughter of McClean. Euro Golden Sheik ET was Reserve Junior Champion for Daniel Curtin, Listowel, Kerry and Honourable Mention was won by Ardarostig Beemer Sunray for Sean Murphy. This was successful return to Tullamore Show for Sean with Sunray having won Junior Champion last year.
A 1-2 on the double was the result in both the Heifer and Super Heifer In Milk classes with Philip & Linda Jones's Hallow Atwood Carmen tapped forward for the red rosette in 1st place ahead of John Moore's Ortongrange Doorman Arangatang ET. This was a showing debut for Atwood Carmen, calved since the end of April she recently scored VG87 on classification. Her dam is an EX93 3E Diamond Award cow backed by an EX90 grand dam from the EX95 Juror Carmen cow.      
The Championship line-up was befitting the quality of cattle turned out for a National Livestock Show. Among the cows to feature were; Drumlina Atwood Megan and Des Grands Trix Harmonica exhibited by Aidan Foody & Rory Timlin, 1st and 2nd in the Senior Cow In Milk class and Hallow Atwood Grace, Emerald Expo Supreme Champion 2018.
Commenting before tapping out his Champion, Reserve and Honourable Mention, Iwan was fulsome in his praise for the quality on display. He said "This is the finale to what has been an absolutely fantastic day. The cattle before me from the very first class right throughout the day has impressed me so much. It has been an honour to have been in the middle of the ring, I feel privileged to be the Judge and I'm glad to make it here at the third attempt. We are all aware of the hard work and preparation that is involved in exhibiting at the top shows, turning out your cattle so well does not just happen overnight. It is a great credit to all the breeders".
With that National Livestock Show Champion honours was bestowed on Laurelelem Fever Brilliant for Rickey Barrett with Reserve going to Drumlina Atwood Megan and Hallow Atwood Carmen taking Honourable Mention. "My Champion cow is so balanced, I admire her quality so much. She has so much width of chest and throughout her body, she is level on top with a lovely length and cleanness of neck. She stands and moves so well and her rear teat placement gives her another advantage".
National Livestock Show Champion is yet another showing achievement for Fever Brilliant, now in her 2nd lactation having calved in April. She won Intermediate Champion and 1st Junior 3-Year-Old and Exhibitor Bred National Dairy 2017 having also enjoyed success at Charleville Show. She is classified VG89 on conformation having scored EX90 (excellent) for both mammary and rump. She has produced 1,430kgs milk solids to date and is projected to produce over 10,000kgs milk in this lactation.
Reserve Champion Drumlina Atwood Megan was praised for her "length of body, dairyness, feminine qualities and bloom of udder". Honourable Mention Hallow Atwood Carmen was commended for "her overall quality which helped her win a very strong and competitive heifer class."
Congratulations to Liam & Sandra Murphy who were 1st in the Cow Family Championship class followed by Aisling Neville in 2nd.
The Tullamore Show and FBD National Livestock Show 2018 had an overall prize fund of € 175,000 on the day. Minister for Agriculture, Food and the Marine Michael Creed TD, performed the official opening and congratulated all involved including the voluntary effort of an estimated 650 volunteers from the surrounding areas. The show grounds extends to 260 acres with free car parking for 20,000 cars and a marquee tent area that totals 300,000 square feet.
Results – 2018
FBD National Livestock Show Senior Holstein-Friesian Champion
1st Rickie Barrett, Laurelelm Fever Brilliant
2nd Boyd, Grennan, O'Neill, Timlin & Moore, Drumlina Atwood Megan
3rd Philip & Linda Jones, Hallow Atwood Carmen
FBD National Livestock Show Young Showmanship Challenge – 12 years and under
1st Manus Murphy
2nd Michael Blake
3rd Amy Roche
4th Shane Boyce
5th Jennifer Harty
6th Hannah Greenan
7th Luke Gill
8th Connor Coleman
9th Stephen Harty
FBD  National Livestock Show Young Showmanship Challenge 2018 – Age 13 to 16
1st Nicole Mcloughlin
2nd Rachel Corley
3rd Kevin Smith
4th Pauric Coleman
5th Jack O'Neill
6th Bryan Daly
7th Jordan Donohoe
8th Michael Fagan
FBD National Livestock Show Young Showmanship Challenge 2018 – (17-26years)
1st Conor Lynch
2nd Emer Kelly
3rd Lauren O'Toole
4th Hannah Healy
5th Aisling Neville
6th Philip O'Brien
7th Ellen Devitt Durkin
Registered Pedigree Holstein-Friesian Heifer Born in 2018 – Confined to Laois Offaly Breeders
1st Aisling Neville, Lynally Princess 2618
2nd Aisling Neville, Lynally Lauren 2636
3rd Tadgh Sweeney, Frankford Real Seal Polly
4th Tadgh Sweeney, Frankford Manny Red Amy
5th Aisling Neville, Lynally Delia 2612
6th Kevin Flynn, Reary Norah 371
7th Adrian Ennis, Benalbit Toy Story Harold
Registered Pedigree Holstein- Friesian Heifer Born on / between 01.07.2017 & 31.12.2017 – Confined to Laois, Offaly & Westmeath Breeders
1st PJ & John Kelly, Rochfort Admiration Idol
2nd Denis Donohoe, Seanacourt Fr2094 Ladybird
3rd Aisling Neville, Lynally Cookie 2606
4th Denis Donohoe, Seanacourt S1345 Idella
5th Denis Donohoe, Cahirmee Mccutch Presence
6th Luke Gill, Kilgolan Jordan Aline
7th Adrian Ennis, Dynamite Ruby
Registered Pedigree Holstein-Friesian Heifer Born on / between 01.01.2017 & 30.06.2017 – Confined to Laois, Offaly & Westmeath Breeders
1st Gareth O'Brien, Wilstar Apples Anastasia Red
2nd Denis Donohoe, Seanacourt Fr2094 Frosty ET
3rd Aisling Neville, Lynally Lauren 2321
Registered Pedigree Holstein-Friesian Heifer In-Milk – Confined to Laois, Offaly & Westmeath Breeders
1st John Moore, Crossnacole Kingboy Lita
2nd Kevin Flynn, Reary Norah 295
3rd Aisling Neville, Lynally Dellia 1973
Registered Pedigree Holstein-Friesian Cow Calved Twice or more – Confined to Laois, Offaly & Westmeath Breeders
1st Kevin Flynn, Reary Bela 34
2nd PJ & John Kelly, Rochfort Seven Flora
3rd Aisling Neville, Lynally Net Cookie 1314
4th Kevin Flynn, Reary Norah 190
Registered Pedigree Holstein-Friesian Heifer Born in 2018
1st Daniel Curtin, Euro Golden Sheik ET
2nd Brian Corley, Cornboro Diamond Laurin
3rd Brian Corley, Panda Eleanor's Storm Of Gold
4th Kevin Smith, Cahirmee Sol Atara
5th Conor Lynch, Ballyelan Doorman Robin 2863
6th Daniel Curtin, Euro Dominant Shower ET
7th Aisling Neville, Lynally Princess 2618
Registered Pedigree Holstein-Friesian Heifer Born on/between 01.07.2017 and 31.12.2017
1st John Curtin & D&L Storan, Liskinett Lulu 6
2nd Pat Smith, Cahirmee Sid Presence
3rd PJ & John Kelly, Rochfort Admiration Idol
4th Luke Storan, Liskinett Romero 17
5th Pat Smith, Cahirmee Tomahawk Missy
6th Anthony Kealy, Monamore Miss American 36
7th Seamus Shannon, Clonocey Hang Time Bluebell
Registered Pedigree Holstein-Friesian Heifer Born on / between 01.01.2017 and 30.06.2017
1st Sean Murphy, Ardarostig Beemer Sunray
2nd Tom & Michael, Blake Coolquill Hagley Liz
3rd Liam & Sandra Murphy, Evergreen Hag Lauren 1 ET
4th Gareth O'Brien, Wilstar Apples Anastasia Red
5th Kevin Behan, Lumville Alic
6th Denis Donohoe, Seanacourt Fr2094 Frosty ET
7th Steven Corrigan, Garrettstown WRM Alice
Registered Pedigree Holstein-Friesian Heifer In-Calf Born in 2016
1st Aidan Foody, Sprucegrove At Door Sunlight
2nd Tom & Maura Murphy, Crossnacole Beemer Geisha
3rd Joe Boyce, Kelboy Perks Helene
4th Gareth O'Brien, Rathgibbon Lavender
FBD National Livestock Show Junior Holstein-Friesian Dairy Champion
1st John Curtin & D & L Storan, Liskinett Lulu 6
2nd Damiel Curtin, Euro Golden Sheik ET
3rd Sean Murphy, Ardarostig Beemer Sunray
Pedigree Holstein-Friesian Heifer In-milk Born on/after 01.01.2016
1st Philip & Linda Jones, Hallow Atwood Carmen
2nd John Moore, Ortongrange Doorman Arangatang ET
3rd Brian Hayes, Lissaniskey Piston Unity 7628
4th Tom & Maura Murphy, Swiftsheath Breeze 1573
5th Eamonn McLoughney, Clonganhue Seagull Aiko
Super €2,500 National Holstein Heifer in Milk
1st Philip & Linda Jones, Hallow Atwood Carmen
2nd John Moore, Ortongrange Doorman Arangatang ET
3rd John Leahy, Cappavilla Cecelia 12
4th Paul Flanagan, Tubbertoby Armani Fleur
5th Anthony Kealy, Grangecon Chelios Arena 8
6th John Moore, Crossnacole Kingboy Lita
7th Brian Hayes, Lissaniskey Piston Unity 7628
8th John Leahy, Lissispin Sandra 95
Pedigree Holstein-Friesian Cow In-milk, Calved Twice
1st Rickey Barrett, Laurelelm Fever Brilliant
2nd Philip & Linda Jones, Hallow Atwood Grace
3rd Paul Flanagan, Future Dreams Absolute Joy
4th Sean Murphy, Ardarostig Acme Lulu
5th Brian Hayes, Dock Tango Cheescake
6th Liam & Sandra Murphy, Evergreen Shot Afie
€2,500 FBD National Livestock Show Senior Cow In-milk
1st Boyd, Grennan, O'Neill Timlin & Moore Drumlina Atwood Megan
2nd Aidan Foody & Rory Timlin, Des Grands Trix Harmonica
3rd Kevin Flynn, Reary Bela 34
Registered Pedigree Holstein-Friesian National Breeding Cow Family
1st Liam and Sandra Murphy, Evergreen Fame 2
2nd Aisling Neville, Lynally Lauren 2321