Tullamore National Livestock Show 2013
Ridgefield Dundee Portea claims Senior Holstein Friesian Championship for Pat & Derrick Frawley
The forecast of passing showers failed to materialise as 60,000 people attended the Tullamore Show & AIB National Livestock Show 2013. It is now firmly established as the biggest livestock show in the country and the entries for this year were an increase on last year. Spectators gathered around the Holstein Friesian judging rings to enjoy the top class cattle competing for substantial prize money and National Livestock Show titles.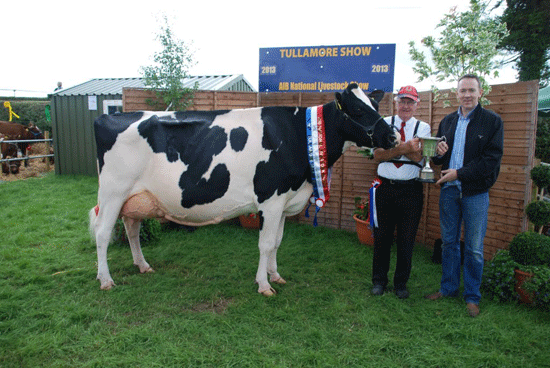 Senior Holstein Friesian Champion; Ridgefield Dundee Portea for Pat & Derrick Frawley, Croagh, Rathkeale, Co Limerick.
Best Udder; Ridgefield Dundee Portea for Pat & Derrick Frawley, Croagh, Rathkeale, Co Limerick.
Super National Holstein in-milk Heifer ; Tubbertoby Atwood Maddie for Paul Flanagan,  Nine Acres, Strand Road, Termonfeckin, Co Louth.
Junior Holstein Friesian Champion ; Lisnacunna Aftershock Passion for Patrick Coffey, Highfield, Lisnacunna, Enniskeane, Cork.
Irish Pure Friesian Champion; Blackisle Mabel 57 for Pat Cleary, Hugginstown, Kilkenny
Young Showmanship Challenge (u 16); Kevin Smith, Cahirmee House, Doneraile, Cork
Young Showmanship Challenge (u26); Kevin Behan, Woodview House, Bonaghmore, Rathangan, Kildare
Judge was Mr John Cousar, from Kilmarnock, Ayrshire, Scotland. John and his family run the "Howcommon" herd of 120 pedigree Holsteins. He is a respected judge in the UK, is also on the European Holstein Federation's Recommended judges panel. He has judges numerous UK Regional shows and National shows in Denmark, Poland and the Azures. John is no stranger to Ireland as he previously judged the YMA National Calf Show, the IHFA National Herds Competition in 2009 and also judged the Northern Ireland herds competition in 2012.
John's first task was to judge the confined classes for breeders in Laois, Offaly and Westmeath. The winners of these classes went to Pascal & Irene Walsh, Edenderry, Peter Ging, Portlaoise, Aisling Neville, Tullamore, Michael Booth, Stradbally, PJ & John Kelly, Rochfortbridge.  Judge Cousar also judged both Showmanship classes for u 16 & under 26 years. Classes were judged in an efficient manner such that the milking classes were soon in the ring. At all times Judge Cousar was quick to praise all exhibitors for the quality of the animals on show. Particular highlights were; 15 calves in the 2013 Calf class, a very strong Junior Championship line-up, tremendous In-Milk heifer class, an exceptional Senior Cow class and a Senior Championship line-up befitting its National Livestock show title. Judge Cousar in his reason-giving said it had both a pleasure to judge this class, though it was difficult to place the cows as "Each cow exhibited is worthy of a Senior Cow title"
Judge of the Irish Pure Friesian Classes was Mr. Stephen Girwan from Northern Ireland. Mr Girwan was fulsome in his praise of the Irish Pure Friesian cows on show and complimented the breeders for their hard work and dedication in bringing out such quality stock.
Tullamore National Livestock Show  Holstein Friesian Class Results;
Class 19. Registered Pedigree Holstein Friesian Heifer born in 2013 (Confined)
1st      Paschal & Irene Walsh, Edenderry, Co. Offaly Derrydale Goldsun Darlin
2nd.    Martin Duggan, Rathdowney, Co. Laois Rossdarragh Gold Victoire
3rd.     PJ & John Kelly, Rochfortbridge, Co. Westmeath Rochfort Windbrook Gale
Class 20. Registered Pedigree Holstein Friesian Heifer born on/between 01/07/2012 & 31/12/2012. (Confined)
1st       Michael Booth, Stradbally, Co. Laois Beechrow Fever Maude
2nd.    PJ & John Kelly, Rochfortbridge, Westmeath Rochfort O-Man Mist
3rd.     Denis Donohoe, Ballylinan, Co. Laois Seanacourt PNH Elaine
Class 21. Registered Pedigree Holstein Friesian Heifer born on/between 01/01/2012 & 30/06/2012. (Confined)
1st      Aisling Neville, Tullamore, Co. Offaly Lynally Cinnamon Polly
2nd.     Adrian Ennis, Ballinagore, Co. Westmeath Benalbit Grandaros Duet
3rd.     Thomas & Sean Kelly, Horseleap, Co. Westmeath Laurelelm Brook Josie
Class 22. Registered Pedigree Holstein Friesian Calved Heifer born in 2013. (Confined)
1st        Peter Ging, Portlaoise, Co. Laois Ballyclider Una 130
2nd.    Denis Donohue, Ballylinan, Co Laois Seanacourt MFZ Rose
Class 23. Registered Pedigree Holstein Cow calved  twice or more (Confined)
1st         PJ & John Kelly, Rochfortbridge, Co. Westmeath Rochfort Wildman Symphone
2nd.      Peter Ging, Portlaoise, Co Loais Ballyclider Darkie 24
3rd.     Denis Donohue, Ballylinan, Co Laois Fairview Shottle Peach 119
Class 24. AIB National Livestock Show Young Showmanship Challenge 2013 (under 16)
1st      Kevin Smith, Doneraile, Co. Cork
2nd.    Brian Smith, Doneraile, Co. Cork
3rd.     Rachel McNamara, Newtownshandrum, Co. Cork
Class 25. AIB National Livestock Show Young Showmanship Challenge 2013 (16-26 years)
1st       Kevin Behan, Rathangan, Co. Kildare
2nd.    Ann Maree Manley, Edenderry, Co. Offaly
3rd.     Lauren Fitzmaurice, Ballyduff, Co. Kerry
Class 26. Irish Pure Friesian In-Milk Heifer
1st      Michael Spillane, Fethard, Co. Tipperary Mountain Piet Rosie
Class 27. Irish Pure Friesian Junior Cow
1st      Francis Fitzgerald, Kilfinny, Co. Limerick Gortfadda Molly 132
Class 28. Irish Pure Friesian Senior Cow In-Milk.
1st      Pat Cleary, Carrickshock, Co. Kilkenny Blackisle Mabel 57
2nd      Francis Fitzgerald, Kilfinny, Co. Limerick Gortfadda Molly 120
3rd       Pat Cleary, Carrickshock, Co Kilkenny Carrickshock Daisy 636
Class 29. AIB National Livestock Show Irish Pure Friesian Championship
Champion        Pat Cleary, Carrickshock, Co. Kilkenny Carrickshock Mabel 57
Reserve            Michael Spillane, Fethard, Co. Tipperary Mountain Piet Rosie
Honourable Mention    Francis Fitzgerald, Kilfinny, Co. Limerick Gortfadda Molly 132
Class 30. Registered Pedigree Holstein Friesian Heifer born in 2013
1st      George Murphy, Kilmanagh, Co. Kilkenny Corstown Ares Kathleen
2nd      George Murphy, Kilmanagh, Co. Kilkenny Corstown S Talent Mcvera 1856
3rd       Pat Smith, Doneraile, Co. Cork Cahirmee Brax Missy
Class 31. Registered Pedigree Holstein Friesian Heifer born on/between 01/07/2012 & 31/12/2012
1st      Garry Hurley, Arklow, Co. Wicklow Clonpaddin AST Mona
2nd      Seamus Shannon, Belturbet, Co. Cavan Clonocey Classic Halo Red
3rd       Paul Flanagan, Termonfeckin, Co. Louth Tubbertoby Chip Anna
Class 32. Registered Pedigree Holstein Friesian Heifer born on/between 01/01/2012 & 30/06/2012
1st      Liam Murphy, Bagenalstown, Co. Carlow Bonaghmore Alexander Mac 2 ET
2nd      Garry Hurley, Arklow, Co. Wicklow Clonpaddin Windbrook Fame
3rd       Patrick Gaynor, Mullagh, Co. Cavan Swiftsheath Windbrook Mia
Class 33. Registered Pedigree Holstein Friesian Heifer In-Calf born on/between 01/01/2011 & 31/12/2011
1st      Patrick Coffey, Enniskeane, Co. Cork Lisnacunna Aftershock Passion
2nd      Patrick Coffey, Enniskeane, Co. Cork Lisnacunna Dee Beauty Red ET
3rd       Michael & Elizabeth McNamara, Newtownshandrum, Co. Cork Lumville Damion Chrissie
Class 34. AIB National Livestock Show Junior Holstein Friesian Dairy Champion
Champion      Patrick Coffey, Enniskeane, Co. Cork Lisnacunna Aftershock Passion
Reserve      Garry Hurley, Arklow, Co. Wicklow Clonapddin AST Mona
Hon. Mention       Liam Murphy, Bagenalstown, Co. Carlow Bonaghmore Alexander Mac 2 ET
Class 35. Best Pair of Registered Pedigree Holstein Friesian Heifers by the same bull, born on/after 01/08/2012
1st      John Cooney, Baileboro, Co. Cavan Waterloo Rubens Atwood & Waterloo Pretty Atwood Sire; Maple-Downs-I G W Atwood
Class 36. Pedigree Holstein Friesian Heifer In-Milk born on/after 01/01/2011
1st      Paul Flanagan, Termonfeckin, Co. Louth Tubbertoby Atwood Maddie
2nd      Brian Hayes, Kinsale, Co. Cork Dock Morty Elizabeth
3rd       Richard Whelan, Clonard, Co. Meath Tubbertoby Million Jenn
Best Udder    Dock Morty Elizabeth
Class 37. Super €2,500 National Holstein In-Milk Heifer
1st      Paul Flanagan, Termonfeckin, Co. Louth Tubbertoby Atwood Maddie
2nd      Tadhg Bourke & Cyril Dowling, Kilfinny, Co. Limerick Baldonnel Goldie Larissa
3rd       Jerry & Diarmuid Murphy, Inishannon, Co. Cork Willsbro Jordan Ghost
Class 38. Pedigree Holstein Friesian Cow In-Milk calved twice
1st      Dermot McCarthy, Kilmallock, Co. Limerick Ballincurra Stormatic Lette
2nd      Patrick & Derrick Frawley, Croagh, Co. Limerick Croagh Maureen 17
3rd       Pat Smith, Doneraile, Co. Cork Cahirmee Goldwyn Presence
Best Udder    Ballincurra Stormatic Lette
Class 39. €2,500 AIB National Livestock Show Senior Cow In-Milk
1st      Patrick & Derrick Frawley, Croagh, Co. Limerick Ridgefield Dundee Portea
2nd      Garry Hurley, Arklow, Co. Wicklow Clonpaddin RTX Jill
3rd       Jerry & Diarmuid Murphy, Inishannon, Co. Cork Cannontown Kite Peach
Class 40. Pedigree Holstein Friesian National Breeding Cow Family Championship
1st      Jerry & Diarmuid Murphy Inishannon, Co. Cork  "Peach" family
2nd      Patrick Coffey, Enniskeane, Co. Cork. "Passion" family
Class 41. AIB National Livestock Show Senior Holstein Friesian Champion
Champion      Patrick & Derrick Frawley, Ridgefield Dundee Portea
Reserve     Garry Hurley, Arklow, Co. Wicklow Clonpaddin RTX Jill
Hon. Mention       Dermot McCarthy, Kilmallock, Co. Limerick Ballincurra Stormatic Lette
Class 42.      Best Udder        Ridgefield Dundee Portea
Class 43.    Best Group of Three    P.J. & John Kelly & family, Rochfortbridge, Co. Westmeath