Sylvia Allen, Carrickbrack Pure Friesians – Quality over quantity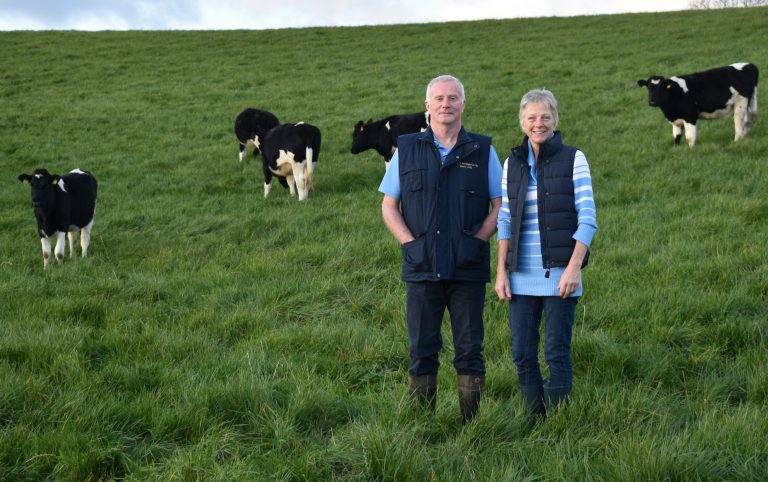 "Up here its different" is a slogan that has been used as a Donegal marketing slogan to would-be visitors. Some things may indeed be different, however the Holstein Friesian breeders of this most north western county proudly follow the best of breeding, putting into practice inherent husbandry and stockmanship skills to deliver performance and achievements. Sylvia Allen and her husband John proudly carry the torch for pedigree Friesian breeding in Donegal with their Carrickbrack pure friesian herd, located close to Convoy in the hinterland of Lifford, the county town.
The Allen's pedigree herd consists of approximately 70 milking cows in addition to rearing a selection of heifer calves as replacement breeding stock. In addition, a select number of bull calves are retained and reared for sale as breeding bulls, sold to a client base of repeat customers. All the work is carefully managed and carried out by the formidable team duo of John and Sylvia. Their shared intuition and passion for quality breeding is a daily reference point for all that they do. In addition, this quest for continuous improvement and further learning has seen them travel all over Ireland, the UK and further afield visiting Friesian herds.
Sylvia was born and reared on the family farm near Victoria Bridge in neighbouring Tyrone. Her late father Robert Sproule was a pioneering farmer, clearly ahead of his time. He was one of the founding members of the Ulster Grassland Association. In 1963 he won an award for silage production and he is credited with helping to popularise this ground-breaking farming technology advancement. He was also active in the Ulster Farmers Union and for 17 years was the local representative on the Northern Ireland Milk Marketing Board. Having initially developed a progressive herd of Ayrshires he moved with the changing times in switching to Black and White breeding.
Nurtured by this strong paternal influence of innovation; Sylvia has continued to make her own individual mark in a formidable way. Membership of MENSA, the largest and oldest IQ society in the world, was attained. A highly exclusive accreditation awarded only to those who score in the 98th percentile of this intelligence test.
Prior to farming full-time and rearing the family Sylvia enjoyed a very successful career in the banking industry. John credits Sylvia for taking care of all paperwork involved including the registration of calves, poring over the pedigree cert information and milk recording data, compiling the accounts, recording all information required by Bord Bia and other administration. Sylvia is also active outdoors helping with milking, calving and any other duties when required. She knows all the cows individually and can trace the cow families.
At the outset, Sylvia and John's resourcefulness quickly took stock of the initial resources at their disposal. Farming circa 80 acres in total, in a hinterland of mixed soil type with six-month winters a regular occurrence the resolution was to make the most of everything that they had.
"Like any breeder out there, it is important to follow your own path. Use your common sense and apply it to breeding" remarks John when asked to summarise the Carrickbrack pure Friesian approach. "Set your breeding goals of cow type to suit your own individual system. We have stuck to this philosophy over the years and are pleased with the outcomes".
Sylvia adds "Look closely at the pedigree, follow the ancestry, study the maternal lines for performance. For us it is far more important to focus on milk volume and total solids, percentages are not as important. As a rule of thumb, we expect our heifers to yield 6,000 plus litres in their 1st lactation. Mature cows should be capable of over 8,000kgs/lactation".
The benefits of the pure Friesian as value-added is the return from cull cows, the value of bull calves and low replacement rates due to good longevity and fertility.
A number of cow families form the backbone to the herd with many deep-rooted since the herd was graded up. Select purchases of new families have been made occasionally in order to broaden horizons. In this regard the Barrowvale herd of the Dempsey family has left an impression, also the Nerewater and Oakalby herds (UK) to mention a few.
Carrickbrack Torello Louise EX90 in her 2nd lactation recorded 8,557kgs milk, 649kgs milk solids, 4.15% fat, 3.43% protein.
Carrickbrack Shield Amy EX94 2E in her 6th lactation recorded 9,990kgs milk, 704kgs milk solids, 3.74% fat, 3.31% protein.
Carrickbrack Mason Babs 5 EX91 2E as a heifer recorded 7,065kgs milk, 509kgs milk solids, 3.70% fat, 3.50% protein. Also, from the same family Carrickbrack Mason Babs 10 EX recorded 7,100kgs, 474kgs milk solids as a heifer. Carrickbrack IDS Bbs 3 VG88, 9th lactation yield 10,044kg milk, 872kgs solids, 5.05% fat, 3.63% protein. Pillars of this strong family are two great matriarchs who were demonstrably hard-working, long life cows gaining IHFA Diamond cow status for over 3,000kgs protein lifetime production and EX (Excellent) standard of conformation and producing over 100 tonnes milk – Carrickbrack Capan Babs EX90 and Carrickbrack BAS Babs 2 EX93. A daughter of Carrickbrack Bas Babs 2 (Carrickbrack Royal Babs 3 EX91) has also achieved over 100 tonnes.
"We have recently re-emphasised the importance of realising 305-day lactation length for the cows" adds Sylvia. "It is more important to us than a strict block-calving pattern. Completing lactations to their full reflects more favourably on the cow's production capability. It does help when marketing their bulls for sale and also protein % and fat % tend to be at their highest in the last 30-40 days of lactation, so this patient approach does pay off in our experience."
Achieving Excellent (EX) standard on IHFA Conformation is the gold standard in benchmarking of performance.
"The farm has tremendous potential to grow grass but you must respect it" says John. In this regard cows will not be turned out to paddocks when there is a threat of poaching or damaging the soil. "Calendar farming is certainly not practiced here!"
Feed will be introduced whenever necessary throughout the year, as conditions dictate. Grass forms the vast bulk of the overall diet for the year with grass silage only fed during the winter months.
"Cows are fed twice per day in the parlour however that's the limit in terms of additional feed, we don't have a mixer wagon. It's a very simple system here that is effective for us. Keep it manageable. We are a family operation. It's not possible for us to have large numbers so the focus has been and will continue to be quality not quantity".
(From the IHFA Holstein Friesian Winter Journal 2019)