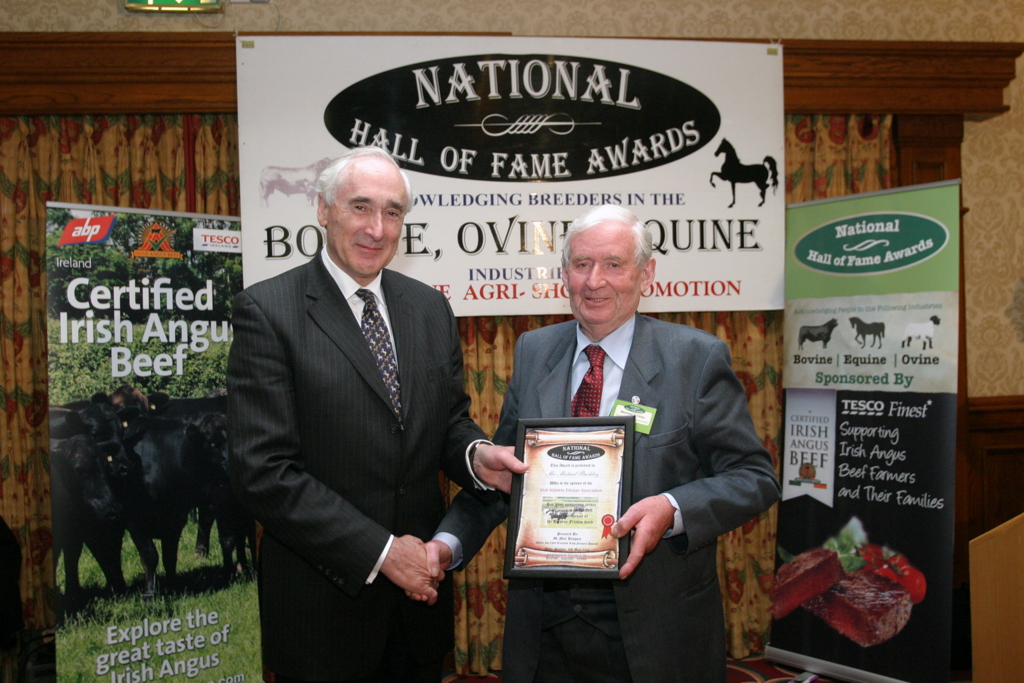 The Ballinahina herd is one of Ireland's foremost herds famous for its Pedigree Holsteins. "Pedigree Breeding for profitable milk production" is the breeding goal at Ballinahina.Dairy farming has been carried out in Ballinahina since 1928 when Denis & Maura Buckley established a herd of about 30 dairy shorthorn cows.
The herd of registered Holstein Friesian was established in 1950 by Michael and his late father Denis. The herd was further developed with a purchase from the Claybury Herd, UK – 'Claybury Benefactor' who left his mark on the breed of that time through his excellent progeny. He was the only privately owned bull who was proven.
The DAFM granted permission to import females into Ireland in 1975 and Ballinahina imported thir first Canadian holsteins.
Since 2000 Michael & his wife Biddy are milking in partnership with their son Thomas & his wife Rhona. Michael's mission statement in 1950 was to "improve output per cow by identifying the best convertors of available feed and forage on the farm, improve udders, legs & feet, provide a good return and profit margin which would afford the same lifestyle as our commercial friends and enjoy working with good quality cows in comfortable working conditions for man and beast!"
This mission statement still holds true today. Michael Buckley ably supported by his wife Biddy & family has been involved with pedigree cattle breeding all his farming life and was pivotal in the growth and evolution of the Irish Holstein Friesian Association
(IHFA). He spearheaded milk recording, setting up a computerized system IDRC on a pilot scheme that
was the forerunner of the present day system. He also has the distinction of holding all offices in Holstein UK and Ireland, (HUKI), elected to the highest office of President in 1985, the greatest honour that the society can bestow on it's members.
IHFA, in recognition of commitment to the Black and White breed and outstanding service to the Association through involvement as Chairman and President of the Slaney club wish to nominate John Hurley as a very worthy recipient of the Hall of Fame Award.
John established a pedigree Friesian herd in 1954 and registered the "Clonpaddin" prefix. He purchased two pedigree cows, one being "Craigiehock Jackie Beata" from which the "Jill" family was developed. More than a third of the cows today in the herd of 100 cows are "Jills".
The herd was further developed by John and his sons Garry and Patrick, with purchases from Canada. In 1991 they purchased the "Chrissie" family from the "Quality" herd and the "Monas" from "Newlands". These purchases proved successful and later bloodlines of the "Heavenly Joys", "Susie Mist" and "Fantas" from the "Cousteau herd" were added.
The herd is noted for quality cattle which are developed through "cow families". John is a great supporter of local shows and club run events with the herd winning numerous prizes down the years.
In John's early years he enjoyed participaating in Gaelic football and hurling with his local club and county and sport is still a big part of his life. John and his wife Mary live at Clonpaddin where their family of 5 sons, 4 daughters, 15 grandchildren and 2 great grandchildren regularly get together.
John is a founder member of the Slaney Club, which was formed in September 1976 at a meeting held in Murphy Floods Hotel in Enniscorthy. He was Chairman of the Club in 1983, 1992 and 1993. He is currently President of the Club and has been since 1997. He is a dedicated committee member rarely missing a meeting. When trophies are required for various competitions annually he willingly volunteers to get them. He has been instrumental in keeping up the tradition of organizing an Annual Club Trip and is a great supporter of all shows.
John is still actively involved with farming cows with his sons Garry and Patrick. IHFA wish John health, happiness and long years to come to enjoy with his family, the herd of cows at Clonpaddin and their successes on the show circuit.