National Herds Competition 2012
IRISH HOLSTEIN FRIESIAN ASSOCIATION HERDS COMPETITION 2012, sponsored by Greenvale Animal Feeds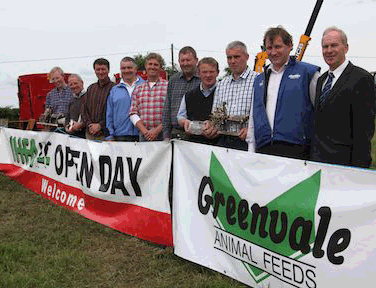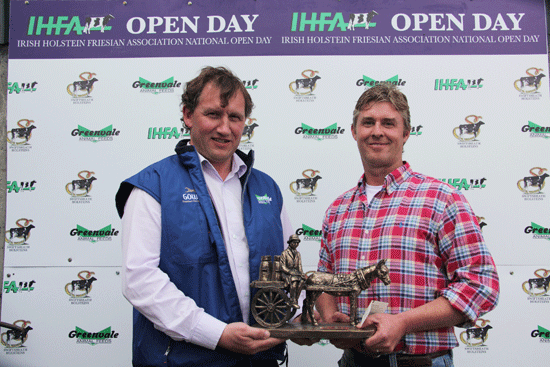 SPRING SECTION  
1st    EAMON MCLOUGHNEY    BALLYTHOMAS
Ballythomas,  Nenagh, Co. Tipperary
2nd    THOMAS BYRNE    LASK
Clonamona, Craanford, Gorey, Co. Wexford
3rd    JOE COLLINS    COLLINSFORT
Gurranereigh, Lissarda, Co. Cork
EBI AWARD    PAT CLEARY    CARRICKSHOCK
Hugginstown, Co. Kilkenny
UNDER 70 SECTION 
1st    DAMIEN WYNNE    ROWANTREE
Slievebricken, Ballyconnell, Co. Cavan
2nd    DERMOT JACKSON    BORKLE
Borkle, Kiltegan. Co. Wicklow
3rd    DENIS & CLAIRE WHITE    SEAVIEW
Duneen, Clonakilty, Co. Cork
EBI AWARD    DENIS & CLAIRE WHITE    SEAVIEW
Duneen, Clonakilty, Co. Cork
OVER 70 SECTION 
1st    JOHN & RICKY BARRETT    LAURELELM
The Elms, Adamstown, Ballinhassig, Co. Cork
2nd    PAUL HANNON    LISNALTY
Friarstown,  Crecora, Co Limerick
3rd     BROCHAN COCOMAN    KILWARDEN
Kilwarden, Kill, Co Kilkenny
EBI AWARD    CHRISTY O CONNOR    KILTULLA
Kiltulla, Athenry, Co. Galway
The National Herds Competition will commence on Monday 28th May and run for the duration of that week. We are delighted to announce David Tomlinson of the 'Bilsrow Herd' in the U.K. as Judge. Points for the National Herds Competition will be calculated using a new formula approved by the Board of IHFA. We are delighted once again to have Greenvale Animal Feeds as major sponsor of this competition.
­­­National Herds Competition NEW Formula 2012
The Board Of IHFA requested a review of the National Herds Competition formula for 2012. This work was carried out by the Breed Development Committee and Chief Executive who contracted in Patrick Kelly Ph. D to carry out the review. The range of traits, Milk Production, Milk solids, Constituents, EBI Index and Classification in IHFA herds were analyzed.
The recommendations from the committee are as follows:
1. Classification service of IHFA should be valued and included as part of the Herds Competition.
2. Fat should be included as it will have greater value in the post quota regime of milk production.
3. Milk yield should be included to allow for alternate production systems.
4. All traits to be "banded" within the range for that trait.
5. The weightings overall: 40% Production + 60% Conformation would remain as before.
IHFA agreed that it will supply the clubs with the points if applying the new formula. This will reduce work for club secretaries. It is accepted that this formula will not suit all classes in the club herds competition as some herds may not classify their cows. To overcome this situation a standard score of 70 points will be allocated to those herds. This standard score will also apply where some cows in a herd were not scored. The highest score attaching to the animal will apply regardless of date of classification. The classification points will be based on the previous years records. We would appreciate that you adopt the formula as far as is practicable. This New Formula was adopted by the board of IHFA on 14th February 2012.
New Formula 2012 Based on Production at 40% plus conformation at 60%
. PRODUCTION: 15% Protein kgs 5% Protein percentage 8% Fat kgs 2% Fat percentage 8% Milk volume 2% EBI
. CONFORMATION 15% Classification 45% Judge
NOTE:
• To qualify for Spring Calving Section 90% of cows must calve in the Spring.
• There will be a separate EBI Award.