All Ireland Awards 2017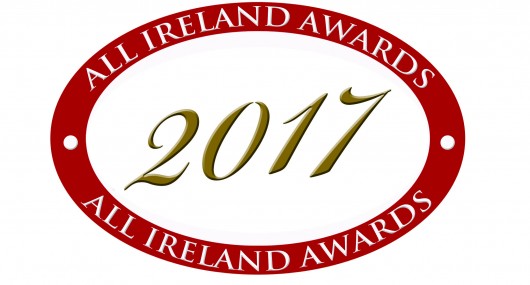 The IHFA Awards Night took place at the Killeshin Hotel, Portlaoise on Friday 16th of February. This year the awards were presented by Ciarán Roche, FBD Risk Manager. Among the awards presented were the All Ireland Awards for 2017, covering ten classes; the YMA Awards, which include Club of the Year, President's Medal, Hall of Fame and Photographic Competition; the IHFA Gold and Diamond Awards and the presentation of the perpetual trophy to the IHFA Champion Cow.
The IHFA Champion Cow Award went to Hallow Attic Christina owned by Philip and Linda Jones of Hallow Holsteins. In 2017, she won both the Glanbia Supreme Championship at Emerald Expo in Virginia and Supreme Champion at the National Livestock Show, Tullamore. This is the second year that Hallow have been awarded the IHFA Champion Cow Award.
The All Ireland Awards was based on submitting a photograph entry of animals exhibited at a local or national show.
The entries were scrutinized by a pre selection panel of judges who took into account the quality of the animal as photographed and their winning successes at various shows. There was a final selection of six photographs which were printed in the Winter Journal.
The winning entries were based on the combined placings of seventeen judges who adjudicated on the photographs in each class as they appeared in the Winter Journal. Judges were selected from the IHFA judges panel representing the broad geographical area of the country and on the basis that they had no connections to entries in any of the classes. There were many entries, all of a high quality. The finalists in each class are as follows.
CLASS 1 All Ireland Heifer Born after January 1st 2017
Champion
Ardarostig Beemer Sunray
Eugene & Sean Murphy, Ardarostig, Waterfall, Co. Cork
Reserve
Greenlea Armani Pledge ET
Padraic Greenan, Crosshugh, Monaghan, Co. Monaghan
Hon. Mention
Goldenfield Ad Walburga
John & Padraic Murphy, Ballagh, Kilmanagh, Co. Kilkenny
CLASS 2 All Ireland Heifer Born between Juy 1st & December 31st 2016
Champion
Cornboro Beemer Dolly
Brian Corley, Cornafaghey, Smithboro, Co. Monaghan
Reserve
Hallow Doorman Abrakazoo ET
Philip & Linda Jones, Killowen, Gorey, Co. Wexford
Hon. Mention
Greenlea Mandella Oran
Padraic Greenan, Crosshugh, Monaghan, Co. Monaghan
CLASS 3 All Ireland Heifer born between January 1st & June 30th 2016
Champion
Sprucegrove At Door Sunlight
Keypoint Holsteins, Stoneacre, Togherbeg, Tuam, Co. Galway
Reserve
Tullcree Fever Amy 3
Malcolm Windrum, Creighanroe, Castleblayney, Co. Monaghan
Hon. Mention
Swiftsheath Breeze 1573
Tom & Maura Murphy, Swiftsheath, Jenkinstown, Co. Kilkenny
CLASS 4 All Ireland Heifer born between January 1st and December 31st 2015
Champion
Sprucegrove Chelios M Illinda
Aidan & Seamus Foody, Knockanillaun, Ballina, Co. Mayo
Reserve
Clonpaddin Mc Chrisi
Garry & John Hurley, Clonpadden, Ballymoyle, Arkklow, Co. Wicklow
Hon. Mention
Hallow Atwood Twizzle 1181
Philip & Linda Jones, Killowen, Gorey, Co. Wexford
CLASS 5 Al Ireland 3 Year Old cow in milk born between January 1st & December 31st 2014
Champion
Clonpaddin Windbrook Fame 2 ET
Garry & John Hurley, Ballymoyle, Arklow, Co. Wicklow
Reserve
Laurelelm Fever Brilliant
Rickey & John Barrett, Adamstown, Ballinhassig, Co. Cork
Hon. Mention
Greenlea Shottle Pledge
Padraic Greenan, Crosshugh, Monaghan, Co. Monaghan
CLASS 6 All Ireland 4 Year Old Cow in milk born between January 1st & December 31st 2013
Champion
Hallow Attic Christina
Philip & Linda Jones, Killowen, Gorey, Co. Wexford
Reserve
Kilwarden Gold Bonnie ET
Brochan Cocoman, Kilwarden, Kill, Co. Kildare
Hon. Mention
Clonpaddin M Cyg Fame ET
Jim & Doireann Mulhall, Danville, Kilkenny, Co. Kilkenny
CLASS 7 All Ireland 5 Year Old cow in milk born between January 1st & December 31st 2012
Champion
Thevalley Amazing Frost
Philip Jones & Conor Morley, Killowen, Gorey, Co. Wexford
Reserve
GS Alliance Attwood Okisha
Aidan Foody & Rory Timlin, Knockanillaun, Ballina, Co. Mayo
Hon. Mention
Greenlea Lauthority Pledge
Padraic Greenan, Crosshugh, Monaghan, Co. Monaghan
CLASS 8 All Ireland Mature Cow in milk born on or before December 31st 2011
Champion
Kilwarden Windbrook Vix ET
Brochan Cocoman, Kilwarden, Kill, Co. Kildare
Reserve
Monamore Seavers Iris
Tom & James Kelly, Ballymakenny Rd, Drogheda, Co. Louth
Hon. Mention
Bordermist Sanchez Fran ET
Bordermit Syndicate c/o Philip Jones, Killowen, Gorey, Co. Wexford
CLASS 9 All Ireland Irish Pure Friesian Heifer in milk
Champion
Kilsunny Trump 41
Trevor Dudley, Dovea, Thurles, Co. Tipperary
Reserve
Churchclara Naut Roxy
Bill O'Keeffe, Churchclara, Co. Kilkenny
Hon. Mention
Mountain Capan Dixie
Micheal Spillane, Tullamaine, Fethard, Co. Tipperary
CLASS 10 All Ireland Irish Pure Friesian Cow in milk
Champion
Mountain Tormore Aileen
Micheal Spillane, Tullamaine, Fethard, Co. Tipperary
Reserve
Churchclara Blackie Circus
Bill O'Keeffe, Churchclara, Co. Kilkenny
Hon. Mention
Carrickshock Dale 1
Pat Cleary, Hugginstown, Co. Kilkenny