IHFA Judges Conference 2016
Laurelelm Herd – Rickey & Susan Barrett, The Elms, Adamston, Ballinhassig, Co Cork.
Thursday 28th April 2016
The Board of IHFA wish to express its thanks to Rickey Barrett and family of the Laurelelm herd who will host the Judges conference on Thursday the 28th of April. (DIRECTIONS)Rickey Barrett, host of the IHFA Judges Conference
There are four groups of animals to be judged, in addition selected participants including YMA will be asked to participate in Reason Giving in one class.
The 2016 Judges Panel will be selected from the top results in this competition. The list of names on the panel will be distributed on request to Shows Nationally and Internationally.
Senior Panel
Attached is a list of the current Judges Panel and YMA Panel, participants on the current panel have been invited to attend. We invite clubs to nominate in addition senior members to participate in the Judges Conference.
YMA Panel
We also invite nominations from your Club YMA Co-Ordinator. YMA nominations will also need to compete in all the classes to be selected for a YMA Judges Panel and be 18 years and over as of 1st Jan 2016.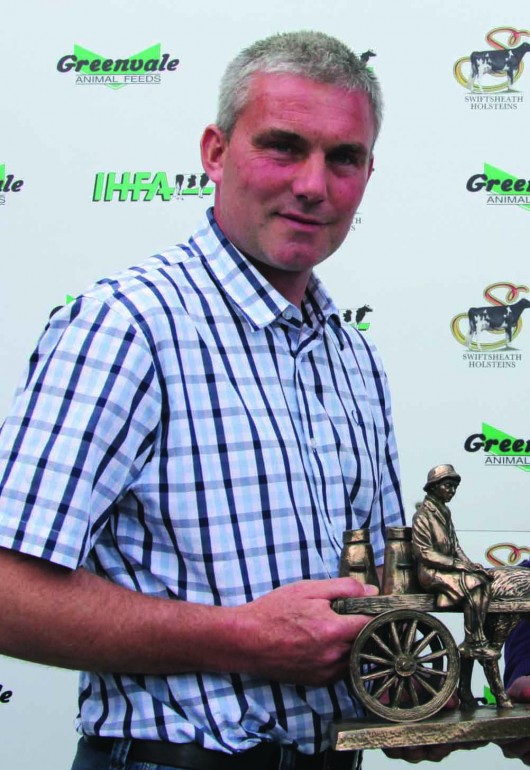 Please confirm club names by Wednesday 20th April.
The Judging of the classes will be followed with a discussion forum to tease out the type of cow that judges should promote in the show ring to ensure that the educational value of shows is enhanced and remain relevant to commercial dairy farming systems.
There will be discussion on judging procedures, timeliness, reason giving, dress code and implementation of IHFA showing rules.
IHFA Field staff will be on hand to demonstrate the Classification/Linear scoring system.
The quality of the Laurelmore and Laurelelm herds is such that the selected animals for judging will be very representative of the type of cow exhibited at major shows throughout the country and serve as a platform for existing judges and potential new judges to hone their skills and reason giving in placing their selection.
All existing judges on the panel are requested to attend. Each club are requested to send a team of interested members. A revised Judges panel will be formed based on performance.
Programme of Events
11.00 Registration
11.15 Classification Demo by IHFA staff
11.45 Evolution of the Breed – Recognizing Breed Changes, by Kevin Dillon
12.15 Judging Maiden Heifer
1.00 Lunch
1.30 Judging Heifer in Milk
2.15 Judging Junior Cow in Milk
3.00 Judging Senior Cow in Milk
3.45 Judging Protocols & Rules, by Charles Gallagher, CE
4.15 Championship & Closing
For more info, call IHFA on 023-8833443. For directions, CLICK HERE
Current Judges Panel
IHFA JUDGES PANEL 2016
Senior Panel 2016
Rickey Barrett
Co. Cork
John Barrett Snr
Cork
Eddie Barrett
Cork
Kenneth Boyd
Co. Monaghan
Patrick Colton
Co. Monaghan
Roy Cromie
Co. Donegal
Liam Curran
Co. Waterford
John Curtin
Co. Limerick
Thomas Daly
Co. Meath
Val Donohoe
Co. Cavan
Alan Dorian
Co. Louth
Dessie Dunleavy
Co. Louth
Mervyn Eager
Co. Dublin
Paul Flanagan
Co. Louth
Kevin Flynn
Co. Laois
Aidan Foody
Co. Mayo
Richard Forde
Co. Cork
Ursula Forrest
Co. Cork
Pat Frawley
Co. Limerick
Brendan Gildea
Co. Galway
Peter Ging
Co. Laois
Brendan Greenan
Co. Monaghan
Paul Hannan
Co. Limerick
Robert Helen
Co. Cork
Garry Hurley
Co. Wicklow
Victor Jackson
Co. Wicklow
Philip Jones
Co. Wexford
Gary Jones
Co. Wexford
Mervyn Jones
Co. Wexford
Enda Jordan
Co. Wexford
Anthony Kealy
Co. Wicklow
Christian Keenan
Co. Monaghan
Kathleen Kelly
Co. Tipperary
PJ Kelly
Co. Westmeath
Sean Kelly, Coolroe
Co. Tipperary
Tom Kelly
Co. Louth
Peter Kennelly
Co. Kerry
Mike Laffan
Co. Limerick
Don Lucey
Nr Cork
Stephen McLoughlin
Co. Kildare
Eamon McLoughney
Co. Tipperary
Sean McSweeney
Co. Cork
Ronald Moore
Co. Cork
John C Murphy
Co. Kilkenny
Margaret Murphy
Co. Cork
Tom Murphy
Co. Kilkenny
Steven Nagle
Co. Cork
John O'Connor
Co. Limerick
John O'Flynn
Co. Cork
Victor O'Sullivan
Co. Cork
Robert Shannon
Co. Cork
Philip Whitley
Co. Cork
YMA PANEL 2016
David Beechinor
Co. Cork
Emer Kelly
Co. Westmeath
Katie Kennelly
Co. Kerry
Paul Murphy
Co. Cork
Diarmuid Murphy
Co. Cork
Rory Timlin
Co. Mayo