Young Dairy Farmer of the Year
Trevor Cobbe, Doolagh herd is the winner of FBD Young Farmer of the Year 2021, Dairy Category Award, in association with Macra na Feirme.
Prestigious national award for talented and accomplished young Laois dairy farmer, nine years after grading up the herd to pedigree status 
At the age of 33, Trevor Cobbe achieved national fame and renown as the winner of the Young Farmer of the Year 2021 Dairy Category Award writes Donal Carey.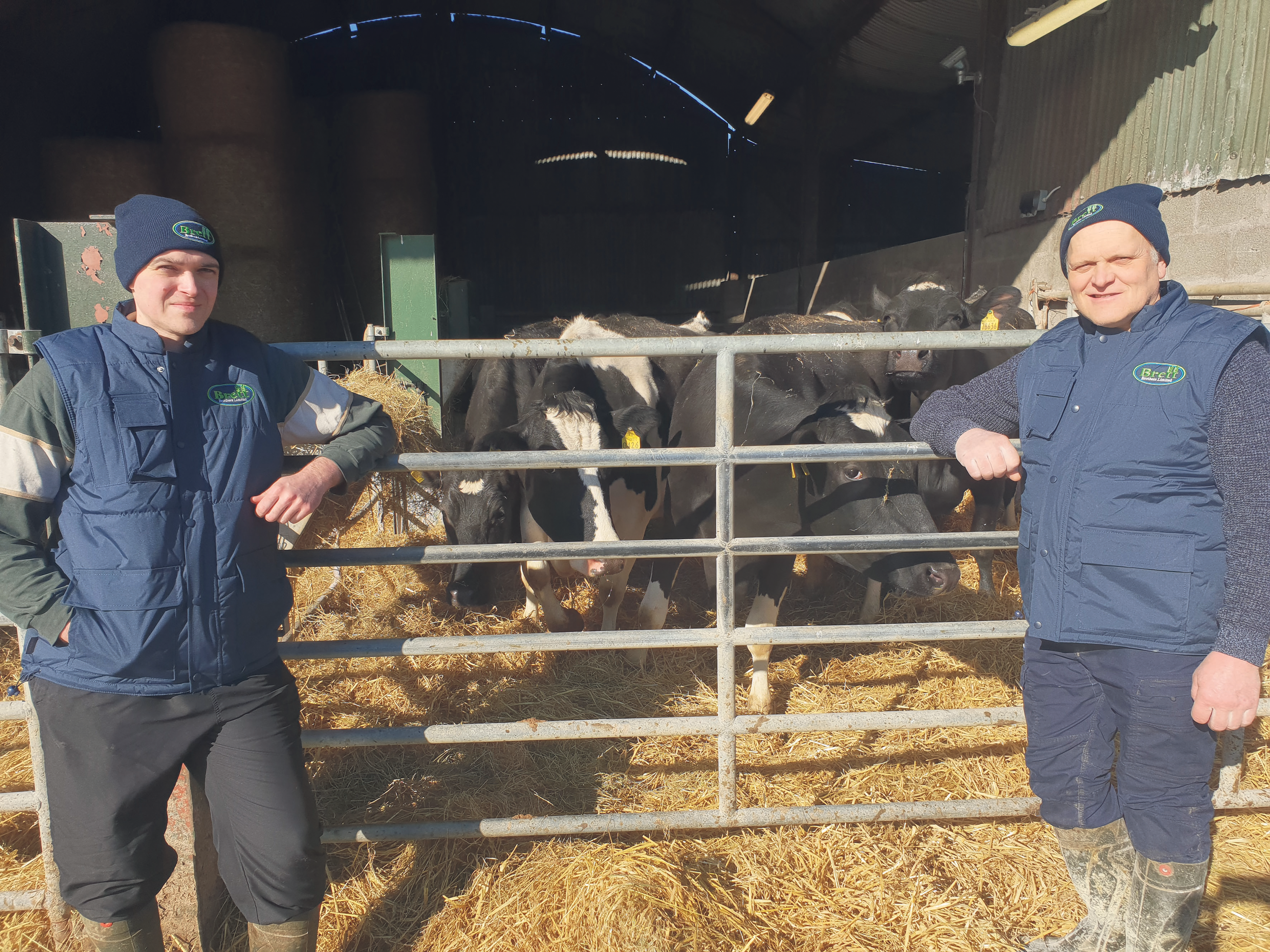 Also, short listed for the overall national title it is a fabulous honour for Trevor, his family and for his local Mountmellick Macra na Feirme Club who initially nominated him at the outset of the competition.
Farming in partnership with his dad Roy, the Cobbe family farm is located near Portarlington in Co. Laois. The Doolagh pedigree registered Holstein Friesian herd of 120 cows is managed on 200 acres in total with a milking platform consisting of 120 acres. (Not in derogation).
Since returning home to farm full-time over ten years ago, Trevor has consistently adopted best farming technologies and efficiencies. The excellent technical performances achieved was a key contributory factor in the judging panel's adjudication to award Trevor with national honours.
The Young Farmer of the Year Competition
Sponsored by FBD, the Young Farmer of the Year Competition is in association with Macra Na Feirme and in partnership with the IFA and the National Rural Network (NRN) for Ireland.
Open to all members of Macra Na Feirme clubs throughout the country, the competition is an opportunity to identify and showcase emerging bright young talent across all the farming sectors. A track record of engagement and participation at local Macra level and at local community level is encouraged.
Competition Adjudication Criteria
Farm business initiative and innovation
Knowledge of production costs and returns
Vision and planning for the future farm business
Agricultural and environmental protection and sustainability knowledge
Involvement in the agri sector and the community
Personal development
Farm safety
Having successfully completed an initial interview, Trevor went on to impress in the semi-final and subsequent final interview. The results of the competition were announced just prior to Christmas. Trevor comments,
"The high level of technical performance for the herd and the farm overall, achieved from building upon pre-existing solid foundations, probably helped me in the judging. In this regard I had followed my own dairy path – away from the system of pushing stocking rates to the absolute limits. Nor had I added significant debt onto the farm balance sheet".
Returning home to farm full-time after 3rd level education
Trevor returned home to farm full time ten years ago following a Level 7 qualification in Architectural Technology from Carlow Institute of Technology. He also completed his Green Cert qualification.
While college was enjoyable, he knew that the application of his passion and interests lay in farming above all other possible careers. As he says himself,
"Returning home to farm full-time gave me a new lease of life".
2016 was the year when the current milk production system of all-spring calving was adopted, succeeding the previous era where a mixed farming enterprise of dairy, beef and tillage was practised on the farm.
Holstein Friesian breeding and the value of pedigree
The herd was graded up to pedigree in 2012.
"Pedigree registered status adds to the interest and enjoyment of dairy farming everyday. It is also a cornerstone of continued genetic improvement into the future, providing benchmarks to achieve improved performance efficiencies generation upon generation.
"Pedigree status makes a big difference when offering stock for sale.
"The bedrock of the herd is Holstein Friesian breeding, over many decades. Dad always used Dovea British Friesian AI over the years, and we are dedicated to 100% AI as the pathway towards continued Holstein Friesian genetic advancement for the herd into the future.
"Including a blend of Friesian breeding is vitally important in terms of the optimum cow type to suit our milk production and farming system in overall output productivity terms, calf quality and cull cow value.
"This significant Friesian breed fraction proportion results in a cow phenotype which really fits our requirements."
Overview of landmark achievements by Trevor with the help and support of his dad in the past ten years
Registered the Doolagh Holstein Friesian herd and graded up to pedigree status
Surpassed productivity target of 520kgs milk solids output per cow average. This benchmark was achieved ahead of schedule.
Set up a new paddock system of 3.5 – 4-acre paddocks with all fencing work done by Trevor (upon completion of a Macra skills course)
Doubled up the milking parlour and installed automatic cluster removers
Modernised the farm roadways
Joined local discussion group (Dunamaise group)
Started measuring grass and is participating in PastureBase
Installed 65 additional cubicle spaces with pro-rata additional barrier feed space
Soil sample 50% of the farm every year
Reseed 10% of the farm every year with increasing inclusion rate of clover
100% of the chemical nitrogen applied is protected urea
New calf rearing shed conversion with installation of computerised calf feeders completed in 2022
Holistic environmental viewpoint
"The sustainability of the farm in terms of performance and success as a business is in deference to our environmental footprint.
"Practical pro-active environmental measures that are reasonable and deliver results are embraced and this will continue to be the case.
"As an example, my dad and I are keen to plant native trees. We are considering investing in a new fertiliser spreader equipped with GPS.
"We secured our own LESS slurry tanker early last year and the results have been phenomenally positive. We spread 20kgs less of chemical nitrogen in 2021 yet the farm grew an extra 0.6 tonne grass DM/Ha helped in no small part by this new improved efficiency of nutrient recycling into the soil.
"I am a participant of the national PastureBase programme, completing regular farm walks to assess grass cover and inputting this measured data onto the database. The farm grew 14.2 tonne grass dry matter per hectare last year. The increased grass growth performance of the farm observed every year since first measuring grass in 2014 is positive for enhancing the environmental footprint of the farm. It's a positive for farm finances in terms of efficiency of inputs purchased and it's a positive in terms of helping to drive increased production of kgs of milk solids. Overall, it's a clear win-win all round.
Herd Performance
2021 Co-Op Performance report extract
| | | |
| --- | --- | --- |
| | Herd Average | Ranking relative to all co-op suppliers |
| Fat & protein kgs per cow | 570 kgs | Top 2% |
| Litres/cow/day | 18.9 | Top 4% |
| Fat % | 0.0442 | Top 18% |
| Protein % | 0.0365 | Top 23% |
| SCC | 76 | Top 5% |
| 6 week calving rate | 0.9 | Top 6% |
| Herd EBI | 156 | Top 19% |
| EBI of 2021 inseminations | 303 | Top 4% |
Herd EBI is €158 rating the herd in the top 19% of herds on EBI nationally. Further ratings include five-star rating for fertility and calving sub-indexes with a four-star rating for health.
Meal feeding averaged 900kgs per cow last year.
Herd Longevity
The mature cows of 4th lactation and older averaged 7,254kgs, 598kgs milk solids, 4.61% fat and 3.63% protein per cow. Calving Interval average for these mature cows was 367 days. SCC was 88.
Numerically this mature cohort totalled 36 cows (38% of the herd) a significant proportion signalling inherent longevity and ability to produce, to perform and to last.
The herd is almost entirely home bred. A closed herd policy has been practised for the past fifteen years now and counting. The IHFA Grade Up service established many influential cow families in the herd and the following is a glimpse of some of these influential families in terms of individual milk recorded yields in 2021.
Olivia family
Both Olivia cows are bred from full sisters sired by TIH with generations of ancestry stacked with longevity, averaging 8.5 lactations each.
Their grand dam, Doolagh BAV Olivia, was a particularly trouble-free, low maintenance and hard-working mature cow, consistently breeding very correctly helped by her tremendous fertility and longevity performance in a lifetime of ten lactations.
| | | | | | | |
| --- | --- | --- | --- | --- | --- | --- |
| Name | Parity | Breed Fraction % | Milk kgs | Milk solids kgs | Fat % | Protein % |
| | | | | | | |
| Doolagh KPV Olivia 499 | 6 | 59% HO, 41% FR | 8532 | 755 | 5.17 | 3.68 |
| Doolagh DGC Olivia 485 | 6 | 59% HO, 41% FR | 7711 | 682 | 5.23 | 3.61 |
Penny family
| | | | | | | |
| --- | --- | --- | --- | --- | --- | --- |
| Name | Parity | Breed Fraction % | Milk kgs | Milk solids kgs | Fat % | Protein % |
| | | | | | | |
| Doolagh WZB Penny 586 | 5 | 53% HO, 47% FR | 8374 | 670 | 4.36 | 3.65 |
| Doolagh FJM Penny 573 | 2 | 72% HO, 28% FR | 7153 | 611 | 4.75 | 3.78 |
Nancy family
| | | | | | | |
| --- | --- | --- | --- | --- | --- | --- |
| Name | Parity | Breed Fraction % | Milk kgs | Milk solids kgs | Fat % | Protein % |
| | | | | | | |
| Doolagh FJM Nancy 576 | 2 | 72% HO, 25% FR | 7143 | 640 | 5 | 3.97 |
| Doolagh FR4154  | 1 | 72% HO, 25% FR | 5736 | 502 | 5.5 | 3.7 |
| Nancy 670 | | | | | | |
Pledge family
| | | | | | | |
| --- | --- | --- | --- | --- | --- | --- |
| Name | Parity | Breed Fraction % | Milk kgs | Milk solids kgs | Fat % | Protein % |
| | | | | | | |
| Doolagh WWT Pledge 570 | 5 | 56% HO, 44% FR | 8322 | 729 | 4.9 | 3.86 |
| Doolagh ZRL Pledge 639 | 2 | 69% HO, 28% FR | 8234 | 664 | 4.32 | 3.74 |
| Doolagh FR2314 Pledge 638 | 2 | 72% HO, 28% FR | 8488 | 702 | 4.5 | 3.77 |
Pam family
| | | | | | | |
| --- | --- | --- | --- | --- | --- | --- |
| Name | Parity | Breed Fraction % | Milk kgs | Milk solids kgs | Fat % | Protein % |
| | | | | solids kgs | | |
| Doolagh AWB Pam 526 | 6 | 72% HO, 28% FR | 10522 | 774 | 3.83 | 3.53 |
| Doolagh FR4154 Pam 726 | 1 | 78% HO, 22% FR | 6024 | 493 | 4.2 | 3.99 |
Sire selection criteria
"Pedigree status is the first criteria when choosing AI sires ahead of the annual breeding season. Sires having a balanced blend of Friesian breed fraction % are preferred.
"With herd fertility performance now at a very satisfactory level there is an increased emphasis on milk solids yield. 450kgs milk solids is the current barometer expectation for heifers in their first lactation so the milk solids PTA of sires must reflect this yield potential.
"Having compiled a short-list of sires of interest I research the milk yields performance of the dams and grand dams as a further selection tool. It is so important to research the milk yield info of the dams.
"In addition, it's informative to view photographs of the bull dams, it paints a picture as to phenotype. I really wish that this would be provided more commonly within the AI industry as a helpful aid".
Influential AI sires used in the herd to tremendous effect in terms of legacy include BAV Bidlea Valence, BFU Burfen Nautical, TIH Tittenser Hylke and AWB Ballintosig Andrew.
The importance of communication with the public
"It is more important now than ever to let people know what is happening on the farm. As farmers, we can all be pro-active in putting our story out there to the public in a direct way and on a human level.
"We are all custodians of the land. The farm is passed down from one generation to the next generation.
"I'm conscious of wanting to do my level best, to take care of the land and to nourish it such that when the next generation gets their opportunity, they will inherit a vibrant, healthy farm brimming with opportunities and potential".
Social media engagement
Further to his stance on the powerful potential of communication, Trevor recently set up a social media profile on Instagram @doolagh-farm.
"The unique aspect of Instagram as a social media forum is the photographic aspect with comments restricted to brief, perfunctory points. Thus, very little room for grey areas or for messages to get misrepresented.
"I like to post about the nuts and bolts of everyday goings-on of farming. Recent photos and content posted on Instagram include the layout and functioning of the new calf rearing accommodation, the installation of the new IHFA herd sign and the depth of detail captured on herdbook certificates received of the early crop of heifer calves born this spring.
Involvement in Macra na Feirme
"Every young person whether from a farming background or a non-farming background should get involved in Macra. It is a fantastic social forum.
"I joined Macra to have the opportunity to get out and about to meet and get to know more people. With the nature of farming life, it is all too easy to get isolated on the farm stuck in daily work going from one task to the next.
"Hard work will always be a part of farming. However, it is possible to strike a better, healthier balance. For young people it's important to have a rounded personality, enlightened by a vibrant circle of social contacts.
"Through Macra I have competed in an array of activities – stock judging competitions, quiz nights, played sports including soccer and basketball. It all helps to bring you out of your shell.
"I completed a very enjoyable term as Chairman of my local Mountmellick Macra club. My experiences have taught me that when you go away to a function you come home afterwards with a different, fresh approach. You feed off the energy from meeting and mingling with fellow Macra members especially where there is a cross-section of backgrounds.
"One of my earliest activities in Macra was a dairy stock judging which was hosted by Peter Ging of the Ballyclider herd. The time that Peter gave to the Macra group on the day and his generosity in sharing his breeding knowledge left a big, positive impression on me.
"I won the county stock judging a few times and have also competed in the Macra National Stock Judging held as part of the IHFA National Open Day.
Items on the horizon for 2022 and beyond
Recently engaged, Trevor and his fiancé, Mary Kelly, have plans in place to get married next year. The couple plan on renovating the now derelict farmhouse lived in by three previous generations of his family since they bought the farm in 1922.
Structurally sound and dating from the 1700s, it is a property of historical and architectural importance. A beautiful three-storey house, it is situated at the entrance to the farm.
Just after the centenary year of the family's arrival at Doolagh, a young newly-wed couple will once again make the house their family home, breathing new life and renewed vigour into the ancestral homestead