Baileys Champion Dairy Cow 2013 Report
SAHARA GOLDWYN AMBROSIA 4 VG 89 is Cream of Crop
Co Down breeder Neal Pepper wins the Diageo Baileys Irish Champion Cow 2013 with Sahara Goldwyn Ambrosia 4 VG 89
The Diageo Baileys Irish Champion cow in conjunction with Virginia show was held on 23rd August. There was an estimated crowd of 12,000 packed around the ring side for this marvelous spectacle of Quality cows who in their own right were champions at various shows throughout the summer. The competition co- sponsored by Diageo and Glania Ingredients was celebrating its 30th anniversary with a special prize fund of €10,000.
International judge of this year's competition was Canada born Lynden Bustard from Devon who comes from a long tradition of dairy farming and works as a classifier with Holstein UK. He had the tough task of separating these fine animals and selecting the winner.
Although numbers were slightly back on other years it made up for it in Quality.
The quality can be assessed from the fact that the Reserve champion was champion in 2012 and Honourable mention was Champion in 2011 and Reserve Champion in 2012.
In tapping out his champion Lyndon commenting on the calibre of Irish dairy breeding, he said the winner was 'the epitome of perfection for Holstein youthfulness'.
He selected the four year old Holstein Friesian Sahara Goldwyn Ambrosia 4 VG 89 to be crowned the Diageo Baileys® Irish Champion. The winning cow is owned by Neal Pepper, from Dromore Co. Down.
Last year's winner, Ridgefield Dundee Portea owned by Pat and Derek Frawley from Rathkeale Co. Limerick was declared Reserve Champion and Honourable mention went to  Dalevalley OT1 J Lulu, owned by Eugene and Sean Murphy from Waterfall in Co. Cork.
It is only the second time that a Northern Ireland breeder has won the top title, the first time being its inaugural year in 1983.
The heifer in milk was won by Cyril and John Dowling Baldonnell with Baldonnell Goldwyn Sublime.
The dry cow champion was won by M&P Jones, Co Wexford with their cow Hallow Lheros Indianink.
Other Awards include the EBI award which went to Richard Whelan, Clonard Co Meath with Tubbertoby Shottle Ashling with an EBI of 137. Co Down breeders, Ivan and Louise Robinson from outside Newtownards  won Best Protein Award with Glaslough Charles Fancy.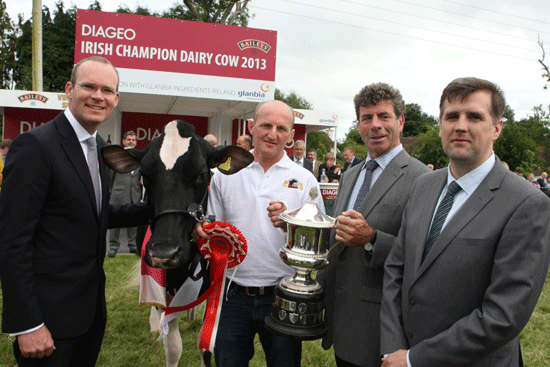 The top awards were presented by the the Irish Minister for Agriculture Food & the Marine, Simon Coveney T.D. who said: "'The annual Diageo Baileys Champion Cow Competition held in conjunction with Glanbia Ingredients Ireland represents a highlight of the Agriculture show calendar. The production of Baileys from milk supplied from 1,500 carefully selected family farms is a phenomenal success story. Irish dairy farmers are the cornerstone of the success of Baileys and I commend the unique partnership of all involved"
Liam Reid Corporate Relations Director for Diageo in Ireland said that "the event had become the pinnacle of success in dairy breeding circles on the island of Ireland and its 30 year history was testimony to the strong supply chain partnership that exists in the making of Baileys."
IHFA C.E. Charles Gallagher was among the dignitaries including Mairead McGuinness M.E.P and IFA President John Bryan who were present for the celebratory occasion of this, the 30th Baileys Championship. Secretary, Brendan Smyth paid tribute to the IHFA breeders for their support of show. Of interest it was revealed that Cyril Dowling had been present for 29 of the Baileys Championships while Tom Kelly had exhibited at every Championship since the inaugural 1983 event. Brendan acknowledged that this was indeed a special occasion, being the 30th Baileys Championship however thanks to the support of the IHFA breeders they had helped to ensure every Baileys Championship was "an annual special occasion".
Diageo Baileys Champion Cow Results 2013
Heifer in Milk Award 2013
1st Cyril and John Dowling  Baldonnel Goldwyn Sublime  Kingswood Farm, Baldonnel, Co Dublin
2nd Jim Allen   Rowantree LPI Carmen   Drumacruttin, Dunraymond, Co Monaghan
3rd  Richard Whelan  Tubbertoby Million Jenn   Towlaght, Clonard, Co Meath
EBI Award 2013
1st  Richard Whelan  Tubbertory Shottle Ashling  Towlaght, Clonard, Co Meath
Protein Award 2013
1st  Ivan and Louise Robinson  Glaslough Charles Fancy  Ballygowan, Co Down
Dry Cow Award 2013
1st  M&P Jones   Hallow Lheros Indianink   Gorey, Co Wexford
Overall Champion Cow 2013
Diageo Baileys Cow 2013
Neal Pepper  Sahara Goldwyn Ambrosia 4 VG 89   Dromore, Co Down
Reserve Champion  P&D Frawley,   Ridgefield Dundee Portea   Rathkeale, Co Limerick
Honourable Mention   Eugene and Sean Murphy  Dalevalley OTI Lulu EX 95   Waterfall, Co Cork
4th Diarmuid & Jerry Murphy  Cannontown Kite Peach  Innishannon, Co Cork
5th  Pat & Derek Frawley  Croagh Susie Mist  Rathkeale, Co Limerick
6th  Cyril Dowling   Baldonnel Mr S Raquel  Baldonnel Co Dublin
7th  Richard Whelan  Tubbertory Shottle Ashling  Clonard, Co. Meath
8th  Victor Jackson Clondrohid Shottle Roxy  Kiltegan, Co. Wicklow