Open Day 2012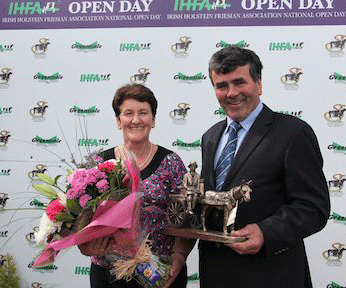 Hosts Tom & Maura Murphy, Swiftsheath
The Irish Holstein Friesian Association (IHFA) Open Day was held   on June 20th  at "Swiftsheath" herd  of Tom and Maura Murphy  and family near Jenkinstown, Co.Kilkenny
A large crowd of over 2,500  were in attendance with dairy farmers travelling from every corner of the country, Northern Ireland, UK and Canada.
Charles Gallagher, chief executive and Kathleen Kelly president of IHFA welcomed everyone to the Open day.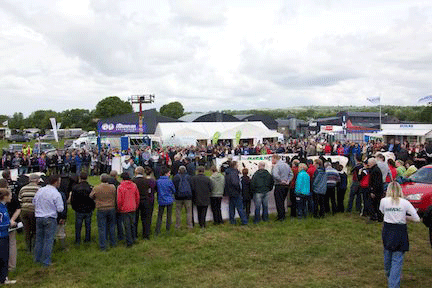 The official opening was performed by John Bryan, president of IFA. Other dignitaries include Liam Aylward  M.E.P, David Tomlinson and his wife Sheila from Bilsrow herd in the UK.  I wish to thank David for judging  the National Herds Competition.
We were blessed with the weather and everyone could chat and enjoy the day in great comfort. It was a family day out with Volunteer members of the local Conaghy Shamrocks GAA club distributing cups of coffee & tea and a range of tasty sandwiches to visitors.
Ice cream was sponsored by Downe Syndrome Ireland with donations going to this worthy charity.
Inter Club Stock Judging Finals:
The serious business of the day was the Interclub stock judging, YMA stock Judging, Macra  stock judging and presentation of the national Herds Competition winners.
I wish to thank Tom Kelly,-Monamore, Kevin Flynn -Reary and John C Murphy-Goldenfield for officiating  as the master judges for the stock judging
After the National stock judging competition Tom Murphy presented cows from the top families at Switsheath to include the Lulu, Mia, Fran, Paula, Dainty and Susie Mist. Spectators were awe stuck by the quality of the stock. This was reflected in the prices paid for young stock bred from these cow families later in the evening.
It is a great tribute to Tom, Maura and family to field three stock judging teams of six cows each from a small herd of 70 cows.
The herd was established as a pedigree Holstein Friesian herd in 1980 and the "Swiftheath"prefix was registered by Tom and Maura.
Tom was immersed in Friesian Pedigree breeding since his youth .His fathers herd "Corstown" was first registered in 1965. Pedigree breeding ran in his veins so it was a natural progression to set up a pedigree Holstein Friesian herd. He brought some cow families from the home herd  at Corstown and graded up the better cows on the farm. He further purchased cow families from prominent breeders in Southern Ireland, Northern Ireland and the UK. This was added to in later years with purchases of embryos from  top cow families in Canada and USA.
Workshops:
There were workshops on High Value Milk . Joe Patton and Pat Moylan of Teagasc gave a presentation on milk composition and the value of protein.  Finola MC Coy, AHI, Shane Mc Elroy Glanbia and Tom Ryan, Kildalton College dealt with hygiene, SCC and  Milking machine maintainance all part of the Cell Check initiative.
The open day was well attended by milk producers, pedigree breeders, trade, Macra na Feirme , Teagasc personnel and the Agri –media.
70 commercial firms and organisations had stands. These included Greenvale,Glanbia-Gain Feeds,JFC Manufacturing, Volac, KW Forage, Duggan Steel, ABS Ireland, Alltech, Bolgers, Dairymaster, DeLaval, Dovea, , Eurogene, FBD,  Lely Robotics, Osmonds, Packo Fullwood, Progressive Genetics,etc.
Presentations:
IHFA competitions included National Herds competition (winter & spring calving -under and over 70 categories), and National Stock judging (under 18 plus 18-30 age group), all attracted huge interest as did the EBI and the Gold and Diamond awards.
Swiftsheath  Celebration Sale:
As part of the IHFA Open Day events on farm, a special sale of 27 deep pedigreed young heifers took place representing the best cow families in the Swiftsheath Herd.
The standard was excellent and the sale attracted huge interest from Northern & Southern breeders interested in quality stock and embryos from this award winning Holstein Herd.
A very large crowd witnessed a fast trade  with 25 heifers selling to average 2250 Euro.
The sale's top price was 4,600gns for a  potential show calf,  Swiftsheath Bluesky Fran born November 2011.. Her dam is full sister to Lumville Fran- junior heifer in milk in RUAS Winter Fair 2011.This calf went to the Seaview herd of Denis and Claire White in Cork.
The Windbrook Mia was purchased by Patrick Gaynor, Mullaghlands, Co Monaghan for €3,600.This was a  big time show calf,January born  out of Ballythomas Adolph Mia Ex 92.
The next highest price of €3200  was paid for a calf due to be born by Talent from the  Shottle Sussie Mist. She is potential 8 generation of VG/EX. She was purchased by Liam  and Sandra Murphy ,Evergrange herd , Co Carlow.
The Monamore herd of Tom and Rhona Kelly,Drogheda purchased a striking calf from the Olivia family by  GW Atlantic.
Other prices include €2850 for a Man-O –Man from the Fran, €2600 for the Samuelo Lulu and the Bolton Averil.
All in all an excellent trade!
Charles Gallagher
Chief Executive.
NATIONAL STOCKJUDGING OPEN DAY 2012, sponsored by Gain Feeds
OVER 30 Section
1ST     TIPPERARY / WATERFORD    4265 points
(Liam Hassett , Tom Julian , Eamonn McLoughney )
2nd     CORK                 4243 points
(Jerry Hegary , John Barrett, Pat Ahern)
3rd     BREFFNI  / ORIEL         4229 points
(Gerard Sherlock, Kenny Boyd, Gerard Murray)
Highest Individual: Jack McCullough Trophy – Eamonn McLoughney (Tipperary / Waterford ) 1441 points
18-30 Years Section
1ST     NORTHERN IRELAND     4237 points
(Andrew Patton, Andrew Kennedy, William Bolton)
2nd     LIMERICK / CLARE     4235 points
(Thomas Neville, Ann Neville, Owen Laffan )
3rd     CORK     4211 points
(Pa Deasy, James Crowley , Jason Webb)
Highest Individual Winner: Milk Board Perpetual Trophy – Padraic Murphy (Carlow / Kilkenny) 1457
UNDER 18 Section
1ST     NORTHERN IRELAND 4203 points
(James Weatherup , Matthew Muldrew, Matthew McClean)
2nd     CORK 4191 points
(Brendan Crowley , Jason Helen, Rachel White)
3rd     GALWAY 4183 points
(Kane Boal, Darragh Wilson , Jack Ward )
Highest Indiviaul Winner: Fr Collins Trophy – George Murphy (Carlow / Kilkenny) 1415 points