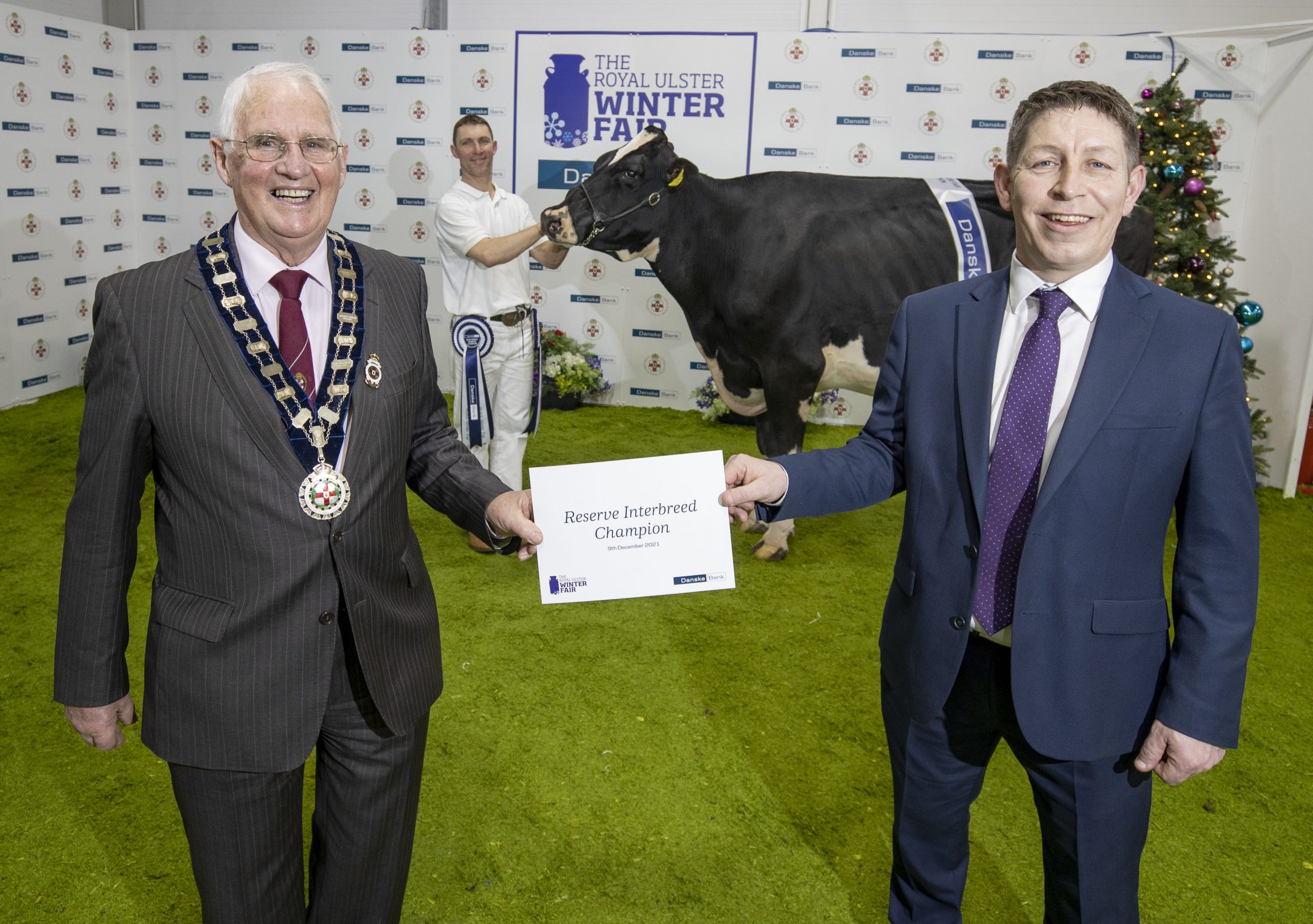 Southern Breeders to the fore at Winter Fair '21
The Royal Ulster Agricultural Society Winter Fair made a welcome return following a one-year hiatus, taking place on Thursday December 9th.
There was a very prominent showing of southern breeders competing strongly for honours across the showmanship, youngstock, in-milk and championship classes.
Hallow Atwood Carmen, exhibited by Hallow Holsteins, won the Senior Championship & Exhibitor bred Champion with Baldonnel FM Sunshine, exhibited by Baldonnel Holsteins, winning Reserve Senior Champion.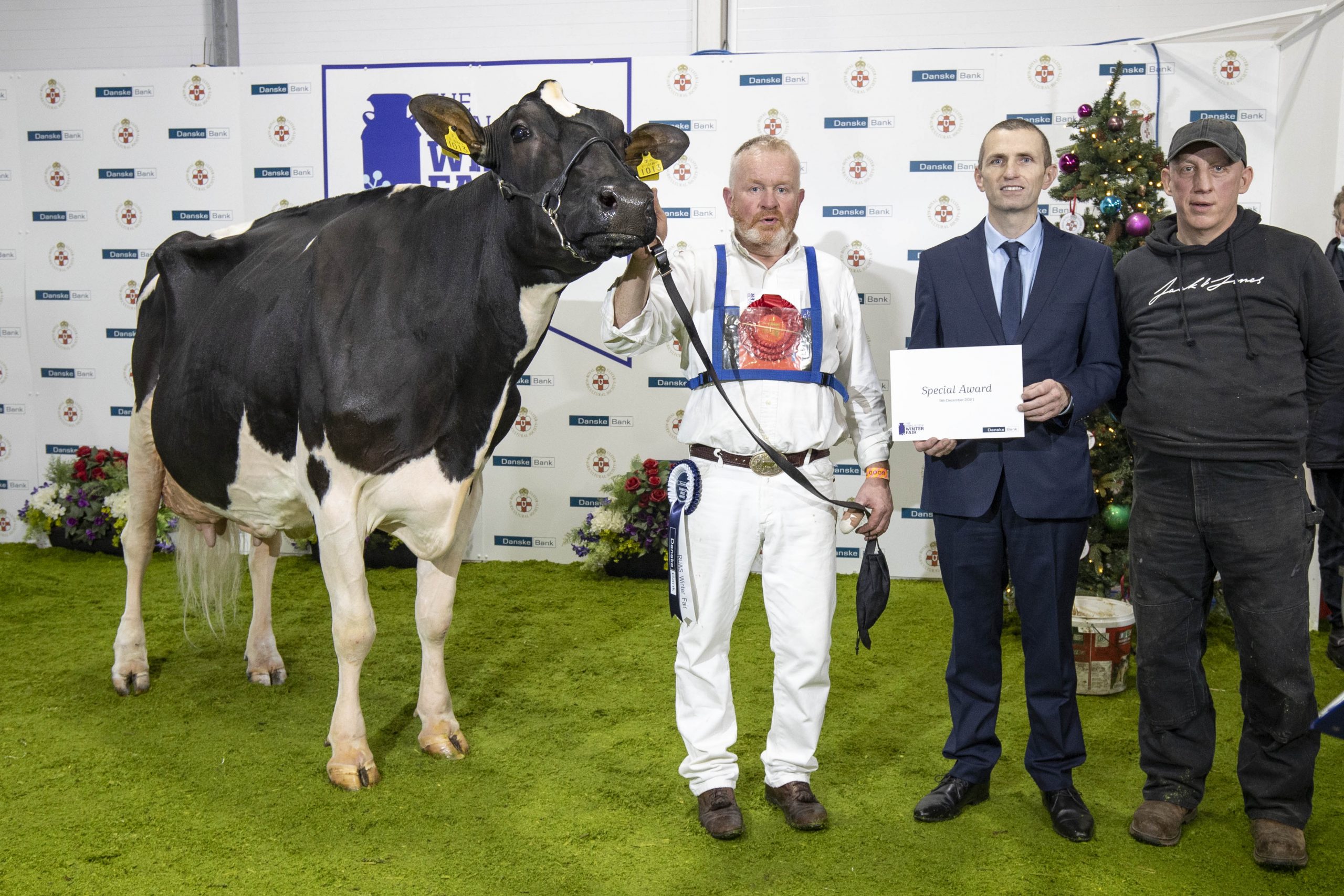 Both senior award-winning championship cows went on to claim Inter-Breed honours at the finale of the show, with Hallow Atwood Carmen winning Supreme Inter-Breed Reserve Champion and Baldonnel FM Sunshine claimed the Honourable Mention title.
Jones Crushtime Patricia, exhibited by Isobel Jones, won the Junior Championship, 1st Junior Calf and she was placed Reserve Champion in the Junior Inter-Breed Championship. She reigned supreme in her Junior Calf class, totalling fourteen calves, making it one of the biggest classes of the show.
There was success for Young Members in the Handling Classes with Will Jones, Hannah Greenan and Manus Murphy placing 2nd 3rd and 4th respectively in their Intermediate Showmanship class. Josh Sinnott was 3rd in the Junior Showmanship class.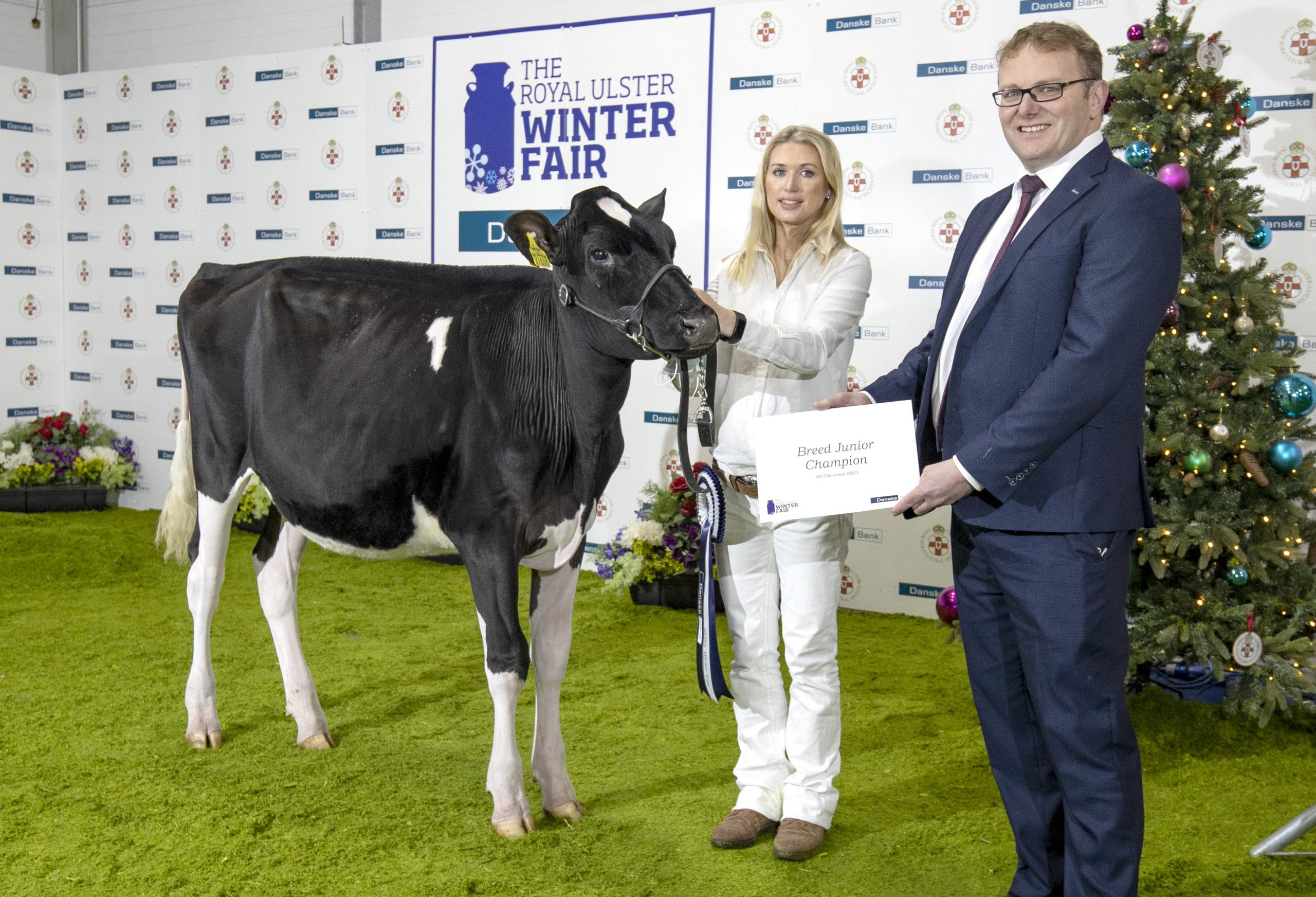 Judge of the 35th Winter Fair was Mr. Edward Griffiths of the Coachgate herd in England. Edward is a member of the European Holstein & Red Holstein Confederation (EHRC) Judges panel and he is also a member of the Holstein UK National Judges Panel.
He is the first judge from England to have judged the Northern Ireland Winter Fair. He has vast judging experience over many years including multiple international judging assignments. In 2018 he judged the National Dairy Show, Millstreet.
Having whittled down his Senior Championship selection, the judge's final line-up of his six top cows included three southern cows.
Ballyboy Sid Carmen, exhibited by Ballyboy Holsteins, was among the contenders short-listed. She was placed 2ndin Class 28 – Cows in-milk in their fourth lactation. She is Classified EX92 on conformation and is backed by seven generations of VG/EX dams. Calved six weeks, she recorded 10,886kgs milk, 861kgs milk solids in her 3rdlactation.
"She is a super cow. I really admire her strength of spine, her side profile with such quality venation and height and width of rear udder" – is how the judge described his champion cow, best Exhibitor bred & Supreme Interbreed Reserve Champion – Hallow Atwood Carmen exhibited by Hallow Holsteins.
She won 1st Cow In Milk having had three calvings and also won best udder of class. She is bred from seven generations of VG/EX dams, including five consecutive generations of EX dams.
Calved five months, she recorded a 2nd lactation yield of 12,566kgs milk, 900kgs milk solids (305 days). She is classified VG89 on conformation with composite scores of EX90 for legs & feet and rump.
John and Cyril Dowling, Baldonnel herd, took home Reserve Champion & Supreme Inter-Breed Honourable Mention with Baldonnel FM Sunshine also reigning supreme as the winner of the fourth calver class.
She was praised by the judge in his comments describing her as "A truly superb mature cow". He commented further "She has a super frame, hard top, snug in her udder, clean through her tail and possesses tremendous breed character throughout".
Sired by Baldonnel Flashmatic she is backed by seven generations of VG/EX dams including six consecutive generations of EX dams. She is classified EX92 2E on conformation with composite scores of EX93 for mammary, legs & feet and rump respectively.
Calved four months on the day of the show she has a lifetime yield to date of 44,404kgs milk, 2,887kgs milk solids.
Other class winners included
Hallow Solomon Twizzle 3, 1st Junior Cow in milk and best udder in class. The Judge commented on her "clean bone, her lovely open frame and her refinement throughout". Classified VG89 in her 2nd lactation she has recorded 8,598kgs milk, 723kgs milk solids, 4.88% fat, 3.52% protein (232 days). Her dam, Hallow Advent Twizzle 3 ET EX96 4E, is a former IHFA Champion Cow of the Year.
Hallow Diamondback Twizzle 3 was the winner of Class 21, Heifer born before 1st June 2020 & on or after 1stDecember 2019. The judge praised her as "an outstanding senior heifer, she has immense breed character". She is bred from six generations of VG/EX dams.
Dignitaries in attendance included RUAS President Billy Martin, Holstein UK President John Jamieson, Rodney Brown, head of Agribusiness with Danske Bank, sole sponsor of the Winter Fair and Edwin Poots, MLA, Minister for Agriculture, Environment & Rural Affairs.
The Eikon Exhibition centre located near Lisburn was the venue for the Winter Fair. It is a highly impressive facility, of a scale and quality on par with any venue complex across Europe. The recently constructed permanent annex, adding to the total available floor space, provided additional space with enhanced provisions for the cattle stalling area.
With 200 trade stands on display, it is a testament to the commercial popularity and widespread appeal that the Winter Fair possesses.
For the first time ever, the show was live streamed throughout the day to cater for those not available to attend in the current circumstances.