YMA National Calf Show Finals 2017 – Report & Results
The 26th YMA National Calf Show took place on July 25th and 26th at Cillin Hill, Kilkenny Mart. The show was a big success as YMA clubs and members across the country gathered together for the national finals. My thanks to YMA Chairperson Avril Helen and Co-ordinator Emer Kelly and the organising committee for their effort, input and teamwork in planning the event. The feedback and comments received since have been very positive and complimentary.
Club calf shows were held in advance of the Nationals as qualifiers, meaning that the young members participating were to a high standard and could take pride in the fact that they were representing their clubs. Well done to all who participated as it is so important that the next generation practice and develop their skills and receive encouragement through their local club.
Jane Arrell, Thistlerose herd, UK, judged the clipping and handling classes. David Hodgson, Wormanby herd, UK, judged the calf classes. Both Jane and David are former members of Holstein Young Breeders so had prior experience of involvement as younger members. My thanks to both for taking on the task of judging and for helping the young members by offering words of encouragement and sharing their knowledge.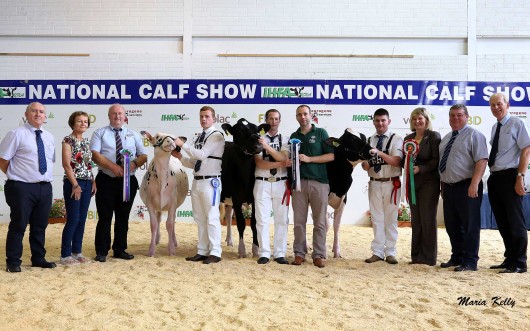 FBD, Volac and Eurogene were joint sponsors and their support is very much appreciated. IHFA sponsored the family BBQ that took place at the end of day one where all young members and adults attending received a BBQ meal free of charge courtesy of IHFA. This was very enjoyable and was a relaxed, social gathering. Entertainment and games were provided in The Hub afterwards to cater for the young children in concluding the day's proceedings.
The March Calf Unclipped Class proved a popular class with eighteen calves entered. Handlers aged 10 and under lead the calves in this class as a recent new initiative by the National YMA Committee to broaden out the scope of participants.
The Handling classes were to a very high standard with Paul and Diarmuid Murphy both previous Champion Handlers in the past. Honourable Mention Colin Todd has represented YMA in international competition. The Champion and Reserve Champion calves are full sisters, which is a significant achievement. Both were bred in the Hallow herd and of note a third full sister was also exhibited at the Show.
Nine teams competed in the Clipping competition and it was encouraging to see that some were taking part for the first time as a result of experience gained at the YMA Weekend Rally held during the Easter school holidays. Six teams participated in the Ag-Analysis competition, which this year focused on Optimum Nutrition in the Dairy herd. Sarah Maher, Alltech, was Judge and the Cork team were placed in 1st position.
I wish to thank all parents and those that helped out at the Calf Show. Denis Barrett and Maria Burke were emcees and ring stewards Sarah Condren, Margaret Murphy, Gareth O' Brien and John Curtin. Richard Hamilton was cattle steward and Clodagh Helen was competition steward for the Ag-Analysis. Thanks also to the Organising Committee, Avril Helen (Chair), Emer Kelly, Owen Laffan, Padraic Murphy, Mervyn Eager, Joe Doran, Tony Jackson and Richard Hamilton.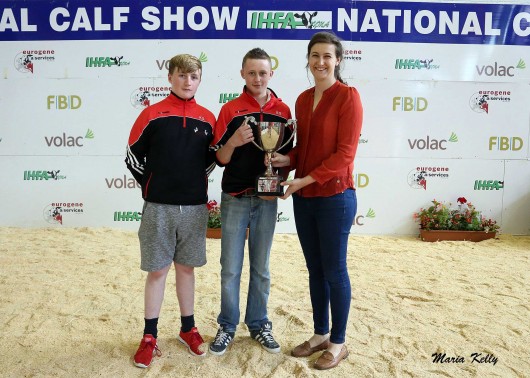 Day 1 – Clipping and Handler Classes
Handler Champion: Paul Murphy (Cork)
Reserve: Diarmuid Murphy (Cork)
Hon Mention: Colin Todd (Breffni / Oriel)
Clipping
1. Cork (Brian Smith / Kevin Smith)
2. Cork (Stacey O'Sullivan / Sinead O'Sullivan)
3. Breffni / Oriel (Hollie Keenan / Jamie Keenan)
Novice A
1. Jennifer Harty – Kerry
2. Shane Boyce – Limerick / Clare
3. Kate Jones – Slaney
Novice B
1. James Taaffe (North Eastern)
2. Hannah Greenan (Breffni / Oriel)
3. Ryan Greenan (Breffni / Oriel)
Novice C
1. Andrew Barrett (Cork)
2. Sinead O'Sullivan (Cork)
3. Jack Walsh (Kerry)
Junior Handler
1. Manus Murphy (Carlow / Kilkenny)
2. Darragh Dorian (North Eastern)
3. Ciara Cronin (Kerry)
Intermediate Handler
1. Mark Hurley (Slaney)
2. Pauric Coleman (Carlow / Kilkenny)
3. Kevin Smith (Cork)
Senior Handler
1. Paul Murphy (Cork)
2. Colin Todd (Breffni /Oriel)
3. Rachel McNamara (Limerick / Clare)
Mature Handler
1. Diarmuid Murphy (Cork)
2. Ger Kirby (Cork)
3. Stacey O'Sullivan (Cork)
Day 2 – Calf Classes and Club Awards
Champion: Hallow Doorman Abrakazoo 2 – Gary & Izzy Jones (Slaney)
Reserve: Hallow Doorman Abrakazoo – Philip Jones (Slaney)
Honourable Mention: Cornboro Beemer Dolly – Brian Corley (Breffni / Oriel)
March Calf:
1. Hallow McDougal Dawn – Philip Jones (Slaney)
2. Dondale James Bonny – J & K Doran (Kildare)
3. Churchlane Kboy Nova – Edwin Bennett (Breffni / Oriel)
Junior Calf
1. Rahela Armani Cosmo – Johnny & Ann O'Hanlon (Kerry)
2. Greenlea Armani Pledge – Padraic Greenan (Breffni / Oriel)
3. Ardarostig Beemer Sunray – Sean Murphy (Cork)
Intermediate Calf
1. Cornboro Beemer Dolly – Brian Corley (Breffni / Oriel)
2. Blythbridge Solomon Sydney ET – Johnny & Ann O'Hanlon (Kerry)
3. Leagh Along Came Polly ET – Tim Fitzmaurice (Kerry)
Senior Calf
1. Hallow Doorman Abrakazoo 2 – Gary & Izzy Jones (Slaney)
2. Hallow Doorman Abrakazoo – Philip Jones (Slaney)
3. Yardgrove Atwood Jeanette – Bryan O'Connor (Cork)
Summer Yearling
1. Clonpaddin Snowy Fame 2 – Garry Hurley (Slaney)
2. Sprucegrove At Door Sunlight – Keypoint Holstein & W Cunningham (Galway)
3. Dalevalley Open Barbie ET – John Curtin (Limerick / Clare)
Mature Calf
1. Swiftsheath Breeze 1573 – Tom Murphy (Carlow / Kilkenny)
2. Dalevalley Dore Tracey ET – Roy Cromie (Breffni / Oriel)
3. Glensillagh Eri Roxy – Timothy Leahy (Kerry)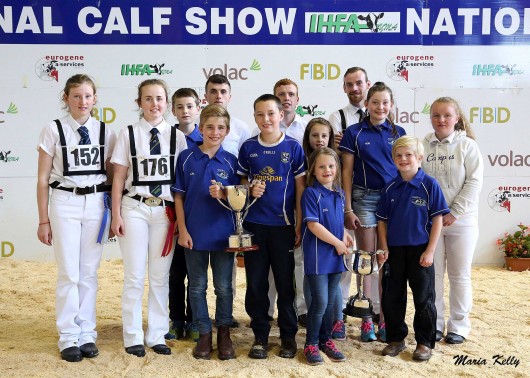 Laois / Offaly Bill Flyn Memorial YMA Perpetual Trophy for Best Stand: Cork
Cork Friesian Breeders Club YMA Perpetual Trophy for Clipping: Cork
Breffni / Oriel Friesian Breeders Club YMA Perpetual Trophy for Best Calves: Breffni / Oriel
Kildare Friesian Breeders Club YMA Perpetual Trophy for Handling: Cork
West Midlands Friesian Breeders Club YMA Perpetual Trophy for Ag-Analysis Competition: Cork
Denis Barrett Auctions & Pedigree Sales Perpetual Trophy for Sportsmanship: Breffni / Oriel
Barrett Family Perpetual Tropy for Handling: Paul Murphy (Cork)