Tom and Rhona Kelly & son James, Philipstown Farm, Drogheda, Co. Louth
A duo of top national titles for the Monamore herd as winner of the IHFA National Herds Competition Large Herd category & Champion Judges Choice Award 2021
Pinnacle award achievement of quality for the Monamore herd now milking 360 cows having journeyed from a starting point of 40 cows in 1979, forty-three years ago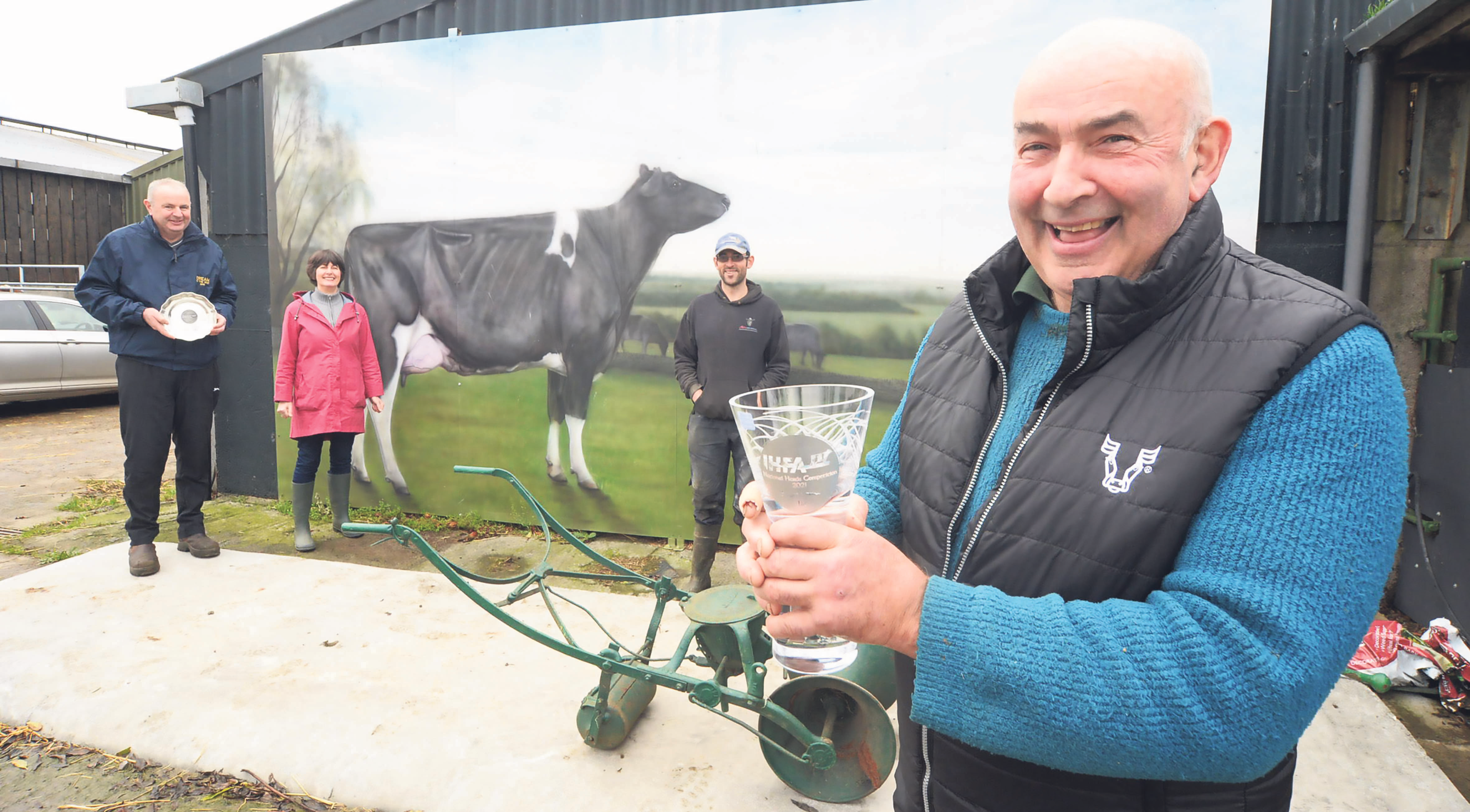 A team effort with attention to detail on all aspects of management underpins the quality performance of the Monamore herd. Tom and Rhona Kelly and son James with able assistance from lead herdsman Alan Dorian and diligent staff have expanded the herd up to 360 pedigree registered Holstein Friesian cows, farming 800 acres in total.
It is a tremendous accomplishment, having expanded over the years from a new entrant in 1979 milking 40 cows. The quality of breeding and strength of top performance of the herd was recognised yet again last year in winning 1st place in the IHFA National Herds Competition, Large Herds Category and the Monamore herd also won Champion Judges Choice award.
Tom comments "All the team applies the ethos to be the best that you can be in completing any task on the farm be it bedding the calves or milking the cows.
"Cohesion among the team of staff is so important in the context of a large herd. We are all equal and important links in the chain. Attention to detail is important in setting standards to be followed.
"We also have a passion for good cows, we want to be working with high quality, top performing stock day in and day out. No doubt, that inherent passion yields a dividend in the context of herd performance."
Improved herd longevity is without doubt an important component of success. When that increased maturity takes effect by a combination of breeding decisions and pro-active management, the positives are obvious; improved yield average and increased scope to offer more surplus stock for sale. It raises the bar overall.
Milk recorded performance for the herd last year was over 9,500kgs milk, 4.10% fat, 3.50% protein.
The herd currently includes 281 cows scored to VG/EX standard of conformation.
There are 32 cows of 6th lactation or older in the herd. All are classified to VG/EX standard including two cows classified to EX94.
The herd is managed on a split calving system of 50/50 spring and autumn calving. Top quality milk is supplied all year round.
Performance underpinned by stellar cow families
The roots of the Monamore herd are firmly embedded and intertwined with Moneymore breeding and the many top families developed by Tom's late father Seamus (JJ) Kelly.
The Torch family can be traced back through multiple generations of breeding to the first pedigree cows purchased by Seamus Kelly in 1950 – Lurganboy Heatherbell and Lurganboy Jessie. Both were daughters of Lavenham Trainer, bred from the highly regarded Terling and Lavenham Torch family, hence the name. Heatherbell and Jessie flourished in Moneymore.
The Darlenes and Veras are likewise backed by multi generations of top performance with deep lineage to formative years of breeding.
Strategic investments have been made over the years to supplant the herd with key highly regarded international families. Examples of some of these families at Monamore include
Monamore ETD Darlene EX91 2E
Lifetime yield to date in eight lactations 83,147kgs milk, 5,818kgs milk solids, 3.53% fat, 3.47% protein
She is a potential 3rd generation Monamore Diamond Award dam bred from Monamore Darlene 77 EX90 DMD (lifetime longevity 10 lactations) by Lancelot, and grand dam Monamore Darlene 30 EX94 6E (lifetime longevity 8 lactations) by Rudolph.
Monamore Peak Miss Elly VG87
2nd lactation yield 10,373kgs milk, 800kgs milk solids, 4.00% fat, 3.71% protein (296 d)
10th gen VG/EX
Her 3rd dam Monamore Miss Elly ET EX93 7E DMD is one of three Monamore sisters from Wauregan Rudolph Elly Mae EX who all achieved Diamond Award status for 3,000kgs Protein production and classified EX (Excellent) on conformation.
Monamore Goldie Raven EX90 4E
Diamond Award recipient, she is one of the senior group of cows in the herd in her 8th lactation. Lifetime yield to date 93,878kgs milk, 7,000kgs milk solids, 3.89% fat, 3.52% protein
6th lactation yield 10,866kgs, 820kgs milk solids, 3.87% fat, 3.68% Protein (348 d)
A daughter of Monamore Durham Raven EX93 2E she is maternal sister to Monamore Lheros Raven ET EX93 3E with a lifetime yield of 72,381kgs milk, 5,497kgs milk solids, 4.00% fat, 3.60% protein (seven lactations).
Her daughters include Monamore HY Raven VG88 and Monamore Distinct Raven VG85
Monamore Apples Raven VG89
2nd lactation yield 13,136kgs milk, 1,014kgs milk solids, 4.00% fat, 3.73% protein (305 d)
9th generation VG/EX
Monamore Papoose 13 EX91 2E
Lifetime yield in six lactations 69,679kgs milk, 5,319kgs milk solids, 4.10% fat, 3.53% protein
Her dam Monamore RMan Papoose EX94 3E DMD Diamond Award recipient recorded over 3.90% protein in three lactations.
10th generation VG/EX
Monamore Peskys Vera EX92 2E
Lifetime yield in four lactations to date 51,557kgs milk, 4,097kgs milk solids, 4.03% fat, 3.92% protein
Monamore Lulu 74 VG86
Average yield per lactation in two lactations to date 13,407kgs milk, 958kgs milk solids, 3.71% fat, 3.44% protein
10th generation VG/EX
Monamore Peskys Fifi EX92 2E
Lifetime yield in five lactations to date 61,491kgs milk, 4,600kgs milk solids, 3.85% fat, 3.63% protein
Her dam Monamore Macs Fifi EX91 3E recorded over 3.70% protein in six lactations
Her VG86 Numero Uno daughter recorded 11,454kgs milk, 814kgs milk solids in her second lactation
Monamore Drakes Torch EX92 5E
Diamond Award recipient. She has tremendous longevity now in her 9th lactation
Lifetime yield to date 108,836kgs milk, 7,987kgs milk solids, 3.90% fat, 3.44% protein
Monamore MCL Torch EX91
Lifetime yield in six lactations to date 60,222kgs milk, 4,808kgs milk solids, 4.17% fat, 3.81% protein
She has bred two daughters to date, both classified to VG standard, and both have recorded over 3.58% protein in all lactations.
Monamore Torch 414 VG85
1st lactation yield 8,403kgs milk, 759kgs milk solids, 4.94% fat, 4.09% protein (305 d)
Over two hundred days into her second lactation she has recorded 7,089kgs milk, 622kgs milk solids, 4.66% fat, 4.12% protein to date.
Her dam Monamore Uno Torch EX90 2E recorded an average production per lactation of 9,446kgs milk, 765kgs milk solids, 4.45% fat, 3.65% protein in five lactations
Additional achievements & recognition awards in 2021
Rated as the herd with the highest number of EX (Excellent) classified cows in the Republic of Ireland in a worldwide survey compiled and published by Holstein International
Credited by Holstein International poll survey as ranking in the top 35 most influential breeder herds worldwide for breed influence in terms of cow families and legacy AI sires.
The herd also won Best Premier Overall Herd in the North Eastern Club's Herds Competition 2021.
Influential sires
 "Sire selection is a dilemma of the modern breeding era," comments Tom. "There is such choice available and such a quantity of data and breeding values to analyse. Sire selection criteria includes positive components, good conformation traits; feet and legs, udders and rump width.
"R-E-W Seaver ET EX (S901) is a sire that I hold in high acclaim. He sired daughters who ticked so many boxes – yield, protein, power, and durability. Practically all Seaver daughters here classified Excellent as third or fourth calvers.
"Pellerat Dynamite (XPD) and Gen-I-Beq Lavaman (S1137) both worked really well for us. Their legacy in the herd is very positive. Their daughters had quality, tremendous udders and consistently high protein.
"The goal overall in terms of conformation is to breed cows having functionality and quality to produce, perform and last in the herd. In more recent times medium size in terms of stature is proven to be optimal. Correct locomotion and correct rump structure are also key requirements."
Herd nutrition & feeding regime
"We don't compromise on nutrition, or the diet overall," says Tom. "The winter diet is balanced to meet the requirements of high performance. The diet includes a mix of grass silage, home-grown barley, home-grown fodder beet and soya.
"I have always paid close attention to the relationship between nutrition and cow performance in terms of yield, components and protein %. The net effect of this is that the herd comfortably yields over 3.50% protein throughout the winter indoor period."
Applying new technologies
"Cows are fed on a feed to yield system. This is tremendous technology," comments Tom. "It allows for groups within the herd to be fed accordingly with due regard to yield, lactation stage and parity.
"New technologies are applied in terms of grassland management where clover is incorporated into the farm reseeding policy and the potential benefit of multi-species swards is being closely analysed this year."
Tom concludes "I take a very open-minded approach to technology advancements because as the saying goes nobody can stop science or progress."