Grenan Pure Friesians – Irish Pure Friesian Club Open Day – Cancelled
August 20, 2021 @ 8:00 am

-

5:00 pm
Beef from the Dairy herd compliments the farming enterprise
Dairying has always been a main focal point for the farm. Michael and Patrick are bringing sharper focus on breeding emphasis in recent times, implementing defined breeding plans, making select key purchase of cow families and also adopting IHFA classification service to help achieve desired herd production and quality benchmarks.
An interseting and currently topical aspect of the farm is the beef enterprise, which is run side-by-side the dairy herd, where all male calves born are reared for finishing and sold to the factory under 30 months of age. Michael rears the calves and manages the beef unit on an outside block. The impressive performance of the dairy herd in annual productivity, in combination with the successful beef enterprise, amounts to a very efficient farming system overall. It is testament to the unique attributes of the Pure Friesian.
Longevity a strong feature of the Dairy herd
Milk recording performance for the herd last year averaged 6,241kgs milk, 4.01% fat, 3.53% protein, 471kgs milk solids. The maturity and longevity hallmarks of the Friesian are borne out with 4th lactation cows or older making up 50% of the herd. Cows in this bracket averaged 6,689kgs milk, 503kgs milk solids. Today there are 26 cows in the herd of 6th lactation or older including three cows in their 10th lactation and two cows in their 11th lactation.
Grading up the herd to pedigree status was an eye-opener in identifying the legacy breeding impact of cow families. Patrick states that pedigree status attainment was the key driver of grading up. However, there was an added bonus when the grade up process identified the strong cow families underpinning the herd over many decades. Patrick continues,
"Over the years, the herd was always home-bred and we had consistently maintained a high level of records. The depth of breeding of cow families going back several generations sets IHFA breeders apart. This highlights the ability of these cow families to develop naturally into large numbers, owing to good fertility and strong longevity."
Having adopted IHFA classification service over two years ago, the herd currently includes 63 VG/EX cows in terms of conformation.
"Cow type and quality to suit our farming system is one reason why we started using classification" says Patrick. "As someone conscious of herd production standards and herd quality we want to be moving forward always. The classification inspection gives us powerful, independent information and feedback, which we then apply to our requirements to help achieve our desired outcomes."
The herd includes a number of strong cow families who consistently perform to a high standard, such as Aida, Rose, Alys, Lady, Chive, Ash, Bess, Lilac, Andrea, Alma, Ruby, Amber, Bea, Cait, Adele and Avril. The following is a brief snapshot of the unique Grenan families.
Grenan IDS Avril 1902 EX 2E & Grenan Avril 2202 EX
2 EX maternal sisters still in the herd with a combined 12 lactations between them to date.
Grenan Avril 2352 VG89 (4th lactation) is a daughter of Grenan Avril 2202 EX.
Grenan Afie 2108 VG 86
Has bred two VG86 daughters to date Grenan Afie 2680 VG86 6,791kgs milk, 3.72% Fat, 3.72% protein 506kgs milk solids (2nd lactation) and Grenan Afie 2494 VG86 6,565kgs milk, 4.00% fat, 3.68% protein, 505kgs milk solids (2nd lactation).
Grenan TIH Adele 1340 EX
Eleven completed lactations to date with protein to 3.81%
Excellent fertility – Calved as a heifer on April 4th 2009 and calved-in on her 11th lactation March 5th 2019!
Her daughter, Grenan Adele 2507 VG86, in her 2nd lactation recorded 6,244kgs milk, 4.39% fat, 3.63% protein, 501kgs milk solids.
Grenan GIZ Adele 2140 VG85
6th lactation recorded yield 7,156kgs milk, 4.15% fat, 3.53% protein, 549kgs milk solids.
Two VG daughters currently in the herd;
Grenan Adele 2540 VG85 3rd lactation 7,576kgs milk, 3.82% fat, 3.73% protein, 571kgs milk solids.
Grenan Adele 2418 VG86 3rd lactation 6,537 kgs milk, 3.83% fat, 3.62% protein, 488kgs milk solids.
Grenan Adele 2270 VG87
4th lactation 6,719kgs milk, 4.36% fat, 3.67% protein, 540kgs milk solids.
Tremendous longevity cow family tracing back to two home-bred BSR maternal sisters who both completed ten lactations.
Grenan Cait 1615 EX 2E
Now in her 10th lactation having had ten calves in ten years. As a heifer she calved-in February 24th 2011 and this year she calved on January 20th!
She has three daughters and one grand-daughter milking in the herd Grenan Cait 2348 VG87, Grenan Cait 2559 VG86, Grenan SVD Cait 2084 and her daughter Grenan Cait 2500 VG85, who's daughter by Sliabhnamon Champion was shown as a heifer in milk at Iverk Show 2019.
Grenan Bea 2344 EX91
Scored EX in her 4th lactation with EX91 score for both mammary and feet & legs composites.
She is a firm favourite and was successfully exhibited at Iverk Show last year.
Her dam, Grenan Bea 1544 VG88, is still in the herd having completed ten lactations.
Other Bea family members include
Grenan SVD Bea 1903 VG86 4th lactation 7,776kgs milk, 3.90% fat, 3.50% protein, 577kgs milk solids.
Grenan Bea 2207 VG85 4th lactation 8,153kgs milk, 4.08% fat, 3.66% protein, 630kgs milk solids. She currently has two VG daughters milking in the herd;
Grenan Bea 2253 VG85 3rd lactation 6,188 kgs milk, 4.19% fat, 3.65% protein, 485kgs milk solids.
Grenan Bea 2665 VG85 2nd lactation 6,305 kgs milk, 4.00% fat, 3.60% protein, 479kgs milk solids.
Grenan Frans Lady 2455 VG87
4th lactation recorded yield 7,605kgs milk, 3.81% fat, 3.57% protein, 561kgs milk solids.
Her dam Kilsunny Frans Lady VG87 has completed nine lactations in the herd with regular calving intervals and 4.00% fat, 3.56% protein
Grenan Andrea 1814 VG85
5th lactation recorded yield 7,861kgs milk, 3.99% fat, 3.54% protein, 538kgs milk solids.
Her VG86 daughter in her 2nd lactation recorded 6,133kgs milk, 3.83% fat, 3.62% protein, 457kgs milk solids.
Her dam completed ten lactations in the herd – great longevity.
Grenan Bess 2112 EX
4th lactation recorded yield 6,753kgs milk, 4.36% fat, 3.76% protein, 548kgs milk solids.
Grenan SLN Ann 1766 VG86
7 completed lactations to date averaging 6,084kgs milk, 4.66% fat, 3.59% protein, 500kgs milk solids.
Grenan Amber 2089 VG87
4th lactation recorded yield 7,470kgs milk, 4.05% fat, 3.43% protein, 558kgs milk solids.
Her dam completed ten lactations in the herd.
She has bred two VG daughters milking in the herd;
Grenan Amber 2457 VG86 3rd lactation 7,188kgs milk, 3.69% fat, 3.47% protein, 515 kgs milk solids.
Grenan Amber 2580 VG85 3rd lactation 7,030kgs milk, 3.99% fat, 3.54% protein, 530 kgs milk solids.
A farming system in harmony with Biodiversity
The farming system is finely balanced taking performance, nitrates and stocking rate into account. Patrick says that quality is more important than quantity, with the focus on increasing production from existing numbers rather than increasing cow numbers. The environment and possible E.U. policy constraints into the future are recognisable variables that may yet impact all dairy farmers. The farm includes 12 acres of bog. While in the past there had been notions to drain and reclaim this block to increase the grazing platform, a conscientious decision has been made to leave the bog as is to nature signifying a willingness to exist in harmony with the environment and be proactive towards biodiversity.
Quality grass and grass silage is the main feed on the farm. Average meal feeding in 2019 at 850kgs/cow demonstrates the emphasis on grass utilisation.
Patrick's wife Sinead is at the dairy cutting edge in her own right through her company Virtual Vet. A previous winner of the National Dairy Show's Innovation Award, Virtual Vet helps farmers with record keeping of animal remedies and treatments in providing assurances of traceability, to help garner value added from the market place.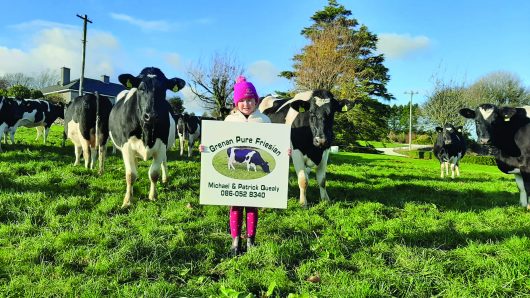 With all the Quealy family involved on the farm, the excitement is building, and a proud Déise welcome will greet everyone at the Pure Friesian Club Open Day in summer 2021.
Due to the current and evolving situation regarding COVID-19, this event has now been rescheduled for 2021