Emerald Expo 
Emerald Expo is a leading All-Ireland Dairy Event organised by a committee of local breeders from the wider catchment area, chaired by Mr Richard Whelan. The Emerald Expo continues to play a major role in attempting to fill the void in showing place since the RDS Spring Show was discontinued. 
The famed RDS Spring Show was a real highlight as breeders exhibited their cattle breeding wares at the famed Ballsbridge venue. Indeed, the hallowed lawns of the RDS was the shop window for the breed over the decades to demonstrate trends in cattle breeding. The show was the visual display of new genetics adopted by the breeders.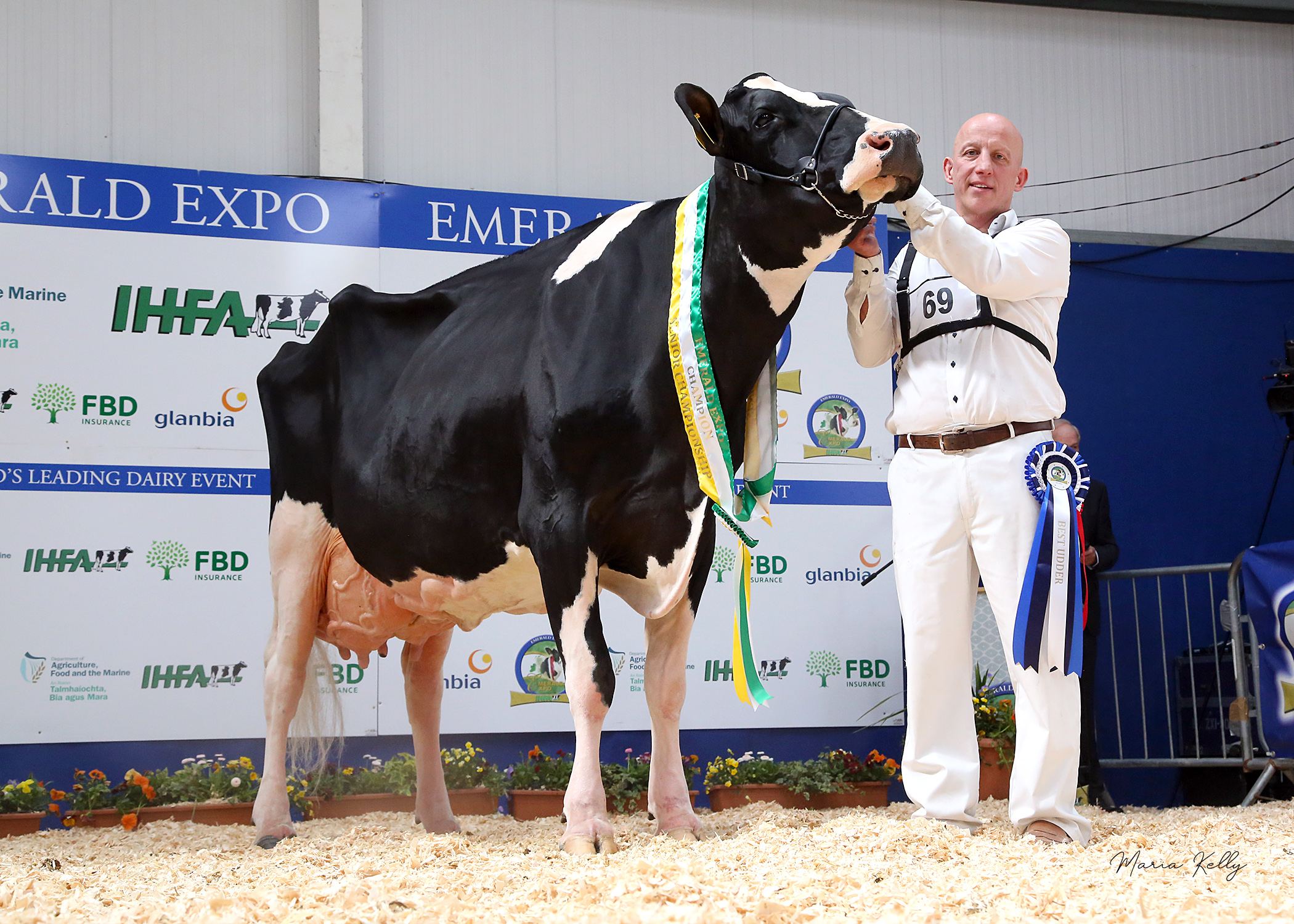 Emerald Expo 2022 – Showing is Back!
Emerald Expo, Ireland's Spring all-dairy breeds cattle show returned to action on Saturday April 23rd last. It was the first dairy show to take place in person for over two and a half years. The general comments expressed by all in attendance was that "It was great to be back in person, to meet up and renew acquaintances after such a long time of a Covid enforced void. The atmosphere was very pleasant and cordial". The Virginia Show Centre, Co. Cavan was the venue and the programme of events included six Championships, classes for YMA handlers, other dairy breeds, youngstock classes and in milk classes. The total prize fund on offer exceeded €28,000. A demo on handling skills and reason giving was held for the benefit of Young Members and the show also included an open stock judging on a class of senior cows to encourage participation and engagement by the audience in attendance. To help with promotion, the show was live streamed online right throughout the day. Viewers watching included members at home and as far away as Australia!
Senior Championship
Emerald Expo Senior Champion was won by Clonpaddin G Fame exhibited by John and Cyril Dowling, Baldonnel herd. She also won the award for best udder of show and was 1st Mature Cow. The judge complimented her "fantastic body with an udder that is truly superb". Her quality is even more admirable given that she is now in her eighth lactation, a testament to functionality and longevity. She is classified EX95 5E on Conformation with a score of EX97 for Rump composite. She is a tremendous production cow having yielded over 10, 000 kgs milk in six consecutive lactations to date. Her milk solids yield in these six lactations has averaged 850 kgs milk solids/lactation. Her showing accolades includes Supreme Champion, National Dairy Show 2017. Tom Kelly was on hand to present exhibitor John Dowling with the Seamus Kelly perpetual trophy, a memorial trophy reflecting excellence of Holstein Friesian breeding first presented at the North Eastern Spring Fair in 2006.
Reserve Champion and Exhibitor Bred Champion was won by Monamore Diamond Barbie, 1st Senior 3-Year-Old and best udder, exhibited by the partnership of Tom & James Kelly and Alan Dorian, Drogheda, Co. Louth. Four weeks fresh in her second lactation the Judge praised her "beautiful dairyness and strength". Classified VG86 2-Year-Old with a VG88 Mammary she is a ninth generation VG/EX Dam. As a heifer she recorded 11,900 kgs milk, 819 kgs milk solids (322 days). Her EX91 3E Dam and EX92 3E Grand Dam both recorded Protein percentages over 3.60 %.
Honourable Mention went to Bawnmore Pepper Almeric exhibited by John O' Connor, Coolageela, Kanturk, Co. Cork. She also won Intermediate Champion and 1st Junior Heifer in milk & best udder. In his comments the Judge commended her as "A beautifully balanced heifer, so clean and dairy throughout." Calved over four months, she Classified VG87 on Conformation as a 2-Year-Old with a VG87 Mammary just one week fresh into her first lactation. Her Dam won Senior Champion Tullamore National Livestock Show in 2016.
YMA Classes
The Young Members Association (YMA) made a welcome return to active participation with three Handling classes held at the beginning of the show. YMA participants on the day ranged in age from ten years old up to senior. The future looks bright with such talented and enthusiastic young members participating and coming through. Special vouchers towards clipping equipment sponsored by IHFA were presented to the top Handlers in the Handler Championship.
 Champion Handler was won by Colin Todd (Breffni Oriel club), Reserve went to Brian Hurley (Slaney club) with Honourable mention won by Will Jones (Slaney club). Sean Carr (Galway club) and Stephen Bourke (Cork club) were two young members making their YMA debut, taking part for the very first time.
Richard Whelan, Emerald Expo Director opened proceedings by welcoming all in attendance and he thanked all sponsors involved for their support. Title sponsor is FBD Insurance. Main sponsors are IHFA, Glanbia and the Department of Agriculture Food & the Marine. He thanked the Emerald Expo organising committee and the Virginia show Centre committee for the superb facility. Richard said that Emerald Expo marked a return as the first show of the year, and it gives everyone a lift to be able to meet up once again with fellow breeders and to be back exhibiting stock following a Covid pandemic induced void of two and a half years.  He thanked all exhibitors who had turned out a superb line up of top-quality stock. He noted that exhibitors taking part had travelled from near and far with a broad spectrum of counties represented including Donegal, Cork, Wexford, Galway, Carlow, Monaghan and Wicklow to mention a few. Richard welcomed all viewers watching the live streaming of the show. He thanked the cattle stewards and all those helping out on the day.
Official Opening by FBD Insurance
Conor McGovern, FBD Cavan Branch Manager performed the official opening. In his comments he wished all exhibitors every success on the day, and he welcomed all in attendance. Conor said that continuing good relations and the fostering of a strong association with IHFA families is a strong ethos of FBD.
The Judge was Paul Hannan, Lisnalty herd. He is a member of the European Holstein & Red Holstein Confederation (EHRC) Judges panel. Paul's showing achievements and successes include exhibiting the Supreme Champion at the National Dairy Show and Supreme Interbreed Champion at the R.U.A.S. Winter Fair.
Emcee was Deirdre Toal, local area manager and cattle breeding adviser with Progressive Genetics.
The Senior Championship was brim-full with quality and included the following;
Tubbertoby Doorman Joy, 1st 5-Year-Old cow in milk exhibited by Paul & Marguerite Flanagan, Termonfeckin, Co. Louth.
Greenlea Splendid Katrina ET, Intermediate Championship Honourable Mention and 1st Senior Heifer and Redhouse 1633 Goodwhone Isa 1st Production cow and winner of the EBI class, both exhibited by Padraic Greenan, Crosshugh, Co. Monaghan.
Foyleview Applicable Royal, 2nd 4-Year-Old cow in milk exhibited by Luke and Justin Porter, Carrigans, Co. Donegal.
Ballyboy Sid Carmen 1039 2nd Mature Cow, exhibited by Jim & Una Sinnott, The Ballagh, Enniscorthy, Co. Wexford.
Coretard Gold Jolly, 1st Confined cow in milk exhibited by Christian & Sinead Keenan, Smithboro, Co. Monaghan.
Ardvarnock S-Kick Cosmopolitan 2nd Confined cow in milk exhibited by Norman Witherow, Convoy, Co. Donegal.
Clonpaddin Doc Twizzle Reserve Intermediate Champion exhibited by Garry & John Hurley, Arklow, Co. Wicklow.
Logan Syracuse Sweet IMP, 1st 4-Year-Old cow in milk, exhibited by John O' Connor, Kanturk, Co. Cork.
Emerald Expo Junior Championship
Champion – Ballyboy Awsome Carmen 1312 ET exhibited by Jim & Una Sinnott, The Ballagh, Enniscorthy, Co. Wexford
Reserve – Hallow Solomon Arengatang ET exhibited by Philip & Linda Jones, Gorey, Co. Wexford
Hon. Mention – Dalevalley Jordy Hot Red P ET exhibited by Louise Whelan & Richard Whelan, Clonard, Co. Meath
Breffni Oriel Club 50th Anniversary celebratory Confined Class
To mark the golden jubilee of the Breffni Oriel Friesian breeders club a special Emerald Expo confined youngstock class was held for members of the Breffni Oriel club. The results are as follows;
| | | |
| --- | --- | --- |
| Place | Name of Calf | Exhibitor |
| 1st | Dalevalley Unix Apple 2209 ET | Roy Cromie |
| 2nd | Greenlea Mogul Aiko 1669 | Padraic Greenan |
| 3rd | Dalevalley Sol Unix Cosmo ET | Roy Cromie |
EBI Class
An award to the highest EBI animal in each Holstein Friesian class was presented culminating in an EBI class, judged on Conformation, where each individual highest EBI award winner competed in a dedicated class prior to the Senior Championship.
Best Group of three animals
John O' Connor from Coolageela, Kanturk in North Cork won the Best Group of three females owned by exhibitor class. It bolstered the success for this newly established herd at Emerald Expo, adding to an impressive haul of achievements on the day. It was a great success for John and his team whose commitment to the show included a round-trip journey from home totalling 530 kms.
Premier Breeder & Premier Exhibitor
Padraic Greenan, Greenlea herd, Crosshugh, Co. Monaghan won the Emerald Expo Premier Breeder and Premier Exhibitor awards.
Charles Gallagher, IHFA C.E. thanked all exhibitors in attendance and he congratulated all involved in the show. He paid tribute to Show Director Richard Whelan and the Emerald Expo organising committee. He said that the show marked a welcome return of focal breed-promotion events taking place in person following a two and a half year lay-off where members welcomed the opportunity to meet up and renew friendships.
At the show finale Richard Whelan, Show Director made individual presentations in thanks to Eimear Gaynor, ring steward, Emcee Deirdre Toal and to Mary Gaynor in recognition of their valuable work supporting the show.